Middle East & Africa
Op-Ed Special
"The Jordan Is Palestine" Conference
Special Contribution
By Zvi November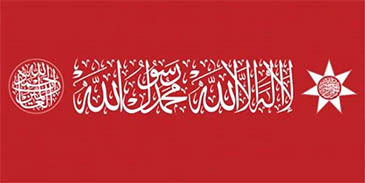 The ceremonial Hashemite banner of the Kingdom of Jordan
On October 17, 2017 a full-day conference held at the Menachem Begin Heritage Center in Jerusalem provided a platform for numerous well-informed activists to explain why the current Hashemite Kingdom of Jordan is an obstacle to peace. All of the speakers agreed that the so-called "two-state" solution is now a dead letter. Indeed, one could argue that from its official birth on September 13, 1993 the Oslo "peace process" was doomed to failure because it is an Arafat subterfuge and a recipe for Israel's destruction that was shoved down the public's throat by the post-Zionist, secular Left establishment that actually controls Israel. What the 1993 Oslo Declaration of Principles really did was to start a process of de-legitimizing Israel's right to exist while simultaneously legitimizing the terrorist PLO and its false narrative based on a non-existent "Palestinian" people.The conference was organized by Ted Belman, a retired Canadian who moved to Israel eight years ago and operates the Israpundit Website (www.israpundit.com). Over the past few years Ted has become friends with Mudar Zahran , a Palestinian leader opposed to King Abdullah's dictatorial rule in Jordan. As a consequence Zahran lives in a safe house in London because he has been convicted, in absentia, of treason. He is sometimes interviewed by US and UK media outlets to outline the non-violent revolution he advocates for Jordan. His plan is to replace the oppressive and illegitimate Jordanian monarch with a free democratic Palestine at peace with Israel. This peace will be based on greatly expanded economic cooperation between two sovereign states.Ted Belman began the conference with comments about Jordanian media attacks and threats that he and other participants had received. Indeed, security was tight at the Begin Center because these threats are taken seriously.Belman reminded the 200 to 250 people in attendance that about 75% of Jordanians are Palestinians. He also expressed his hope that President Trump will reverse Obama's support of the king and the influential Muslim Brotherhood that many regard as a terrorist organization. Sending Abdullah into retirement and facilitating the creation of a democratic Palestine could be Trump's ULTIMATE deal.The first speaker was Aryeh Eldad, a former MK who believes that the Jordan is Palestine option should be official Israeli policy. Eldad favors extending Israeli law (sovereignty) over all of Judea and Samaria. Arabs living in these area would re-possess their Jordanian (Palestinian) citizenship that was summarily revoked by King Hussein in 1988 when he relinquished responsibility for the "West Bank". Arabs can remain where they now reside but will politically be attached to Jordan/Palestine which is just an hour's drive away.Yehuda Glick, a Likud MK who was nearly assassinated outside the Begin Center a few years ago, spoke passionately about the unquestioned 'two-state' mantra that he wants to replace with the more just and viable 'Jordan is Palestine' initiative. Israelis have to seriously relate to Judea and Samaria as integral parts of Israel if we expect to be respected by others.Mordecai Nisan, an academic who has authored several books on the Arab-Israeli conflict, declared that we have "to think out of the Box". He accused supporters of the two-state solution of being either stupid or evil as this "solution" will invariably lead to Israel's demise. Nisan alluded to Barbara Tuchman's book The March of Folly which is all about how governments pursue policies that are against their own national interests. The accepted Israeli concept that Jordan is a strategic asset for Israel is a fallacy because Jordan promotes the two-state formula which is a real threat to Israel. The Hashemite family, Nisan reminded us, is foreign and illegitimate. They came from Hijaz, Arabia in 1921 to exercise power under British tutelage. Nisan quoted King Abdullah I who said (1948) that Jordanians and Palestinians are one and the same people. And King Hussein said the same thing in 1981 so as to suppress any expression of an independent Palestinian nationaly.Edy Cohen who lectures at Bar Ilan University observed that King Abdullah II frequently attacks Israel to impress belligerent Arabs. He knows that Israel will not rebuke him because he is supposedly an ally. Abdullah II who poses as a staunch defender of Muslims and Palestinians lies about Israel and attacks it in the UN and other international bodies. Like the mufti al Husseni (1920s to 1950s) Abdullah uses the libelous Al Aksa mosque accusations to arouse fierce hatred of Israel. The king is extremely antagonistic to Israel because he is really weak and fears a possible revolt as has been the case in other Arab countries that have experienced the "Arab spring". Cohen also noted that the Jordanian media, like its Egyptian counterpart, is exceptionally anti-Semitic. Israel should not let Abdullah abuse it in the way he does.The next presenter was Rachel Avraham, an investigative journalist who works for the Center for Near East Policy Research. She went into great detail about human rights violations in Jordan. King Abdullah who is above the law and cannot be publicly criticized oppresses dissidents and journalists. Freedom of expression under Abdullah is severely limited. Discrimination against Christians, Jews, Bahai and women is extensive. The secret intelligence services torture and then prosecute opponents of the regime. Sharia law is enforced in a way that abridges the rights of non-Muslims. Books, including text books, that denigrate Jews are easily available. "Honor" killings of women are common and often ignored by the authorities. Refugees are occasionally deported. In brief, the king is a dictator who heads an oppressive regime. Martin Sherman, founder of the Israel Institute for Strategic Studies explored the various suggested solutions; withdrawal from the "territories", partial withdrawal, partially or fully extending Israeli sovereignty to Judea and Samaria. The creation of a Palestinian state in Judea and Samaria would be suicidal and result in Israel's extinction. Incorporating Judea and Samaria with its large population of hateful Arabs into Israel would lead to the Lebanonization of Israel. Sherman concludes that any feasible solution such as the 'Jordan is Palestine' proposal must fully address the demographic issue. Enticing incentives to Arabs to emigrate is essential. The "right" to a Palestinian state has to be deleted from all agendas while Israel's legitimate rights to its ancient homeland must be a constant continuously heard.An anthropologist, Geoffrey Clarfield, who has done research among Israeli Bedouin talked about the fundamentals of Arab society. Arab society is based on the tribe and its component patriarchal lineages. An Arab's primary loyalty is to his clan brothers. The nation-state idea is foreign to Arabs and this also applies to the fake Palestinian nation that never existed. The Arabs of Palestine are, for the most part, immigrants from elsewhere (e.g. Egypt, Iraq and even Bosnia). Clarfield said that there were 54 ethnic groups in Palestine in 1900. During the British mandate Arabs could come and settle but Jewish immigration was curtailed. According to Clarfield a workable governmental framework for Arabs is one based on traditional tribe, clan and lineage relationships.Salim Mansur, a Pakistani associated with the Gatestone Institute in New York reviewed the history of modern Palestine highlighting Churchill's manipulations and the 1937 Peel Commission recommendations which were both adverse to Jewish aspirations but accepted Arab arguments and the denial of Jewish rights. Mansur referred to those passages in the Koran that speak favorably about Jews. He also believes that Jordan is Palestine and that Trump should support this position.Ted Belman began his presentation with a reference to the Faisel-Weizmann agreement of 1919 that called for the creation of two states. He then reviewed the many anti-Jewish maneuverings that later restricted Jewish immigration and the prohibition of Jewish settlements in Transjordan from 1922. Michael Ross who is the Executive Director of the International Jewish-Muslim Dialogue explained that Jordan is essentially an apartheid state. King Abdullah's government has divided the Jordanian population into some fifteen different categories. There are "East Jordanians", "Palestinian Jordanians", "Kuwaiti Jordanians", immigrants, refugees and more. To be a full-fledged Jordanian one needs a national ID number. Otherwise it is difficult to get a driver's license, passport or social services. Of course, Jews are not allowed to work in Jordan or own land.Yishai Fleisher who is the spokesman for the Jewish community in Hebron focused his remarks on the PA, Palestinian Authority which strictly limits free speech and imprisons anyone, like Sheikh Jaber, who befriends or cooperates with Jews. During this panel discussion Ted Belman again came forward with data from a feasibility study that analyzes the actual number of Arab families residing inJudea and Samaria and the monetary compensation that would incentivize these Arabs to re-locate in Jordan or abroad. Since the cost of living in Jordan (including the cost of housing and construction) is low, cash stipends would go a long way in the humane re-settlement of Arabs in East Palestine. In fact, it would be much more costly to foolishly expel several hundred thousand Jews from Judea and Samaria.Jeremy Saltan of the Jewish Home party also believes that the 'two-state' solution is dead because it was based on false suppositions about the "peace process". Peace, Sultan explained means very different things to Arabs and Jews. He declared that Israel has to stop giving and start getting if we are going to advance toward a real peace.Two Arabs participated in the conference. Aedalelah (Abed) Almaala, a member of the one million strong Bani Hassen tribe in Jordan, who has been living in exile in the US for the past 27 years because of his opposition to King Abdullah, complained about the high cost of the Hashemite monarchy. He stated that there are 88 royal family members and 15 palaces. Jordan, Almaala said, is poverty-stricken because of the King's extravagances and dictatorial rule. Citing the Koran, he also thinks that Jordanians should accept Israel and work with Jews.Mudar Zahran, Secretary General of the Jordanian Opposition Coalition spoke to the audience via a Skype hook-up because his El Al flight was inexplicably cancelled.Zahran recalled that Jordan is 78% of the original Palestine mandate. 22% is now under Israeli control. Jordan, is in fact, the Palestinian national home with a Palestinian majority. Zahran claims that all Jordanians are fed up with the king and want him to depart. King Abdullah is in power because he has a modus Vivendi with the Muslim Brotherhood and support of the army which is backed by the US. The king is irrelevant and once unrest increases he is very likely to flee. Zahran envisions a welfare state open to all Palestinians. The jihad-inciting Muslim Brotherhood's standing will diminish once the king is gone. The success of this quiet revolution depends on US and UK support.P.S. 1 Both Mudar Zahran's and Aedalelah Almaala's lives are in danger. They are both targets for elimination. Their participation in this conference took a lot of courage.P.S. 2 Unfortunately, as far as I can tell, this important conference received little media attention even though it went straight to the heart of the Arab-Israel conflict.
The above story was written by Zvi November on October 22, 2017.

Related Articles
Blind Observations
Temple Mount Violence
"Israel in Reality" by Zvi November
Reflections on History
Random Thoughts on From Afar
On Terrorism
Reflections on the Elections
Palestinian Enmity Today
Short and to the Point
Gaza Mini-War Observations
Jew Hating Conference
The Israeli Left's Distorted Mindset
Impressions of Poland
Significant Peripheral
Enemy Agenda & Israel's Ruling Intelligensia
Thinking in the Box
"Occupied Territories"
Strategic Plans?
Israel in Reality by Zvi November
Truth and Consequences
A Country within a Country
Truth Pursuit
Why Boycott 44 Cent US Postage Stamp Showing ...
Egyptian Footnotes from Zvi November
Ariel Conference for Law and Mass Media
George Orwell is Alive and Well in Israel
Different Perspective Regarding Current Crisis ...
Anatomy of a "Peace Process"
Different View on Current Crisis in US-Israel ...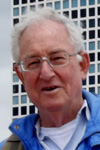 Zvi November, who grew up in New York, served as a Peace Corps' teacher in rural Philippines. He also taught at Hong Kong Int'l School. He earned his diploma from Univ. of Edinburgh, his MA from Syracuse Univ, both in anthropology. Now he is an activist in Israel's Media Watch and other civic bodies.