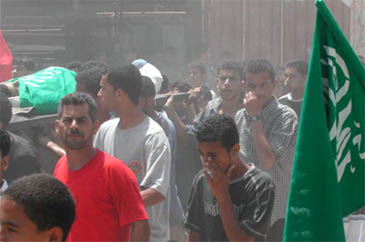 Rafah City Funeral — A funeral procession for a teenager killed by the Israeli shelling while walking on the street in Rafah City in Gaza Strip
The plain appearance of Mr. R did not explain much of the nature of his rather obscure but misunderstood job. At the beginning he had to lie to hide it but when assured of anonymity he started elaborating more about it.Inside one of the modest half-built houses in the southern Gaza Strip city of Rafah, The Seoul Times met with 'R,' and as he says, he is a full-time tunnel-digger with a memory full of unbelievable tales about his 10-year-old experience in tunneling under the Israeli-Egyptian-Palestinian borders."I believe digging tunnels can be a very profitable business, especially in these difficult times," declared 'R' as he started talking. "I used to dig private wells for people here and there before I started making tunnels."'R' virtually inherited the tunneling business from his father, who was a 'pioneer' in this kind of business in 1982, where he dug tunnels between the Egyptian and Palestinian parts of Rafah city to smuggle contraband.Due to the huge difference in prices and lifestyle between Egypt and Gaza Strip, tunnel smugglers brought in all kinds of goods bought cheap from Egypt and sold in Gaza for a hefty profit. "Whenever my father made a good sum of money, he would use it to start a new tunnel. By the end of 1994 with the arrival of the Palestinian Authority my father had dug almost 20 tunnels," 'R' said.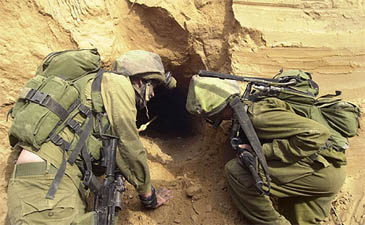 A tunnel in the Gaza Strip city of Rafah
Known as the 'tunnel king,' R's father retired in 1996 when officials started cracking down of tunnel diggers in Rafah. Some PA officials forced those diggers to either shut down or allow them to go as partners with them. From the 20 tunnels R inherited, only seven remained by 1998, four of them monitored closely and privately by PA officials."We were making less profit due to the partnership of those people, but at least they kept competition down by shutting down the tunnels they don't own, and guarding the houses that harbor the entrances to their tunnels," R told The Seoul Times.As for the way of digging a tunnel, R asserted it was a difficult matter, as usually tunnels are preferred to be as short as possible, so houses from both sides of the borders are sought after to be directly opposite to each other, then rented (or bought completely) and the tunnel diggers start working."The most important problem was the sand that is left over from the digging and how we can hide it. the best way was to pile it up in the other rooms of the house or smuggle it in trucks and throw it away somewhere. We sometimes sold the dirt for construction companies to use it for construction if it was clean enough."However, when the Palestinian uprising began in September 2000, tunnels started to become a passageway for weapons for the Palestinian militants. R's involvement in that direction was minimal, according to him, but it lead to having most of his tunnels destroyed by Israeli forces and him hunted down by them."By the beginning of 2001 the Intifada began taking a more militant approach, and weapon smuggling became the primary aim of digging tunnels, as militant groups started funding tunnel-diggers and hiring their services to dig weapon-smuggling tunnels," R maintained.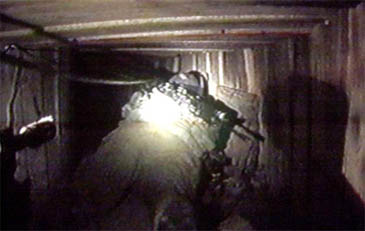 A tunnel in the Gaza Strip city of Rafah
According to a Human Rights Watch report, which researched the tunnel situation on the border by speaking with Rafah residents, Israeli officers, PA officials, foreign diplomats in Israel, Israeli and foreign journalists, Egyptian security officials, and experts familiar with the nature of Rafah's subsurface soil. The interviews were conducted with three foreign experts in detecting and/or neutralizing tunnels.Based on their research, HRW believes that the Israeli forces' pattern of house demolitions is inconsistent with its stated goals, and in some cases, the destruction was disproportionate and arbitrary."Smuggling tunnels exist, but the Israeli government and military are exaggerating their numbers, their lateral extent, and the number of entry/exit points, known as egress shafts. The IDF claims to have uncovered at least ninety tunnels since 2000, but it has actually found ninety tunnel egresses, of which an undisclosed fraction actually led to tunnels that ran to Egypt. Others were incomplete shafts that could have been closed with poured concrete. Before 2003, the IDF bulldozed individual homes that covered tunnel exits without taking action against the tunnels themselves," HRW report stated.Many Israeli security officials and institutions warned that Palestinians could smuggle anti-air missiles through these tunnels, a thing R clearly denies. "It's simple, because the tunnel cannot contain such a missile. The only big enough weapons to be smuggled in tunnels are assault rifles and Rocket-Propelled Grenades (RPG)."However, by May 2004, when Israeli forces launched their massive 'Operation Rainbow' with the obvious goal of eliminating tunnels in Rafah, and resulted in the destruction of 120 houses and death of almost 70 Palestinians, only three tunnels were uncovered.Of these tunnels, none was owned or operated by R. He confirms today that he has got but one tunnel and that he does not operate it constantly "due to the tight Israeli security and constant searching for tunnel entrances."On December 17, while digging his second tunnel, R was almost killed when the tunnel collapsed on him and five others. "The soil was damp above the tunnel from yesterday's rain and we didn't reinforce the tunnel enough. We barely managed to escape for if the Israelis would catch us then we'll never see sun light again," R spoke on the phone hours after his miraculous escape.