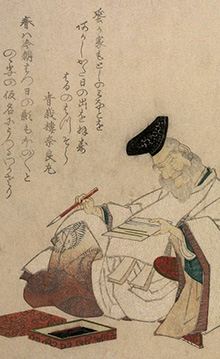 Kakinomoto no Hitomaro (柿ÜâìÑØ«Õå) was a Japanese waka poet and aristocrat of the late Asuka period. He was the most prominent of the poets and is is ranked as one of the Thirty-six Poetry Immortals. From the Heian period on, he was often called "Hito-maru" (ìÑü¯).
The Japanese waka poet Kakinomoto no Hitomaro belongs to the world of the seventh century and the very early eighth century, prior to perishing from this world. His legacy remains in the vestiges of Japanese high culture because he belongs to the Thirty-six Poetry Immortals. This reality is based on Hitomaro being extremely prominent in volumes 1 and 2 of the richly credited Man¡¯yōshū. Therefore, Hitomaro, who belongs to a Japan heavily influenced by the Asuka Period, had space to focus on his artistic talents.Hitomaro himself belonged to a revolutionary period because Buddhism developed and prospered in Japan after arriving from The Middle Kingdom (China) and ancient Korea during the Asuka Period. Similarly, the artistic soul of Japan was growing in complexity and one can only imagine how Hitomaro welcomed this reality. At the same time, political and social changes began to witness a new era.Hitomaro focused on long poems called chōka and short poems titled tanka. His long poems express his passion and deep thinking on certain issues – and sometimes a lament. This isn¡¯t to underplay his tanka because he was also widely respected in this area. Yet, it seems that his chōka enabled him to reach a higher plain but this is open to each individual who reads the poetry of this esteemed poet.In another article, I state, ¡°Little is really known about his life and doubts persist if his notoriety began under Emperor Temmu (631-686) or Emperor Tenji (626-672). In the past, it was widely believed that his career began under Emperor Temmu. Yet, the notable scholar Kitayama Shigeo points in the direction of Emperor Tenji. This is based on a pair of composed poems alluding to mourning the sad loss of a lady who belongs to the court of Emperor Tenji. Therefore, differences of historical interpretation remain in modern times and this highlights the limited nature about what is really known about Hitomaro.¡±
Hitomaro wrote:
At fair Kumano
Lilies on the beach
A hundred deep
My heart¡¯s yearning, but
Never will we meet.
In another poem Hitomaro laments:
To the far-reaching
Heavens has gone
My prince, so
Unaware of passing days and nights
Will I love him still.