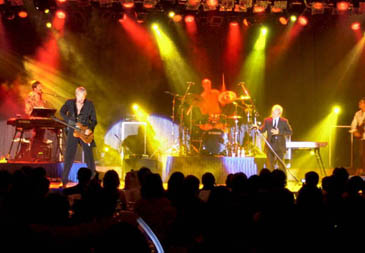 Air Supply performing in front of an audience of different ages at the Millennium Seoul Hilton Convention Center.
Air Supply came and delivered a concert filled with romantic music to a full house on Saturday night at the Millennium Seoul Hilton Convention Center. "It started off as a dinner show but ended as beatlemania," one fan was heard saying. They pulled out all the hits in front of a mixed gathering of fans from all ages at the Christmas dinner show concert on Dec. 18. Some couples even brought their kids to show them a little part of their teenage years.The sound was crystal clear in the concert hall and the light show dazzling. Air Supply showed Seoul why they are still at the top of their game after so many years. The night started off with a dinner that included fresh salmon and halibut carpaccio and a delicious Thai lobster and vegetable soup. The main course was a perfectly cooked pepper Australian beefsteak cooked in cognac and mushroom cream sauce.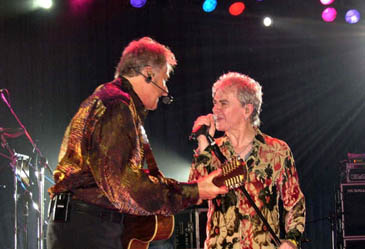 Graham Russell and Russell Hitchcock of Air Supply on Dec. 18 perform their hits at a Christmas Dinner Show concert in downtown Seoul.
Right after the dinner Air Supply came out and welcomed their guests by performing all their hits. Russell Hitchcock's distinguishable voice and Graham Russell's unshakeable guitar playing made everyone in the hall cheer for one of soft rock's most perennial time tested bands.Fans where enthralled to hits such as "Lost in Love," "Making love out of nothing at all," "All out of love," "Here I am," "The one that you love," and "Two Less Lonely People in the World." Air Supply was not only entertaining by delivering time tested tunes and heart warming melodies but also engaged the fans with stories about the history of some of their songs. At one point Russell invited a fan on stage to translate in Korean a cute and funny story about a song he wrote for his son's wedding.At first Carolyne (the fan who was invited up on stage to translate) was a bit nervous but being the star that Russell is made her feel comfortable to the point that she started to joke around with him. Russell with the help of Carolyne told the audience that he had a year to write a song for his son's wedding and forgot about it. Two days before the wedding Russell received a phone call from his son concerning song. The rock star said "why?" which trapped him into writing a love song entitled "Why." At the day of the wedding he had attached the words which were written on a piece of paper on the neck of the guitar. Just before he was to perform the song the paper fell off and was Russell was forced to sing the song by memory. Saturday night he performed that song to his fans in Seoul.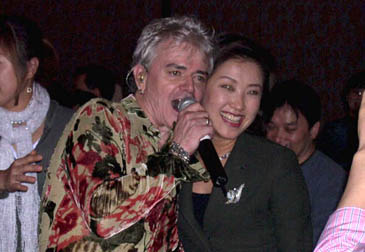 Russell Hitchcock sings while posing for pictures with one of their many fans during their concert at the Millennium Seoul Hilton across from Namsan Mountain.
At one point I saw a couple which must have been in their golden years dance to one of Air Supply's many romantic love ballets. The wife was a bit nervous but the husband relaxed her and the couple ended up dancing and showing why Air Supply is at the top of their game even after so many years.The last song of the night Hitchcock invited everyone to get off their chairs and come to the bottom of the stage. Fans rushed in and at that point the dinner show ended and the rock concert started. Girls were waving towels and their arms in the air, fans were taking pictures and everyone danced to one of Air Supply's soul pumping hits. They then left the stage only to come back after everyone in the concert hall cheered for an encore. That's when they pulled out their biggest and most recognizable hit "All Out of Love." Fans went nuts to Hitchcock's clear melody and Russell's piano playing. Everyone knew the song and sang along with Air Supply to this time honoured rock classic.
Related Photos of Air Supply's Concert in Seoul