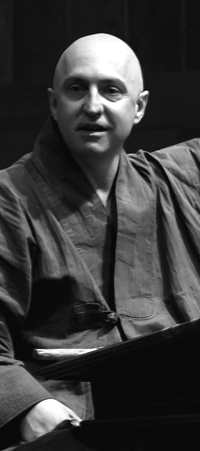 Hyon Gak (úÜÊÆ) Sunim
Harvard-educated blue-eyed Zen Buddhist monk Hyon Gak (úÜÊÆ) Sunim (Buddhist monk) announced that he would sever ties with the Korean Buddhism on July 28, 2016, arguing that it seeks only money.The 52-year-old Catholic turned Zen Buddhist monk made the announcement through his Facebook message on the day.Currently staying in Greece Hyon Gak said that he would visit South Korea in the middle of August for the last visit to the nation.When he comes to South Korea Hyon Gak will pay a visit to the budotop (Ý©Óõ÷²) of Zen Master Seung Sahn (âýߣ), his deceased teacher at Hwa Gye Sah Temple.Budotop is a small pagoda or Tsutupa containing remains of Buddhist monk.After that he will attend a rural cultural event before he finally leave South Korea for good and all.The American monk went on to say that he would not return to the secular life but would continue to study Zen Buddhism either in Europe or in America.Hyon Gak left a great disappointment to his Facebook message.He quoted local newspapers' articles dealing with stories of many foreign professors leaving from the Seoul National University out of disappointment,Hyon Gak said that he understand the mind of foreign scholars 100 percent and he agrees with them on their decision to leave the university.He mentioned that through 25 years of his experience he realized that foreign Buddhist monks are only decoration of the Jogye Order (ðÇÍ¢ðó), the largest sect of Korean Buddhism.He argued that Seung Sahn opened the gate of Korean Buddhism to the foreign Buddhist monks some 45 years ago. He said that he was among some 100 foreign Buddhist monks who came to South Korea.Hyon Gak maintained that open-minded Korean Buddhism was the right spirit for the modern people back then. But the gate of Jogye Order of Korean Buddhism has been narrowed since then.He revealed that up to nine foreign Buddhist monks returned to the secular life in South Korea over the last couple of years.He said that it is now difficult for him to persuade his European disciples to become a monk of Jogye Order.
He argued that he cannot teach his disciples particularly woman disciples anachronistic education of Joseon Dynasty because they were educated in Western rationalism.Hyon Gak recommend his disciples to go to Seung Sahn International Zen Center of Musangsa in Gyerong Mountain or Zen meditation centers in Japan instead of Jogye Order.He added that other Western Buddhist monks share the same opinion with him.He argued that Jogye Order completely isintegrated the "revolutionary" Seoul International Zen Center of Hwa Gye Sah set up by Seung Sahn, who spread the Korean Zen Buddhism to the entire world.He seemed to mention that the Seoul International Zen Center of Hwa Gye Sah was closed five years after its inception.He criticized that the once open-minded Korean Buddhism has been replaced with a religion seeking only luck or money, calling the phenomenon a sad thing.As a favored disciple of Seung Sahn (1927~2004), the propagator of Korean Buddhism throughout the world, Hyon Gak came to South Korea from the United States in 1990.Born into a large Catholic family in 1964 in Rahway, New Jersey, USA. he went through education at Catholic schools.He graduated from Yale University in 1987 and studied briefly in Germany and Paris.He earned a master's degree in theological studies from Harvard University's Divinity School in 1992. He majored in comparative religion. It was Seung Sahn that stunned his mind by giving him a surprising question of "Who are you?" He decided to become a Buddhist monk.Hyon Gak left South Korea around the end of 2008 for Germany.Since then he has been teaching Zen Buddhism in Munich and Heidelberg in Germany.