Herb garden at Ballymaloe
One of the most dog-eared books in my library is Tim Allen's 'Ballymaloe Bread Book'. It's my bread making bible. I find something therapeutic and mystical about mixing flour, water and leavening to see it 'grow' into a loaf. Hand kneading the dough from a shaggy, pliable ball and forming it into a recognisible loaf shape is sensuous and satisfying. Few things are as pleasurable as taking freshly baked bread out of the oven and being overcome by the heady aroma. So, while on a recent trip to Ireland, and presented with the opportunity to visit the Ballymaloe Cookery School, I jumped at the chance.The Cookery School, situated near Shangarry in the east of County Cork, boasts an international culinary reputation, attracting students from all over the world. Like many successful enterprises it was born out of adversity. Tim and his wife Darina had, for many years, been successfully farming on the 400 acre family homestead at Ballymaloe but due to a national turndown in agricultural revenues, they were forced to seek another avenue to boost their diminishing income. Darina's interest and expertise in cooking was stimulated, and fostered, through working with her mother-in-law, Myrtle, a renowned cook, who ran the nearby Ballymaloe House restaurant.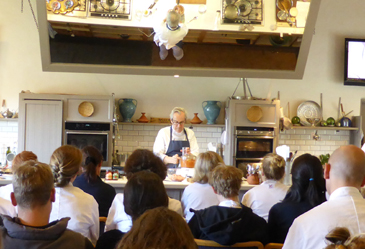 Cooking demonstration at Ballymaloe
So, as the chosen revenue raiser, Darina, Myrtle and Tim devised a twelve week cookery course which, when launched in 1983, attracted an enrolment of nine pupils. From these humble beginnings the response has snowballed. Today, with its international reputation well established, Ballymaloe is able to offer three, twelve week courses annually, each accommodating 64 students, in addition to numerous short courses lasting anything from half a day to one week.On my arrival at Ballymaloe (pronounced 'Ballymaloo'), I am greeted by general manager, Toby Allen, who shares with me one of the school's success secrets. 'We teach a very important food philosophy here', he stresses. 'The emphasis is on ingredients and where they come from. The less we care about where ingredients are sourced, the better it is for industrial food production. If you can't cook you are outsourcing your health and nourishment to a company which doesn't have your best wishes at heart'. At Ballymaloe, the emphasis is on obtaining, and cooking, the best and freshest produce either from the school's own farm, or from local, quality, organic suppliers. Following a much needed cup of coffee, Toby takes me on a walk around the school's farm. Firstly, we visit the dairy where the six cows are only able to generate a fraction of milk, yoghurt, cream and butter required for use in the kitchens. The shortfall is obtained from local organic farms, or in the case of butter, from Kerrygold. The size and scope of the school farm takes me somewhat by surprise as we wander through glasshouses of tomato and salad crops, a fruit garden boasting figs, blackcurrants, apples and peaches, extensive plots of burgeoning root crops, and a herb garden based on the Villandary Palace in France's Loire Valley.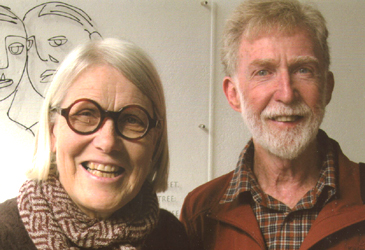 Mr. John Hagan & Ms. Darina Allen, owner of the Cookery School
Free-range hens supply eggs while Ballymaloe's pigs meet the teaching and course demand for fresh pork, bacon and sausages. 'We love to host schools here', Toby informs me. 'We like to let them see how their food is produced and where it comes from. Sadly, some children have no idea that carrots grow in the ground, and just how good it is to eat a fresh carrot'. As it is now time for lunch, exploration of the 100 year old Flower Garden and the farm's Celtic Maze, will have to wait for another day.Lunch, served in the dining room, is both convivial and succulent. It has been prepared, during the morning by certificate students on the twelve week course, who join guests (like me), and other Ballymaloe staff in sampling their fare. We tuck into, among other dishes, ruby grapefruit sorbet, lightly spiced chicken breasts with avocado, cabbage salad with raisins and herbs, new season's potatoes with mint, pan grilled spring onions, rhubarb tart and apple crumble with calvados cream. Coffee and biscuits complete the repast. During the meal I have the chance to talk to some of the students, who seem to come from an array of backgrounds, and with a diverse spread of motivations for studying at Ballymaloe. Gloria, who sat next to me during the meal, is a retired librarian from Georgia (USA). 'I've always wanted to improve my home cooking', she confides. 'And now I have the time and money to do it'. Bernadette, a 20 year old from County Galway, saw the course as being the first step on a culinary journey to becoming a hotel chef. Mike, from Santa Fe (USA) was one of the original nine students in 1983, and he continues to come back to Ballymaloe every second or third year, either to complete one of the schools many short courses, or just to call and see the family. 'After all this time I think of the Allen's as friends. Coming here is just part of my lifestyle. Ballymaloe is my second home', he informs me. Following lunch, it's time for the cooking demonstration. I must admit that, as a student, I was less than alert in afternoon lectures following a large meal, and I half expected the Ballymaloe students to be similarly lethargic during the session. Not a bit of it! All were alert and attentive as RTE-TV chef, and Darina's brother, Rory O'Connell, led us deftly and expertly, through the preparation of the 20 dishes which the students would cook next morning for that day's lunch. O'Connell has been head chef at Ballymaloe for a decade and has twice been awarded the prestigious title of Ireland's 'Chef of the Year'. For the next three hours in the hi-tech demonstration kitchen, O'Connell moves with skill and good humour from one dish to the next. 'He makes it all seem so easy', the young Swiss student sitting next to me hisses in my ear. 'Don't you just hate him?' While O'Connell shoulders the bulk of the certificate course demonstrations, Darina, and daughter-in-law, Rachel Allen, are also involved. Both are also high profile TV chefs and prolific cook book writers.Later that afternoon, I have the opportunity to meet Darina who still remains passionate about her paddock-to-plate ethos, about sourcing the best ingredients and cooking them simply. She is arguably Ireland's most famous cook, with twelve best selling books to her credit, and also the country's most notable TV chef. Like 'Nigella' or 'Jamie', she needs no surname. 'I think what makes us so special is that we are a cookery school in the middle of an organic farm,' says Darina. 'Most of what we use is our own produce or locally sourced. Our students regain a sense of connection to their food. They can help out in the garden, feed the hens, milk the cows, butcher the animals – it all adds that extra dimension'. While her influence has been most notable on Irish cooking, Darina is open to learning from the cuisine of other countries – even Australia. 'Maggie Beer and Stephanie Alexander have both visited Ballymaloe and held cooking demonstrations with our students', she states. What Darina, and her family, have created at Ballymaloe is something unique, and I am enthused by its paddock-to-plate philosophy which focuses on sourcing the freshest, most wholesome ingredients, and cooking them simply. My brief visit has reminded me of the way my mother used to cook; basic skills which seem to have been lost in the tsunami of the processed food revolution.For further information about long/short courses at Ballymaloe Cooking School, or attending the afternoon cooking demonstrations, visit www.ballymaloecookeryschool.ie
For tourist information on Ireland, visit www.ireland.com
The author gratefully acknowledges the support of Tourism Ireland