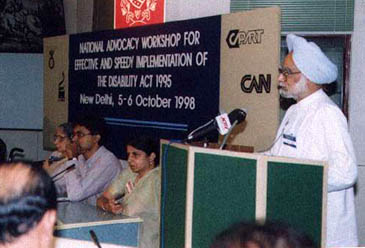 Dr. Manmohan Singh at a seminar
India's new prime minister, Manmohan Singh, welcomed his Pakistani counterpart, Shaukat Aziz, in New Delhi the other day with a classic line. "Who could say 20 years ago that the Berlin Wall would be a thing of the past. My hope and prayer is that we can do something similar in the Indian subcontinent. I earnestly and sincerely will work to that end."Singh was referring to the age-old conflict between India and Pakistan, two nuclear weapons neighbors, fighting over Kashmir, a state that now lies divided between them. It has been so since the British left India in 1947 after partitioning it into India and Pakistan. Both have fought several wars over this.Without going into the merits and demerits of both India's and Pakistan's claim over Kashmir, it must be said here that both were guilty of furthering the discord. For nearly a decade and a half Pakistan trained militants and sent them into Indian Kashmir
to wage a proxy war that led to thousands being killed, maimed for life and, worse, an economic disaster.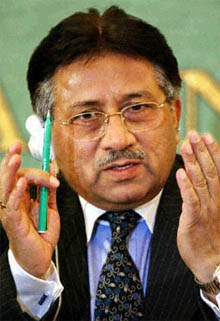 President Parvez Musharraf
There was little scope for employment, and the State that banked heavily on tourism suffered, because visitors stopped coming. Obviously, in a climate of violence and vendetta with gun-toting soldiers marring the scenic beauty of the place, holiday and leisure could hardly survive. India was certainly guilty of setting up a military raj there, and the army's highhandedness was not hidden, and this led to terrible resentment among the Kashmiris, especially among young people who found lack of employment a frustrating impediment to healthy living.Unemployment seemed like an ideal passport for the youth of Kashmir to take up arms. Pakistan-sponsored Islamic radicals dangled the carrot of money and dignity to lure hundreds of people into a life of brutality, blood and gore.It is this rut that Singh has tried to address by pledging Rs 24000 crores over a four-year-period to uplift Kashmir economically. Now the young men and women of Kashmir can join Central government services or any of the other jobs that Singh's package hopes to generate.At one stroke, India's Prime Minister has tried banishing poverty, which, as anybody will agree, is one key ingredient for terrorism to thrive. Singh has also decreed a troop reduction in Kashmir, and the process has already begun.Singh has vowed to root out terrorism, and has made an earnest plea to the Kashmiri youth to forget the past and move into the mainstream of life.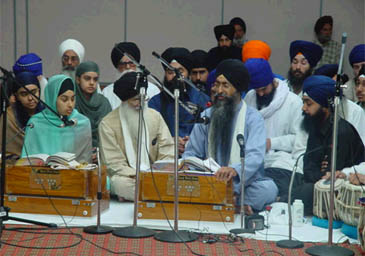 Singh is certainly on a lucky wicket. At least, there is a genuine desire for peace among the people of Pakistan and India, despite a rather lukewarm response from the Pakistani President & Gen. Parvez Musharraf. Among Pakistanis, there is a growing feeling that even if the differences on Kashmir remain, there should be cooperation with India.New Delhi could not agree more with this. Terming such people-to-people cooperation as vital confidence-building measures, India has now begun issuing thousands of visas to Pakistanis eager to cross the border for visiting relatives or business. There have also been several cases of Pakistani children coming into India for sophisticated healthcare: heart surgery has been one significant area, where India scores over Pakistan.Unfortunately, Pakistan is yet to reciprocate with a liberal issue of visas for Indians wanting to go over. The country has also been seen wanting in other areas.The reason for this is not far to seek. Musharraf is afraid that any sidelining of Kashmir will embarrass him among the two most powerful groups in Pakistan — the army and the clergy — who have reasons to keep the Kashmir issue alive, well,
perpetually.However, most experts on South Asia believe that people's pressure will finally force Musharraf and his men — as also some hawks in New Delhi — to get around negotiating. Admittedly, this may appear scary for a General who has refused to put his uniform in the cupboard. It may well be his survival instincts that pushes him to keep the Kashmir conflict alive.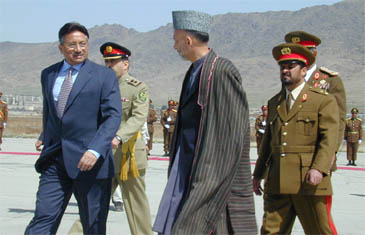 President Musharraf is greeted by Dr. Hamid Karzai at Kabul International Airport during his visit to Afghanistan April 2, 2002.
Nonetheless, Singh's genuine move to improve the plight of Kashmiris will only boost the confidence of those ordinary men and women across the border in Pakistan.But this is not enough. New Delhi must draw international attention to the Kashmir problem by tom-toming its transparency on the region. Fifty years ago, when India took the issue to the U.N. and later to Tashkent the compulsions of Cold War prevented
a resolution.Today, this is no longer the case, and there is adequate political space to work out an agreement which will take care of both India's and Pakistani's vital interests. Some aver that converting the Line of Control, which divides Kashmir, into an international border may well be a solution.It can well be, but Musharraf and his men have to reconcile to that. So too, some hardcore Indians, who continue living in unrealistic times. Yes, Manmohan Singh's sincerity and determination, backed by his economic policies (after all, the Indian's Prime Minister is a distinguished economist and father of the country's economic reforms which began in 1991), may well be the magic mantra.