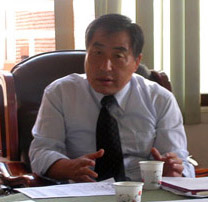 While the Itaewon "Global Village" Festival was held The Seoul Times reporter Ms. Lee Yu-jin met with Mr. Sung Ki-tack, chairman of the Itaewon Special District for Tourism Association(ISDTA), host of the festival. The following article contains his answers to questions about the festival and on how to promote the Itaewon area.
Q:
What are the purposes of hosting this festival?
A:
First of all, Itaewon is Korea's "dollar box." Shops and stores here in Itaewon alone rake in 1.2 or 1.3 billion U.S. dollars(some 1,400 billion or 1,500 billion won) per a year from foreign customers visiting the area. Merchants in Itaewon say they are the ones who saved our nation during 1997 economic(foreign exchange) crisis. So, we want to stimulate business activities by holding this festival. Second, we would like to turn Itaewon into a venue for international exchanges among global citizens. I believe that this festival serves the goal.
Q:
What is the scale of this festival including its budget and the number of participating businesses and countries?
A:
Yongsan Ward Office and Seoul City Administration donated 100 million won(some 87,000 U.S. dollars) respectively. And we invested 200 million won(some 174,000 U.S. dollars) in this festival. All together the overall budget is 400 million won(348,000 U.S. dollars). Most of our 2,300 members and 10 foreign countries are participating in the festival.
Q:
Compared with previous festivals that you held or other international festivals held locally what are the differences and characteristics of this festival?
A:
"Hi Seoul International Festival" held by its Mayor Lee Myung-bak consumed perhaps four times more money. Yet, the festival failed to attract even 1/10th of foreigners now living in Seoul. We are hosting our festival on a special plot occupied and used by the U.S. military for half a century. So, our festival is the largest in the nation and I would say the best so far. The U.S. military is very supportive of us for the festival, sending their band and honor guard.
Q:
There are so many events in your festival that I cannot even count them. What do you think are some of the most important?
A:
I would say National Day event is the most important event of all. Ten nations including Germany, India, the Philippines, and China are selling their food in the Food Court as each nation stages their traditional performances each day during the festival. The street parade by each country is also quite impressive as they march in their own traditional attire. The 4.5-km marathon is also very popular with foreigners and locals. Forty percent of its participants are foreigners.
Q:
What are the reactions from people about this festival and its outcomes?
A:
I am pleased that this festival turned out to be quite successful. It is the largest festival of its kind with its budget and the number of its participants. Unlike the previous ones this festival was held with funds from the government. Compared with previous ones which were only "street festivals," this festival is the largest I have seen in the last five years.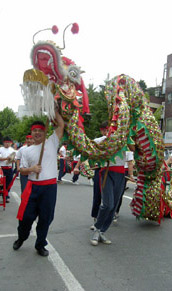 Q:
Foreigners' participation is important since it is the so-called "global village" festival, but is there any other way to attract more local people?
A:
Of course, participation by other nationalities is important. But we also put more emphasis on local people. We had to pay large sums of money to invite famous Korean celebrities in order to attract more Korean people to the festival.
Q:
W
hat is your wish or vision for next year's festival?
A:
The success of festivals depends on how many so-called "big shots" visit the festival venue. Honestly, this year not many politically or socially important personalities came to the festival. Hopefully, next year Seoul City Mayor Lee Myung-bak and Minister Lee Chang-dong of Ministry of Culture and Tourism will visit our festival.
Q:
There are about 2,300 businesses operating in the Itaewon area. How many of them are shopping places and bars and restaurants?
A:
Here in Itaewon area businesses are predominantly shopping places. About 70 to 80 percent of them are sellers of goods. Restaurants and bars account for only 10 to 20 percent of them. The remaining businesses are massage parlors, bath houses, and other beauty-related shops. We have about 140 "illegal" street vendors, as well.
Q:
A large portion of the U.S. military in Yongsan will move to the Pyongtaek or Osan area by 2006. How much will the US military relocation influence business in the Itaewon area? Are you prepared for that?
A:
Frankly, we are not worried about its aftermath. Only the media is making a big story of military relocation. U.S. private soldiers only sip one cheap cocktail or two with their average monthly salary ranging from 700 to 1,300 U.S. dollars(some 800,000 to 1.5 million won). The real consumers in this area are Japanese and Korean people. So, I don't think that we are going to be influenced "so badly" by the relocation plan. Even after the relocation is complete American soldiers and their dependents will visit Itaewon on the weekends, just the way they do currently.
Q:
Do you have any plans to activate Itaewon businesses and to promote Itaewon?
A:
Itaewon was designated as "special tourist district" in 1997 and we expected lots of benefits and assistance from the government. But we have had no official subsidy from the government. Ironically, Itaewon is designated as residential area. So, building even lodging houses or performing centers is impossible in the area.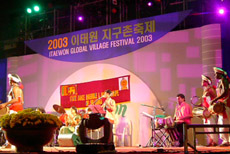 We hope to receive not only administrative assistance but also a subsidy from the government. Government should ease or lift all kinds of administrative restrictions on Itaewon. For that some kind of "Special tourism promotion act" should be passed in the National Assembly as early as possible.About 25,000 foreign diplomats, their families, and other foreigners work and live in and around the Itaewon area. An average of 3,000 to 4,000 foreigners visit the area daily. We don't even have one single casino or performing center in this "center of foreign communities." Government should designate Itaewon as "international exchange district." I hope the government will ease restrictions on Itaewon by passing a "special tourism promotion act" in the National Assembly.