Global Views
0p-Ed Special
August 1945: Let's Talk About Terrorism
Special Contribution
By Thomas L. Knapp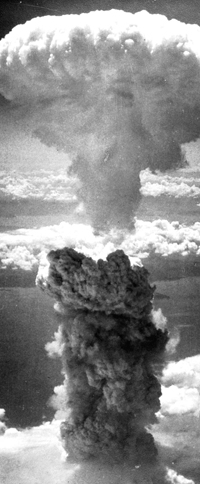 US B-29 Superfortress dropped a atomic bomb "Fat Man" on Nagasaki on August 9, 1945, killing up to 80,000, injuring several times more people, and destroying the entire Japanese city.
On August 6, 1945, the United States of America became the first — and, to this day, the only — nation to use atomic or nuclear weapons in actual hostilities (as opposed to testing). The unconditional surrender of Japan quickly followed, bringing an end to World War II.For 70 years now, the anniversaries of the Hiroshima and Nagasaki bombings have occasioned debate on whether or not those bombings were necessary, and whether or not they were justifiable.Many World War II veterans — and others — stand on simple necessity to justify the bombings. A US invasion of Japan's home islands, they argue, would have entailed a million or more US military casualties, and even more Japanese civilian casualties than are attributed to the atomic attacks.The argument is facially persuasive. As of August 1945, my grandfather and my wife's father were both serving in the US Navy in the Pacific. There certainly existed a non-trivial likelihood that either or both of them would have died in subsequent battles had the war not ended. For obvious reasons, we're grateful they came home alive.The persuasiveness of the argument fades when we consider the facts: Conditional surrender had been on offer since late 1944, the condition being that Emperor Hirohito remain on the throne. The US fought two of the war's bloodiest battles — Iwo Jima and Okinawa, at a cost of tens of thousands of Americans killed — then unleashed Little Boy and Fat Man on Japan's civilian population, rather than accept that condition. But once the war was over, Hirohito was allowed to remain Emperor.That aside, words mean things, and neither our happiness at our ancestors' survival nor any military argument for insisting on unconditional surrender and dropping atomic bombs to get it changes the character of what happened at Hiroshima and Nagasaki.Terrorism, per WordNet, is "the calculated use of violence (or the threat of violence) against civilians in order to attain goals that are political or religious or ideological in nature." The Hiroshima and Nagasaki bombings meet that definition in spades.US President Harry S. Truman ordered, consciously and with premeditation, the murder of somewhere between 100,000 and 250,000 civilians in pursuit of his political goal of unconditional Japanese surrender.Whether or not an act constitutes terrorism doesn't depend on whether or not its goals are laudable. Every terrorist and supporter of terrorism in history, save a handful of thorough nihilists, has justified his or her atrocities on the basis of the desired outcomes, claiming that a few innocent lives sacrificed now means more innocent lives saved later.But innocent lives are not ours to sacrifice. Murder is murder and terrorism is terrorism, no matter what nationalist or patriotic colors we wrap them up in and no matter what ribbon of "necessity" we stick atop them.Even if we accept the "necessity" argument for the murders at Hiroshima and Nagasaki, they remain something to regret and to mourn, not something to justify or to celebrate.
The above writer, Thomas L. Knapp, is director and senior news analyst at the William Lloyd Garrison Center for Libertarian Advocacy Journalism (thegarrisoncenter.org). He lives and works in north central Florida.
He can be reached at kubby.communications@gmail.com

Related Articles
Murder Most Foul: Thoughts on Moral ...
US Congress Tries to Wish Away Israeli Racism ...
International Criminal Court: Sauce for the ...
Contra Hobbes: Peace and Political Government ...
So Long as There Are Nukes, We Had Better Hope ...
Imperial Delusion Is the Enemy of Peace and ...
Electric Cars: Great Idea, But Not a Panacea
Mariupol: Let's Talk About "Chemical Weapons" ...
Circumcision: Pope Francis States the Obvious, ...
Powell Lied, People Died: Justice Delayed Was ...
"No First Use": An Empty Gesture That Would ...
Facebook Gives the Most Dangerous Extremists a ...
Wuhan Lab Leak: It's Not a "Theory"
About That "Rules-Based International Order"
A Biden-Putin Summit: Jaw-Jaw is Better than ...
Joe Biden Reaffirms Washington's Message to ...
"Vaccine Passports" and the Holocaust: An ...
Same as the Old Boss, Julian Assange Edition
Biden's Iran Dilemma: Serve Obama's Third Term ...
COVID-19: The Way the Music Died?
How Joe Biden Can Score a Major Foreign Policy ...
Trump Regime vs. the ICC: The Wrong Side of ...
Stop Blaming Russia, China for US Disarmament ...
NATO is a Brain Dead, Obsolete, Rabid Dog! ...
North Korea Nuclear Freeze? Finally, a ...
US War on Iran: Evil, Stupid, Self-Damaging
US Should Stop Meddling in Spratly Dispute
John Bolton Vs. International Criminal Court: ...
Syria: Is Trump Finally Putting America First?
Some Questions from the Edge of Immortality
More Korean War Is "Worth It?" To Whom?
A Korean Spring after the Winter Olympics Is ...
Microsoft Corp. vs. United States: Jeff ...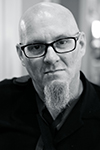 The above writer, Thomas L. Knapp, (Twitter: @thomaslknapp), is director and senior news analyst at the William Lloyd Garrison Center for Libertarian Advocacy Journalism (thegarrisoncenter.org). He lives and works in north central Florida.