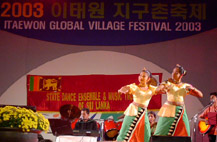 Streets of Itaewon, center of foreign communities in Seoul, are getting hotter and hotter as a variety of cultural events are unfolded as parts of the Itaewon Global Village Festival 2003. The festival started Oct. 2, 2003 for 10-day run. Spectators, both local and foreign, can entertain their eyes and ears as well as mouth with numerous multi-national and multi-cultural events including street parade of 10 countries, world music concert, 4.5-km peace marathon, world food festival, and world street performances during the festival period.During the festival Itaewon turns truly into a melting pot of "a little global village" where fusion culture of 10 countries flourishes in the nation's largest international folks culture festival. Most of the shops in Itaewon are offering goods at special prices of between 40 and 80 percent discount during the festival.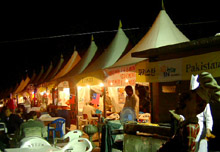 Among about 30 events is food court in the festival's main venue set up on an open space formerly used for Arirang Taxi parking lot. The food court attracts a number of local people and foreigners with a variety of delicacies including Turkish kabob, German sausage, Indian foods as well as Japanese and Chinese food. 10 countries are offering their food and drinks.
Particularly, a special selection of Korean food representing each of the eight different provinces are also available at reasonable prices in the venue located at the mouth of Itaewon near Crown Hotel.In the National Day event, each of the participating countries including U.S., Philippines, Vietnam, Japan, and Malaysia, take turns daily to showcase its traditional performance in a scheme to promote global tourism. The unique gala performances of each participating nation are unfolded on the main stage surrounded by food court. The performance starts at 5 p.m. everyday during the festival period. Spectators can sit on hundreds of chairs in front of the stage.On Oct. 2, Eighth U.S. Army band performed for its National Day. Each nation has its own tourism booths provided from its embassy in Seoul.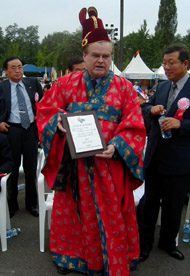 The festival kicked off on the day with the special inauguration ceremony in which Mr. John A. Nowell, was chosen as village chief for "Itaewon as global village." Mr. Nowell officiated National Day event for America on the day. Mr. Nowell, who works as public affairs officer for U.S. Army Ⅱ Support Activity, declared Itaewon global village in the ceremony. Itaewon village chief is selected everyday during the festival and serves as good-will ambassador to promote their country. People of each participating countries marches in traditional attire in street parade Oct. 2, the first day of the festival. Some performed folk dances or songs. The 10 countries include China, India, U.S., as well as Korea. Following the street parade is Itaewon Peace Marathon scheduled at 2 p.m. Oct. 3. Both local and foreigners are joining in the 4.5-km marathon race along the road in Itaewon and Namsan Mountain. Itaewon World Concert is slated between Oct. 3 and Oct. 11. various forms of music of several nations including North Korea and Taiwan on the special stage of the venue. Band or choir of each nation performs rock, blues, jazz, hip hop as well as traditional music in in the concert between 7 p.m. and 9 p.m. on different days.Performances and world exhibitions are held in the main venue and its vicinity during the festival period. The exhibitions include food and tourism photos of each participating country. Photo exhibitions display Korea's traditional wedding ceremony, pottery craft studio, tea ceremony, and folk games. A contest for cheer leading, fitness and aerobic contest, Itaewon concert, techno magic show, rock contest, a demonstration for tour service, and cocktail show are also being held as parts of the festival. Itaewon advant garde arts show, world street performances, street facility art exhibition fill major streets of Itaewon during the festival to give people a rare chance to taste advanced unconventional forms of arts. Also held between Oct. 4 and Oct. 11 are various commemorative sporting events including in-line hockey game and a friendship fence soccer game between local people and foreigners.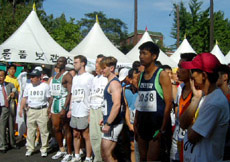 On Oct. 3 the First Peace Marathon starts at 2 p.m. from the open space of the festival's main venue. Participants should gather there at least one hour earlier. They run on the so-called 4.5-km "health" course along Namsan Mountain. "We hold this festival to promote tourism in Itaewon area," said Mr. Sung Ki-tack, chairman of the Itaewon Special District for Tourism Association(Tel: 797-2293), the host of the event. "The number of foreign tourists in the area has dwindled a lot because of Sept. 11 New York terror and North Korean nuclear crisis." Itaewon has recently been designated as "special district for tourism" by the government. For more infomation call 757-6161.