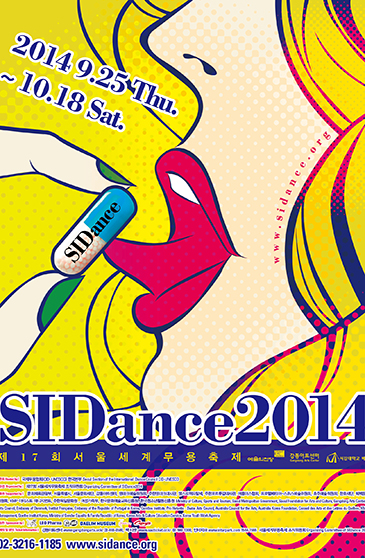 The 17th Seoul International Dance Festival is organized by the Seoul Section of the International Dance Council CID-UNESCO.
The 17th Seoul International Dance Festival (SIDance 2014), organized by the Seoul Section of the International Dance Council CID-UNESCO, will kick off at such major arts centers as Seoul Arts Center, Gangdong Arts Center, and Sogang University Mary Hall on Sept. 25 (Thursday), 2014 for its 24-day run.For 2014 edition, SIDance is offering a quite addictive lineup that will fascinate and immerse the audience into the world of dance.A total of 62 dance troupes from 19 countries will participate in this year's dance festival. Among the dance groups, there are 32 Korean groups.Compared with previous events "SIDance 2014" will feature adult-only performances by European dancers. And special dances of collaboration between scientific technology and arts will also be introduced.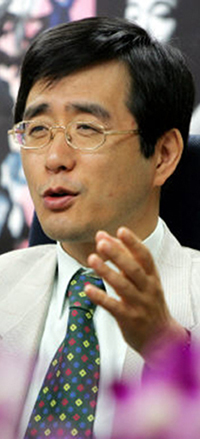 Mr. Lee Jong-Ho, the artistic director of Seoul International Dance Festival (SIDance). He is also president of Korean chapter of International Dance Council (CID)-UNESCO.
"This year we are more focused on the national dances and specifically Denmark's ones," said SIDance Director Lee Jong-Ho in a brief telephone interview. "I wanted to introduce them to the Korean audience.""We have five choreographic pieces which include nudity and there are four dancers who will be completely naked during 50 minutes, Lee added. "This group is from Denmark and they might receive a great reaction."First, "Singspiele" by Maguy Marin, a pride of France and "Forget Me Not" by Jean-Philippe Genty, the master of comprehensive art and magician of inner imagery, will invite the audience to a maze full of optical visions and images.A reinterpretation of "Witch Dance" by the pioneer in expressionism, Mary Wigman, "Sors" was initiated by Pedro Pauwels and co-choreographed by the world-renowned choreographers such as Josef Nadj, Robyn Orlin, Jérôme Thomas, and Carlotta Ikeda."Re-mapping the Body" of Compagnie Linga is an authentic example of a collaboration between scientific technology and arts; bio-sensors attached to the limbs of dancers transfer the muscle movements into sound and lighting, letting us listen to the movements. Five works for adults only, which will break the stereotypes about nudity for those in South Korea where it is not so common to publicize the issue, will be also presented."Dawn" by HODWORKS from Hungary, who gained wide recognition in Europe, shows intense and powerful movements by four naked male and female dancers.Pieter Ampe and Guilherme Garrido/Campo's "Still Standing You" proves that nudity is not only about erotic or disturbing qualities and makes the whole audience laugh hard."Complexe des Genres" by Compagnie Virginie Brunelle deals with a relationship of a man and woman who are afraid because they know so little about each other.Danish Dance Theatre's "Black Diamond" deals with the hope that would arrive at the dystopian future."MEN & MAHLER" of GRANHØJ DANS creates a peculiar harmony of a pure, raw masculinity and the gravity of Gustav Mahler's music.SIDance continues its tradition of in-depth introduction of outside culture and fostering intense cultural exchanges by focusing on the dance from a specific region or country, as in Nordic Focus or East Europe Focus.This year's focus is on Denmark. Giving an overview of the trend and level of its dance scene, Denmark Focus will present works by Don Gnu, Lucy Suggate, Danish Dance Theatre and GRANHØJ DANS, as well as a lecture on the current movements in Danish contemporary dance.Also, this will be a beginning of a more expansive exchange which will lead to a "Special Program in Korean Dance" in Denmark in 2015-2016.There is a wide range of international collaborative projects which, through cultural exchanges, will expand the creative foundation and networks, and also secure varied channels for distribution for artists. A multinational residency and co-creation project directly produced by SIDance and as well a part of Cultural Partnership Initiative Program of the Ministry of Sports, Culture and Tourism, Africa & South America Dance Exchange will show the collaborative piece by Korea's Youngcool Park and dancers from Mozambique, Ghana, Venezuela and Colombia this year.Also, SIDance will be showing many more outcomes of communication and clashes of different cultures: "Gelbe Landschaften" by KIM Hyoung-min with Mateff Kuhlmay and Benjamin Schälike from Germany; "Deluge" by Motherboard Productions, created by the collaboration between NYID of Australia and Wuturi of Korea; Park Na-hoon Dance Company's collaboration with Israel, Germany and Italy; a collaborative work by Singapore Odyssey Dance Theatre.It will provide a rich ground to witness the encounters of dancers from five continents, Asia, Africa, South America, Europe and Oceania. Having brought or planning to bring Korean dance companies to Italy, Holland, Croatia, Spain, Germany, Congo, South Africa, Austria, Russia and Canada in 2014, SIDance has led for the last 17 years the Korean choreographers and companies' performing internationally.It will enhance this endeavor by actively presenting Korean works from traditional dance to contemporary dance to international dance people, through programs such as "Who's Next," "Across Hip Hop" and "Korean Sword Dance Collection."Furthermore, SIDance offers several programs which came out of its thought-out ideas about the role of dance festivals."Homage to Dancers" revisits the significance of dancers while "Korean Identity through Dance" searches for the identity of Korean dance."Korean Identity through Dance – Creative Dance Selection from Local Area" introduces in Seoul the regional companies who get less attention and the community dance program works with young people from four youth facilities in the city. Besides performances, there are a variety of events such as choreography workshop for professional artists, movement workshop for non-professionals, artist talks to communicate with the artists, and research workshop of Korean choreographers and Portugal's promising choreographers. There will be package tickets which offer 30 percent discount for bookings of three or more performances, 40 percent for five or more and 50 percent for eight or more performances.Bookings can be made on the festival's official website (www.sidance.org) as well as Interpark, SAC Tickets and Gangdong Arts Center's websites.
For more information: SIDance office 02)3216-1185