National
Workshop on Global Human Trafficking Held
Local, Foreign Experts Discuss How to Help Victims
By Geeta Koets
Staff Reporter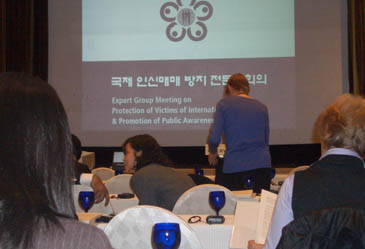 "Expert Group on Protecting Victims of International Trafficking"
The "Expert Group on Protecting Victims of International Trafficking" was held at the Ritz Carlton Hotel in Seoul Nov. 11 and 12, 2004.The follow-up meeting to the "Bali Process" drew experts from several countries who contributed to the workshop, which was jointly organized by South Korea's Ministry of Gender Equality and Ministry of Justice, and the International Organization for Migration (IOM).During the workshop many participants agreed that human trafficking is becoming an increasing problem all around the world.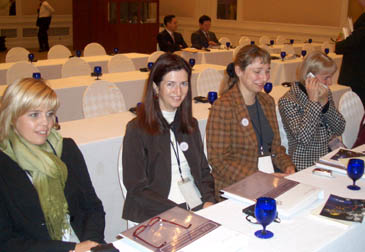 On the picture diplomats from Switzerland, Denmark, Norway, and Finland are seen.
Every year a rising number of people — mainly women and children — are illegally taken from their homes and forcefully exploited into sex labor or slavery. Often it appears that these people are mistreated and abused, one participant pointed out. South Korea's recent anti-prostitution law was cited by many participants as a good example for fighting the "women's oldest profession."The participant said the ban on human trafficking became a huge topic in South Korea.In recent months the South Korean government has put into force the "Special Law on Banning Buying or Selling Sex," which is geared to cracking down on the entire sex-industry in the nation.
Red light district
A red light district at Yongsan Station is bright again after a major police crackdown on sex workers ended Oct. 23, 2004. The street is nearly empty with a couple of policemen patrolling the area.
Another participant argued that the sex-industry is punishable; however the women are treated as victims and not as culprits anymore. It is hoped that other countries will follow the example of South Korea.The workshop attendees agreed that there are still many things to be solved not only in South Korea, but also in many other countries. They said that curbing the regulations on the entertainment industry as recently done by South Korea and some other countries could only be regarded as a good start.The workshop was mainly dedicated to measures on how to take care of these victims. Providing shelter and rehabilitation were the key topics of the discussions. The hot discussion was participated by a number of experts from over 20 foreign countries. South Korean government officials and foreign diplomats in Seoul also attended the workshop.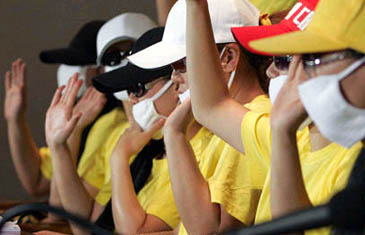 Nearly all sex workers raising their hand when asked "how many of you are making a living for your entire family?" in a press conference held recently at Press Center building downtown Seoul. Many of the sex workers say that volunteered for their profession for making a living.

Related Articles
"Me Want Talk to You, 2 Minutes, Come Baby"
Scores of Sex Workers Go on Hunger Protest
"Special Sex Trade Law Should Be Repealed"
3,000 Sex Workers Protest Threat to Livelihood
Sex Life Active, Sex Trade Thriving in Korea
We Want Government to Recognize Sex Trade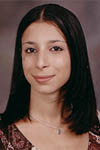 Ms. Sageeta Charleen Koets, who serves as staff reporter for The Seoul Times, graduated from Temple Univ. in Philadelphia, USA. Currently as a daughter of a top Dutch envoy to Seoul, she was born in India and grew up in numerous countries including UAE, Yugoslavia, Japan, and US for the past 22 years. The multi-cultural and multilingual Dutch lady's hobbies include fashion design, theater plays, and sports.