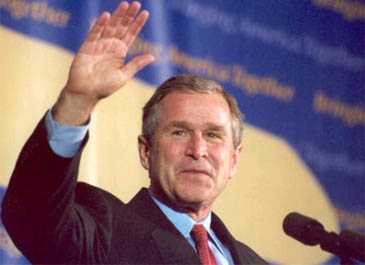 US President George W. Bush
George Bush's victory may not have been welcomed by some. But India looks at this with a sense of elation. At the very least, Bush is the known Devil, and Kerry is the unknown Devil. New Delhi feels that it is far simpler to deal with the first, rather than the second. But if one were to look at Bush win a little more deeper than this, India certainly appears to have benefited from this President's four-year stint at the White House. America watchers in India feel comforted by the status quo. Though New Delhi felt the heat of the "Bush fires," it appears to have liked the warmth of it. For a starter, while the enormously popular and equally controversial Bill Clinton came to India at the end of his tenure at the White House, there is every indication that Bush will begin his second term with a visit to India. It is quite likely to happen in the first 12 months of this period. The visit may not produce anything remarkably different from what Indians have seen in these past four years. But some of the advantages that India enjoyed will continue, can even improve. The Bush team saw Indian immigrants as people of quality who brought along with them valuable expertise, a great work culture and absolute professionalism. Indian Information Technology experts will probably return to the U.S. in far greater strength, and some of the obstacles that these men faced earlier may well go. Indians hope to garner a large chunk of the H1-B and L-1 visas.
Pakistan President General Pervez
Pakistan President General Pervez Musharraf gestures during his speech at the World Economic Forum (WEF) in the Congress Hall in Davos Jan. 22, 2004. During the session "A Conversation with the President of Pakistan" Musharaf discussed his country's contribution to global peace.
Courtesy Reuters
Also, American voters have undoubtedly buried the threat to outsourcing jobs that Kerry was planning to execute. Indian backdoor boys, as those who work in outsourcing firms in the country are called, will now breathe easy. They can look forward to higher wages as the companies are certain to find more business with their competitive edge over similar ventures in other countries also engaged in this enterprise. Admittedly, one does not see any big leap in commerce between India and the U.S., dogged as it has been by Washington's tendency to impose non-tariff trade barriers and negotiate bilateral trade ties disregarding the WTO. However, political relations have generally shaped economics, and often individuals have in no small measure pepped up ties. The good news for India is that Condoleeza Rice may no longer be the National Security Advisor to Bush. Rather, the India-friendly Robert Blackwill — who was the last U.S. Ambassador to India — can be the new man. Blackwill's views have been very close to New Delhi's own on the region (read Pakistan/Kashmir). The Pakistani President, General Pervez Musharraf, will surely try once again to capitalize on his country's geographical position as a frontline state and ally in America's fight against terrorism. With Osama bin Laden's renewed threat — who seemed to be thumbing his nose at Bush — the U.S. President, with his election pledge to make the country a safer place and its citizens feel more reassured about their wellbeing, will place a far greater emphasis on safety. However, analysts now seem to think that Bush has seen through the Musharraf game of citing security as a reason for getting aid and arms. Bush, in all likelihood, will pressure Islamabad to dismantle the homegrown terror industry, a no easy task for Musharraf bullied as he will be by his military and clergy, both of whom see war against India over Kashmir as a sacred duty.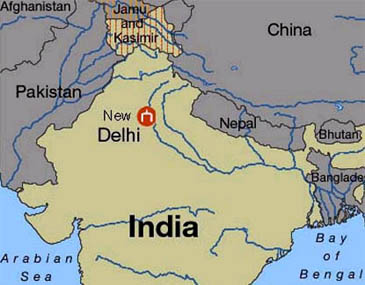 For almost 15 years, Pakistan has been training terrorists and sending them across the border into India's Kashmir in a move to take control of the State which both countries claim to be their own, and have been saying so since the British withdrew from the subcontinent in 1947 after diving it into India and Pakistan. A half of Kashmir is under Pakistan now. There are good chances that Bush will encourage India and Pakistan to resolve their differences over Kashmir: a simple way of doing it will be to convert the line of actual control in Kashmir into an international border. Current indications are that Bush and his team have reached the end of their patience with Islamabad, and may have little reason to pamper Musharraf at the cost of India, a sister democracy with shared values. But, if Bush decides to play tough with Pakistan, New Delhi will have to pay a price. Washington sees the India-Pakistan peace process as next in importance to West Asia. New Delhi must brace itself to some "extortions" from the Bush administration, which is keen on an early end to the subcontinental conflict. With both India and Pakistan armed with nuclear weapons now, the world, and not just the U.S., is terribly concerned over a possible conflagration. These are some of the issues that will guide Bush in the coming months, and India, now under the new Prime Minister, Manmohan Singh, must not lose the opportunity to make use of the friendlier American government to further peace and economic prosperity.