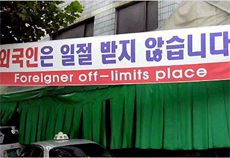 Prostitutes working in the so-called "Miari Texas" area, the biggest red light district in South Korea, will not accept foreigners, particularly foreign laborers, a group of pimps announced recently. A total of nine placards banning foreign workers have been put up around Miari Texas, in Hawolgok-dong 88, Songbuk-Gu, a northern part of Seoul. The placards read "Foreigner Off-limit Place."
They said they made this decision for the first time in their business history after rumors were circulating that foreigners and laborers from mostly poor countries were the main culprits for spreading AIDS (acquired immunodeficiency syndrome) or SARS (Severe Acute Respiratory Syndrome).They have reportedly suffered from a sharp decrease in revenues after regular and repeated police crackdowns on their businesses. Their sales have nearly halved because of their bad image. These businesses were said to be a hot bed of illegal aliens.In reality, the number of brothels in the area has fallen from 300 to 200 in recent years.Accordingly, owners of the whore houses are exerting every effort to enhance their tarnished image. They organized volunteer groups to "clean up" the area and to help needy neighbors.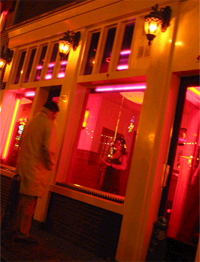 They claim that the image of Miari Texas has deteriorated since poor foreign customers poured into the area from such satellite cities as Songnam and Ansung where a large number of foreign laborers are employed. Critics say that the decision by the whore house owners discriminates against foreign migratory workers, most of whom are from poor Third World countries. "This is certainly a kind of discrimination against foreign workers" said Lee Wan, a human rights activist for migratory foreign workers, "It is groundless to say that foreign laborers are spreading such epidemic diseases as AIDS and SARS."
▶ If you have any comments use discussion board.