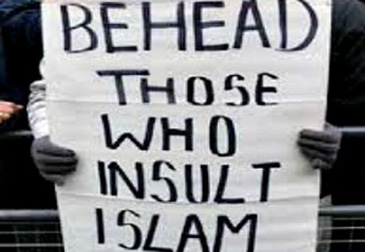 Behead those who insult Islam
The Obama administration, France, Qatar, Saudi Arabia, Turkey, the United Kingdom, and various Gulf nations have managed to destabilize large parts of the Middle East and North Africa. Indeed, the very same nations have collectively paved the way for al-Qaeda affiliates, vast numbers of different terrorist organizations, sectarianism and other sinister forces to spread throughout the Levant and stretching all the way to Mali in West Africa. Such irresponsibility knows no bounds in recent history but despite mass atrocities, religious cleansing, more failed states and other sinister forces; the same above nations are drunk on chaos and propping up Takfiri Islamists who behead for fun.In the new world where the Obama administration can snoop on media agencies in America, manipulate the IRS and lie over Benghazi; then anything is possible because the Democrats can literally get away with murder and breaking the law. Suddenly, when the "sponsored Revolution" was going pear-shaped the "chemical flag" was issued in order to start another front whereby sectarian forces and terrorists will gain. The Russian Federation is focused on diplomacy but outside NATO nations and Gulf powers are intent on weakening nation states, in order to further strengthen their respective geopolitical and sectarian hands. Of course, for Western powers they are focused on geopolitical factors while for Gulf nations it is about sectarian issues and in Turkey it is a mixture of both under the leadership of Erdogan.The mass media in the Gulf and West for the first two years in the conflict in Syria – which was sponsored from day one – have collectively spread mass misinformation on the whole apart from a few agencies which have tried to be more balanced. Yet the major media players have manipulated language, rarely shown the barbaric truth of various al-Qaeda affiliated terrorist groups and the brutal reality behind the Free Syrian Army (FSA) mask. Indeed, leading figures within the FSA praise al-Nusra which belongs to al-Qaeda and many joint operations have been implemented by an array of different sectarian factions.Even today terminologies like "rebels," "revolution" and so forth are mentioned despite the obvious reality that this "sponsored fraud revolution" is being backed by tens of billions of dollars throughout the Gulf and by major NATO powers. Not only this, terrorist sponsoring governments are sending military hardware from various nations and sectarian terrorists from all over the world are entering Syria. In other words, the "sponsored revolution" relies on tens of billions of dollars; vast quantities of military hardware; Sunni Takfiri clerics spreading sectarianism; Western backed military training; and a whole array of terrorist ratlines which have turned NATO Turkey into a major conduit for terrorists, covert operatives, mercenaries and a steady flow of military hardware entering Syria. Therefore, the "only revolution" is the fact that the Syrian government is managing to survive this barbaric onslaught.The "sponsored revolution" against Syria and "terrorist ratlines" have also been boosted by trying to crush the economy of this nation based on a brutal economic blockade and destroying the infrastructure. At the same time, the world of democracy enforced a media blackout against Syrian media agencies because dominating the mass media wasn't good enough. It should also be stated that the FSA and various terrorist factions have killed journalists and targeted media agencies in Syria. Meanwhile, Turkey is currently the number one nation in the world for arrested media personnel who languish in jails. However, while mass demonstrations by secularists are showing their discontent towards the Erdogan government in Turkey; the enterprising Obama administration alongside fellow nations involved in supporting terrorism, sectarianism and sedition – are all busy with another fresh attack against secular Syria and this also includes the treachery of the government of Jordan which is a free zone for the CIA, MI6 and covert operatives.Recent footage of Takfiri killers chopping the head of a civilian and then shooting two women to death and dropping their bodies down well prepared holes equates to zero within the mindset of the enemies of Syria. The sad reality is that vast numbers of civilians are petrified of the growing menace of terrorists and Takfiri killers because the utter barbarity beggars belief. Yet when senior political leaders in America can openly lie about Benghazi in order to cover-up the links with al-Qaeda affiliates and sending military arms to Syria via the conduit Turkey. Then it is difficult to have any faith within the Obama administration and the same applies to schizophrenic France – supporting terrorism against Syria but fighting against terrorism in Mali (this crisis created by the same meddling powers in Syria) – and clearly nobody expects a grain of truth coming from the leadership of the United Kingdom based on firm links with the House of Saud.It is comical that a Saudi Arabian and Qatari funded conflict was ever deemed to be "revolutionary" in the first place. After all, Saudi Arabia is the most reactionary nation in the world – at least 50% of North Korea's population will not get whipped if they don't cover-up from head-to-toe. Therefore, how can anyone believe that Saudi Arabia would support a democratic revolution when this nation supports killing all apostates to Christianity; allows old men to marry little girls of 8 and 9 years of age; supports whipping and putting women in prison for not covering-up from head to toe; will arrest people if they openly carry the New Testament outside; and a host of other brutal realities. Likewise, Qatar is not a bastion of democracy and when you add this to the terrorist and military ratlines of the CIA, MI6 and other secret services – then surely the "sponsored revolution" is a complete fraud but a very dangerous fraud all the same which unleashes sectarianism, terrorism and sedition against Syria.In Libya black Africans were lynched and put in cages by the side which was supported by major NATO and Gulf powers. Gaddafi loyalists were butchered in horrendous fashion and today this state is another failed nation just like Afghanistan and Iraq. Sufi shrines have been destroyed and the minority Christian population resides in fear. The current patchwork of various militias in Libya is a constant reminder that outside nations are very good at destroying governments they hate but the aftermath is one of more pain and sorrow.After all, look at modern day Iraq whereby sectarian attacks are all too common. Not only this, the current leaders of America and the United Kingdom are "spitting on the graves" of the thousands of dead military personnel who were killed in this country. This can easily be stated because now al-Qaeda affiliates have been allowed a free reign to destabilize Syria by the same forces in London and Washington which were fighting their new "allies of death and destruction" not so long ago. Also, it is known that the single biggest provider of Sunni jihadist fighters which went to Iraq came from Saudi Arabia. However, just like the majority of people which did September 11 being Saudi citizens – then clearly the House of Saud can not only persecute all non-Muslim faiths but seemingly their ratlines in the chain of the deaths of so many American and British nationals is easily forgiven and covered-up.In areas under the control of the Syria government you will find Alawites, Catholics, Sunni Muslims, Orthodox Christians, Shia Muslims and other people from different faiths like the Druze. Yet in areas under the control of al-Nusra and other terrorist groups then all religious minorities either flee or keep a very low profile in order to escape Takfiri barbarity. Despite this, major Western powers are involving themselves in a sponsored Gulf sectarian conflict by siding with such dark forces. Turkey under Erdogan is merely opportunistic but now many of his own people fear that he will dismantle secularism at home by stealth. Meanwhile, the multi religious armed forces of Syria are trying to stem the tide of sectarianism, terrorism and sedition in order to preserve the independence of this nation and to protect the rich mosaic of secular Syria.Sadly, it appears that a new stage in the tens of billions of dollars "sponsored revolution" and "terrorist conveyor belt" is being laid for a fresh assault against the government of Syria. It is hoped that the friends of Syria will remain firm but while this may be the case; it is must be stated that it is outside anti-Syrian nations which are furthering the bloodshed. Likewise, it is anti-Syrian nations which are funding terrorism, sectarianism and sedition against the last major Arabic speaking secular nation in the Middle East.
Tha above story was written by Helmet Joachim Schmidt and Lee Jay Walker.
leejay@moderntokyotimes.com
The above arciel is from Modern Tokyo Times.
http://moderntokyotimes.com