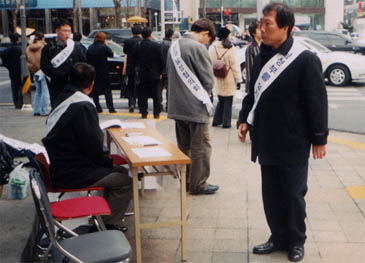 President Lee Kyung-Soo of Korea Men's Assembly (left) is seen in his efforts to collect signatures from citizens to repeal "Special Sex Trade Law" in downtown Seoul.
While recently enforced the "Special Sex Trade Law" banning selling or buying sex in controversy a men's group filed a petition with the National Human Rights Commission of Korea, saying that the special law infringes upon their rights for happiness and corporal rights.Korea Men's Assembly filed the petition with the commission located in Mugyo-dong, Junggu, Seoul, Nov. 1, 2004.The assembly's President Lee Kyung-Soo said that over 23,000 men were arrested within one month after the enforcement of the Special Sex Trade Law, said Council's President Lee Kyung-Soo in a statement."The law strips men of their rights for happiness as well as it tramples the human rights for all the men," Lee added in his statement.He went on to say that the values for sex should be decided voluntarily by individual themselves. "Government or any law should not involved in one's private lives."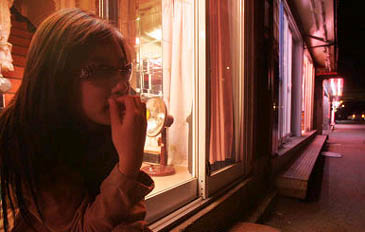 A red light district in Seoul
He also demanded that government should stop oppressing the human rights of the Korean men.In a telephone interview Lee also said that his members and other men's groups will stage massive protests in their efforts to repeal the "anachronistic" law.Lee said they also want to appeal this case to international associations related to keeping or improving men's rights.The Korea Men's Assembly has nearly 5,000 members dedicated to improving rights for men in South Korea.Its members have also been actively involved with a variety of projects designed for improving "reverse discriminations" against men in a "male dominated" Korean society.