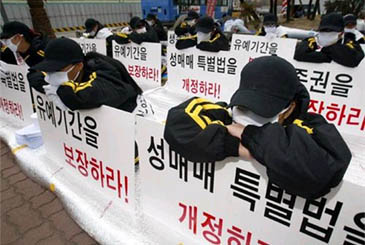 A band of sex workers on a hunger protest in front of the National Assembly building on Yoido Island in Seoul Nov. 1, 2004. Courtesy Chosun
Scores of representatives of sex workers went on a hunger protest, demanding a right to make a living while a dozen other clamoured for a meeting with ruling Uri Party leaders in front of the party headquarters on Yoido Island in Seoul Nov. 1, 2004.The sex workers also demanded the government put on shelf the Special Sex Trade Law which bans buying or selling sex in their protest rally.They said their hunger protest will continue indefinitely until their demands be met.In recent months tens of thousands of South Korea's sex workers — prostitutes and pimps — have been driven out of their "profession" since the government began cracking down on the major red light districts around the country."Sex workers livelihood is threatened by the enforcement of the new sex trade law," said a 25-year-old sex worker who asked for anonymity. "government authorities only focuses on clamping us down instead of protecting us."
Sex workers's
Press Meeting
Sex workers holding a press conference at Press Center building in protest against police crackdown on their profession Oct. 20, 2004. Courtesy YNA
"I understand there are some sex workers being abused or misused by owners of the brothels," said the woman. "Yet, there are many more of us suffering from this oppression from the government."She said "the government should take into account the situations of sex workers who are involved in this line of business.""The social adaptation programs prepared by the government are not helpful in real life in the society," she continued.The protesters filed a petition with the ruling party, saying "we want the government to repeal the Special Sex Trade Law or at least postpone it so that we can live our lives as a responsible professional woman."