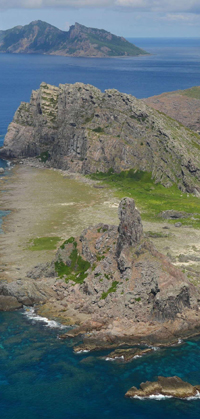 The Senkaku Islands (尖閣諸島), also known as the Diaoyu Islands (钓鱼岛), are a group of uninhabited islands controlled by Japan in the East China Sea. The disputed islands are also claimed by China and Taiwan.
China and Japan continue to play cat and mouse over the disputed Senkaku/Diaoyu territory which neither can claim based on history. Japan had no qualms in recognizing Kosovo under Albanian rule despite this land being blessed with ancient Orthodox Christian architecture. Meanwhile, China can't say too much because the majority of Tibetans on a whole will not agree with being ruled by distant Beijing. Therefore, the glaring hypocrisy over a region which belonged to ancient Ryukyu (Okinawa) appears to have bypassed the historical nerve centers of Beijing and Tokyo.Shinzo Abe who is the Prime Minister of Japan used forceful words in denouncing the latest incursion according to the worldview of Tokyo. Abe stated that Japan would "expel by force" any attempted landing by China in relation to the disputed area which Taiwan also claims. However, if China's military did land then would the cat be Japanese or American or both – or would no cats exist?After all, it is difficult to believe that Japan would desire to become embroiled militarily with China and clearly America doesn't desire a limited conflict because the consequences would be too alarming to think about. In this sense, then you have "three mice sitting around" without any "real cat" being able to dictate to either side. Indeed, one mouse might even decide to remain neutral given the size of the potential economic, political and geopolitical ramifications. Therefore, the leader of Japan should be more diplomatic with his words because China may just test the water to find out how Japan would "expel by force."In history many minor disputes have ignited events that couldn't be contained and clearly a military clash isn't in the interest of America, China and Japan. It would be best to agree on a joint initiative whereby all sides agreed to refrain from military manoeuvers within a certain demarcation area. Also, the United States should notify both nations that nationalist rhetoric from either side isn't warranted. Not only this, but given the volatility of the Korean peninsula then it is in the interest of both parties to reach a genuine accommodation.Abe also should not be making such statements during such a sensitive period with regards to 168 lawmakers visiting the Yasukuni war shrine. After all, Japanese politicians fully understand that this reality will continue to hinder relations with regional nations like China and South Korea. Therefore, the timing of Abe's comments was not productive towards restoring greater understanding between China and Japan.Likewise, South Korea is extremely annoyed once more by the Yasukuni war shrine visit. In a sense, it appears that this merry-go-round is leading to hostility just for the sake of it because each year negative repercussions happen without any conclusion insight. The Emperor of Japan remains much more dignified because he refuses to pray at this shrine because clearly the Emperor understands the real ulterior motives behind all the symbolism.Abe also shouldn't be playing all his cards verbally. This applies to stating that "We would take decisive action against any attempt to enter territorial waters and to land…We would never allow…It would be natural for us to expel by force if (the Chinese) were to make a landing."In a similar vein the Chief Cabinet Secretary of Japan, Yoshihide Suga, commented that "It is extremely deplorable and unacceptable that Chinese government ships are repeatedly entering Japanese territorial waters."Secretly, political elites in America must be pulling their hair out because China is a powerful factor in reigning in North Korea. Therefore, with recent strange comments coming out of Pyongyang then Washington is looking to Beijing to reduce the tension. Surely the leader of Japan understands this therefore why is Abe using such language during a very delicate period surrounding the Korean Peninsula?China during parts of last year also manipulated nationalism with the consequences being anti-Japanese demonstrations. It is time for both nations to stop using rhetoric because a solution needs to be found. After all, you clearly don't have any cat insight instead different mice ramp up the pressure from time to time. However, one day these mice might create a cat by overstepping the mark and if this happens then what?
The above story was written byHiroshi Saito and Lee Jay Walker.
leejay@moderntokyotimes.com
The above artice is from Modern Tokyo Times.
http://moderntokyotimes.com