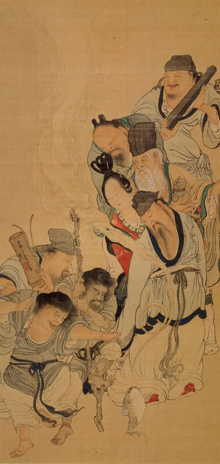 "Eight Daoist Immortals" by Tani Buncho (谷文晁: 1763-1841), a Japanese literati painter and poet
The artist Tani Buncho felt the rich pull of Chinese culture despite the historical reality of Japan being mainly cut off from the outside world during his lifetime. Buncho was born in 1763 and died in 1840 and throughout his life the Edo period infringed heavily upon his desire to obtain greater international knowledge. This applies to his love of Chinese high culture despite being deprived from visiting this nation because of policies linked toSakoku (locked country).Buncho was also influenced by the deep impressions of culture within his native Japan and the snippets of Chinese and Western culture which reached this isolated nation. He is remembered for belonging to theBunjinga school of thought alongside other notable artists like Kameda Bosai, Hanabusa Itcho, Ike no Taiga, Watanabe Kazan, Tomioka Tessai and several other powerful artists.Bunjinga equates to literati painting and this school of thought flourished during the late Edo period. It is also known under the name Nanga which applies to the Chinese Southern school. However, Buncho was very inquisitive by nature therefore aspects of Western art also impacted upon him and he wasn't afraid to search for new ideas. The one binding feature of Buncho was the lore of high culture irrespective if this applies to internal or external forces.The Saru Gallery states that "Tani Buncho was one of the most important painters of his period, with a tremendous influence on his contemporaries. Born to a samurai family in Edo in 1763, his father, Tani Rokkoku, was a well-known poet and a vassal of Lord Tayasu (the second son of the eighth Tokugawa shogun).""Buncho first studied Kano painting with Kato Bunrei and Kitayama Kangan. He then studied the Nanga style under Watanabe Gentai and Kushiro Unsen. He also studied all other types of painting then being practiced in Japan: Tosa, ukiyo-e, Eastern style, and, under a Chinese painter in Nagasaki, the Chinese mode. He was a connoisseur of paintings. He was the author of Honcho Gasan, which contains reproductions of his copies of old Japanese paintings. He also wrote Buncho Gadan, a treatise on painting. Although best known as a nanga artist, he is also well known for his realistic portraits. His work is wildly eclectic."It is clear that his background enabled Buncho to reach the heights that he would obtain once he mastered many different styles. The power of poetry also must have blessed him greatly in the field of art because new concepts impacted greatly upon his artistic work.Despite Japan being mainly cut off from the outside world it is clear that many international cultural influences from the past remained. Also, "small windows" remained open whereby Chinese, Korean and Western culture could enter despite the enormous restrictions. Therefore, Buncho searched these "small windows" in order to obtain new knowledge.Chinese culture had impacted greatly on Japan in the past. This notably applies to art, culture, philosophy, religion, architecture and other powerful areas. Likewise, Korea also influenced Japan in many powerful areas. Given this reality, then the implementation of Sakoku wasn't aimed at the traditions and fusions of Japanese society but merely at isolating the country and keeping out "alien concepts" which were deemed a threat to the social fabric of society.In modern day Saudi Arabia it could be stated that a form of "Sakoku" exists because apostasy leads to the death penalty and this nation doesn't tolerate outside concepts like socialism, democracy, liberalism, and so forth, which are equally deemed to be a threat to the power mechanisms of society. Likewise, North Korea regulates society just like modern day Saudi Arabia. Therefore, while both nations are very different from old Japan during the Edo period – you can still envisage the difficulties faced by individuals who desire to obtain real knowledge of the outside world. Not surprisingly, the world of China and the West which entered Japan during the Edo period will have been clouded by all the restrictions put upon society.Ironically, while this negative reality restricted artists like Buncho – it also could be stated that this fact enabled a unique approach within the bunjinga art world to materialize. After all, the real understanding of the Chinese Southern school couldn't be fully understood because of all the constraints. This fact meant that replication couldn't be obtained therefore the bunjinga movement created its own unique style and this also applies to the rich meaning behind the art work.In another article by Modern Tokyo Times about bunjinga it was stated that "…while the clampdown against Christianity was a reality and converts would be killed without haste, it is abundantly clear that Edo did not infringe on the teaching of other non-Japanese indigenous faiths and philosophies that came to Japan via China and Korea. Given this reality, Chinese ideas ran through the veins of Japanese society because the ruling elites adopted Edo Neo-Confucianism whereby greater stratification took place. The samurai also built many Confucian academies and while the movement called Kokugaku would emerge with greater power and influence, this applies to focusing on Japanese culture, history, the Shinto faith, and ancient literature; the rules of the old world would remain. Given this, Confucian philosophy would still hold sway during the Edo period until the last few decades before the Meiji Restoration of 1868…"Contemporary ideas from China ceased to impact upon Japan during the Edo period. Therefore, Buncho's image of old China was stuck in a time warp of exquisite nature when it comes to Chinese high culture. Buncho also utilized his knowledge of the Tosa School of art and ukiyo-e. Not surprisingly, Chinese and Western art entered the world of Buncho through the fog of the power mechanisms of the day.Buncho leaves a remarkable legacy despite all the restrictions he faced because his creativity and love of culture overcame the many high mountains he faced.
The above story is from Modern Tokyo Times.
http://moderntokyotimes.com