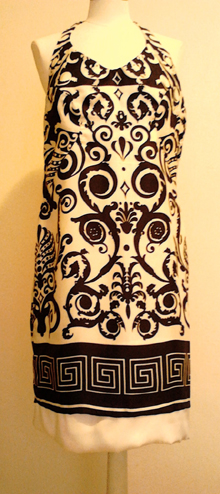 Italian Fashion and Simonetta Sala: Adorable Designer Based in Milan

Simonetta Sala is a very exquisite fashion designer who works in the elegant city of Milan. Italian fashion is known internationally because of the remarkable creativity of major fashion houses based on sublime designers. This reality can be felt within the designs of Simonetta Sala which shine brightly.Her first important connection with the fashion sector came in 1991 when she began to work in a dress shop in Como. Luckily for Simonetta Sala (stage name is Simoon) her director was a close associate of Gianfranco Ferre. During this period the inner creativity became outward because Simonetta Sala was extremely passionate about fashion. Therefore, the experience gained in Como would lay a firm foundation stone.Powerful ladies from the past like Marlene Dietriech, Grace Kelly and Marilyn Monroe have shaped the imagination of Simonetta Sala. In more recent times the free spirit of Madonna also created a new dimension. It is clear that the above individuals have enriched so many people. However, for this exquisite fashion designer who was born in 1972 – then their collective styles, contrasting personalities, and an array of other areas, have all been utilized within her respective creativity.A powerful defining moment for Simonetta Sala was in 1998 in Tunisia. This applies to connecting with the famous couturier named Loris Azzaro. Therefore, what started out to be a lovely horse ride in Djerba; it actually turned out to be a powerful encounter with an internationally famous individual. Not surprisingly, the young lady with dreams and high ambitions would take note of her first encounter.The following year both individuals met during the summer period. Of course, the passion of creativity enabled them to bond strongly. Also, during their chats it became clear that Loris Azzaro and Simonetta Sala were both inspired by the rich and varied atmosphere of the Mediterranean. The powerful rays of sunshine, fine wines, fragrances of perfume, amazing colours, architecture and other powerful factors deeply inspired both individuals. This common theme alongside their respective passion towards the fashion sector meant that a bond was built.Loris Azzaro was deeply impressed by the designs and passion of Simonetta Sala. For this reason he suggested to her to attend a school of stylists in order to enrich her natural talent. Simonetta Sala of course listened to the wise thinking of Loris Azzaro. This resulted in obtaining a certificate in the fashion field in 2002.Tunisia was clearly a very appropriate place for Simonetta Sala to meet Loriz Azzoro because he was born in this North African country. He stated about his childhood in Tunisia that "I let myself get carried by the atmosphere of the country of my childhood with its spiced odors, its colors, its flowers and its perfumes. It is the country where I really become myself, the country where my preferred color is everywhere, azure of the sea and the sky."Loriz Azzaro passed away in 2003 but his legacy remains powerful. During his rich career he dressed powerful individuals like Sophia Loren, Raquel Welch, Claudia Cardinale, Isabelle Adjani, Kate Winslet, Nicole Kidman, Marisa Berenson and Dalida. Therefore, it is abundantly clear that the elegant designs and usage of colors by Simonetta Sala must have been special for Loriz Azzaro to take note.In the following few years her stunning dresses were shown on a television program in Como; she made stages in wedding dresses for Wanda Roveda and Antonio Riva in Milan; and many other important areas developed for this talented designer. Clearly, Simonetta Sala had come a long way from her casual horse ride and meeting with Loris Azzaro in 1998. However, since the spark which began in 1991 in Como, it was obvious that her inner passion and amazing creativity would stand out in the future.
In the world of fashion Simonetta Sala adores Valentino, Gianfranco Ferre, Versace and Dior. Powerful individuals like Loris Azzaro have shaped her thinking and given her that extra advantage when it comes to internal creativity. At the same time she finds great creativity in the areas of music, cultural diversity, the splendor and richness of colors, strong female personalities, the fragrances of perfumes and from her own personal emotions. Therefore, from this passion Simonetta Sala wants her styles to be firmly entrenched within the fashion world and for people to feel the emotions generated by her adorable dresses.Simonetta Sala adores the seasons of spring and summer because of the array of colors and the abundance of nature which comes alive. She also links her logo which is "the sun" with her inner-self because the strong rays of sunshine can be felt within this passionate lady. This reality means that she links the sun, the desert and the Mediterranean Sea within her heart which beats strongly when it comes to fashion and creativity.If you view the amazing designs of Simonetta Sala then clearly it is spring and summer all year round because each new creation means something special to this exquisite lady.
The above story was written by Kanako Itamae, Sarah Deschamps, and Lee Jay Walker.
Simoon.1972@yahoo.it
leejay@moderntokyotimes.com
The above article is from Modern Tokyo Times.
http://moderntokyotimes.com