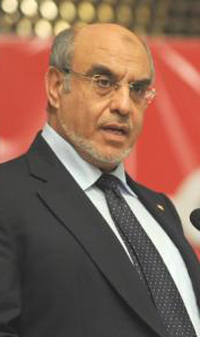 Hamadi Jebali , prime minister of Tunisia
The Prime Minister of Tunisia Hamadi Jebali resigned after his own party, the Islamist Ennahda, failed to back up his demands for forming a technocrat cabinet outside of political posturing. Jebali took this step after the brutal political assassination of Chokri Belaid who was a powerful secular leader in Tunisia ushered in political uncertainty. This applies to the Islamist Ennahda party which spurned Jebali within 24 hours and which still refused to budge in the following period, despite the Prime Minister being open to dialogue before his resignation.After the brutal murder of Belaid many major protests broke out in Tunisia and resignations have taken place within the political arena. This comes at a delicate time in Tunisia because more militant Islamists are trying to enforce their diktats on society. In this sense, the Ennahda movement is in danger of being seen to be intransient because counter-demonstrations by their supporters appeared to be insensitive towards the political assassination of Belaid.It is abundantly clear that the political crisis in Tunisia is still evolving and Jebali's hope of "unity" during this troubled time was a sincere response to the brutal murder of Belaid. Jebali stated immediately after the brutal murder that "Belaid was killed, but the real target behind the assassination is the Tunisian revolution as a whole…He represented the true values of dialogue, respecting and embracing others in rejecting violence. This is a political assassination."Jebali also stated immediately after the assassination that a new government would be filled by "competent nationals without political affiliation." He further stated that ministers selected will be "limited to managing the affairs of the country until elections are held in the shortest possible time." Jebali issued the above on national television in the hope that this would provide "a political breathing space." Whereby the growing divisions in society could come together in order to keep Tunisia on track.Yet within 24 hours it became clear that elements within the Islamist party, which Jebali belongs to, were opposed to his thinking. In another article by Modern Tokyo Times it was stated that "The Vice-President of Ennahda, Abdelhamid Jelassi, clearly highlights the internal divisions and lack of consultation because he states that "The prime minister did not ask the opinion of his party." Jelassi further comments that "We in Ennahda believe Tunisia needs a political government now. We will continue discussions with others parties about forming a coalition government."Therefore, from the outset it was abundantly clear that Jebali was isolated within the political party he belongs to. The culmination of this resulted in his resignation because he promised that he would resign if his proposed plan was not backed. It seemed that a possible compromise was in the offing but eventually neither side within Ennahda would budge from their original thinking.Jebali comments about his resignation that "I vowed that if my initiative did not succeed, I would resign and I have done so (to) fulfill a promise made to the people…Our people are disillusioned by the political class. We must restore confidence."He further stated that "The failure of my initiative does not mean the failure of Tunisia or the failure of the revolution."At the same time, the economic reality for many Tunisians is unemployment and a blighted future because of the many internal problems facing this nation. Also, with many Tunisian jihadists going to Syria and being the main national group involved in the recent hostage crisis in Algeria; then clearly militant Islam, indoctrination, secular forces, a battered economy, the political assassination, and an array of other negative factors, means that Tunisia faces many dangers. In truth, this nation is walking "on a tightrope" whereby "the blustery wind keeps on increasing." Therefore, the international community needs to take proper measures to help this nation during this very difficult period.
The above article was written by Jibril Khoury and Lee Jay Walker.
leejay@moderntokyotimes.com
The above article is from Modern Tokyo Times.
http://moderntokyotimes.com