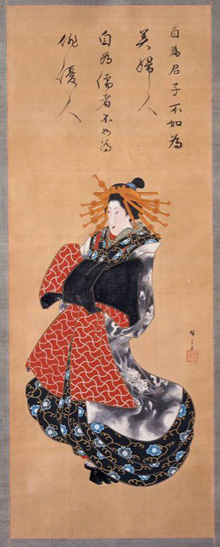 "Courtesan" by Ando Hiroshige

Ando Hiroshige is deemed to be one of the finest artists to bless the country of Japan and his art influenced famous artists like Van Gogh. Hiroshige leaves a lasting impression because of the work he produced. However, the other side of his art is not so well known to lay people outside of Japan. This applies to shunga and many erotic pieces by this sublime artist.Collectively, Hiroshige and Katsushika Hokusai helped to generate great interest in Japanese art, albeit if this influence grew after their respective deaths. Of course, many other famous artists have been born in Japan and the rich nature of Japanese art is clear for all to see. Indeed, the many different art forms generated within this country and the influences of China and Western art is a wonder to behold. Also, like previously mentioned, Japanese artists influenced many great international artists and this notably applies to the late nineteenth century and early twentieth century.Time, space, nature, color schemes, and symbolism fuses together just like Buddhism, Confucianism, Taoism, and Shintoism fused aspects of Japanese culture in the past alongside the influences of China. However, while the serenity of Hiroshige is famous you have the backdrop of shunga which was erotic and explicitly sexual. This art form also teaches us much about the psyche of aspects of Japanese culture and the sexual reality of Japan. Albeit, the meanings did have different connotations in this period and the natural aspect of explicit art wasn't based openly on just sexuality.Within the visions of serenity, sublime nature, and stunning landscapes, you have multi-dimensional realities which may clash in other cultures, irrespective if "Eastern" or "Western" thought patterns. However, open sexuality and conservatism within the same "inner-self" is based on thought patterns that are difficult to grasp from a non-Japanese point of view. This needs to be understood otherwise many confusions will materialize with regards to the duality of such extremes within the art of Hiroshige and many other famous ukiyo-e artists.Indeed, this duality can be seen vividly in the last years of Hiroshige's life because he entered the spiritual plain of Buddhism and became a monk. Therefore, the reality of depicting strong sexual images would not appear to be contradictory nor would it be viewed to be openly sexual within the cultural norms of Japan. In this sense, Hiroshige and other Japanese artists were free from the constraints within the Christian and Islamic world of the same period.This article is not based on giving a deep background of Hiroshige because the images on show express themselves without words. The main theme of the article is based on the duality of Hiroshige and this applies to sublime landscapes and sexual images. Also, the fact that he was born a samurai but died a Buddhist monk is extremely intriguing. After all, this contradictory factor is often missed by outsiders but it makes perfect sense within Japan.Therefore, while the Fifty-three Stages of the Tokaido Road, the Eight Views of Lake Biwa, and theHundred Views of Edo, remain firmly entrenched when thinking about the genius of Hiroshige; it is clear that he had many different angles. Of course, the same can be said about many other ukiyo-e artists. Yet clearly this "hidden world" is extremely fascinating because it tells us much about Japanese culture and this applies to different thought patterns. However, individuals need to understand the "real meaning" because the "erotic" angle may be much more mundane within the imagination when put into the cultural context of Japan in this period of history.
The above article is from Modern Tokyo TImes.
http://moderntokyotimes.com