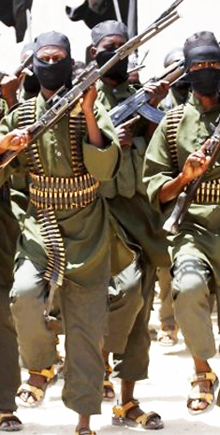 Al-Qaeda members
The conflicts in Afghanistan, Bosnia, Kashmir, Kosovo, Libya and in other parts of the mainly Islamic world, or where you have Muslim and non-Muslim fault-lines, appears to have one binding factor. This applies to Western backed support for Islamists alongside using proxy outside nations to fulfill geopolitical ambitions. On top of this are powerful factors in the mainly Muslim world in nations like Turkey, Saudi Arabia, Pakistan, Qatar and other Gulf nation states which have either shared interests, or which encourage America, France and the United Kingdom to do their bidding – or to work collectively in order to spread Islamism.In all the above mentioned places you will have a host of various factors and each conflict will be seen differently through the prism of different ideas. Syria is currently facing this shared attack between powerful dominant Sunni Muslim nations and hostile Western nations including America, France and the United Kingdom. However, the one binding factor is that in Afghanistan, Bosnia, Kashmir, Kosovo, Libya and now Syria; is that outside nations instigated the delicate internal mechanisms in order to unleash Islamism, terrorism and attacks against the ruling power mechanisms.It mattered not if Hindus were cleansed in Kashmir or Alawites are being hanged and beheaded in Syria. Likewise, it matters not one jot if international terrorism is united in order to do the bidding of Washington, Riyadh, London, Ankara, Paris, Doha and other nations involved in the terrorist and destabilization rat-lines.Prem Shankar Jha, The Hindu newspaper in India, comments about the shared dualities of Kashmir and Syria. He states that "But while nearly everyone wanted a change, almost no one wanted it at the cost of a violent disruption of their lives. In neither case, therefore, was the state the first to resort to violence: On the contrary, both insurgencies had to be stoked, so the first to pick up the gun were the insurgents. In Syria this was done by Salafi/Takfiri Islamists who crossed the border from Jordan in March 2011 and holed up in the Omari mosque in Dera'a before launching targeted provocations, and attacks on police stations and government offices."It is important to note that Kashmir and Syria were destabilized by Islamists using Pakistan and Jordan respectively. In the case of Syria, it is difficult to believe that America, Jordan, Saudi Arabia and the United Kingdom intelligence agencies weren't involved in the chain of events which took place in March 2011 in Syria. After all, Jordan is within the collective remit of all the above named nations. Similarly, in Kashmir it is clear that Pakistan stoked up the crisis and like usual the angle of America, the United Kingdom and Saudi Arabia pops up again.Prem Shankar Jha also comments that another parallel with Kashmir "…is the intervention of hostile foreign powers bent on converting a domestic upsurge demanding political empowerment into a movement for secession or regime change. In Kashmir, Pakistan did this by disarming the JKLF cadres still in training in Muzaffarabad in 1990 and creating the Hizb-ul-Mujahideen. In Syria, Turkey and Qatar are funneling money and battle hardened jihadis to start a sectarian war that will overwhelm the state.""Last and most important, like New Delhi, Damascus has been trying to prevent civil war by offering the insurgents the alternative of the ballot box. Mr. Assad began, on his own, by lifting all controls on the Internet in January 2011. Over the next six months, he first tried to negotiate peace with the Sunni zealots in Dera'a by sacking the governor and releasing 260 prisoners and 16 clerics, and promising to repeal the Emergency Laws and the ban on political parties that had been in place for 48 years. He fulfilled his first promise five days ahead of schedule on April 20 and his second three months later in July."However, while nations like the Russian Federation, Brazil, Iran, and others, supported a political solution to the crisis in Syria it is clear that the enemies of Syria upped the ante and began many terrorist rat-lines. Therefore, Turkey became a major player because the Erdogan government sensed an opportunity to install a compliant Sunni Muslim dominated Sharia state. The same applies to Saudi Arabia, Qatar and other nations in the Gulf.In Bosnia it was reported that over 8,000 international jihadists entered this nation in order to do the bidding of Washington, London, Riyadh, Tehran and Ankara. Turkey was once more dreaming about its historical legacy and Saudi Arabia and other Gulf states were enticed by creating majority Muslim states in Europe. In Bosnia the Serbs were facing the might of NATO, international jihadists and the involvement of many hostile nations. America even allowed Iran to fly aircraft into the Balkans in order to support Islamist factions within the Bosnian Muslim forces. It somehow escaped the world that Yugoslavia was trying to preserve the mosaic of various different ethnic and religious groups while outside nations supported religious sectarianism and nationalism. Naturally, this in time spearheaded Serbian nationalism but just like Syria it was outside nations which began to carve up Yugoslavia.Kosovo and Libya followed the same model because Libyan rebels and the Kosovo Liberation Army (KLA) sprung up from virtually nothing. Likewise, the Free Syrian Army (FSA) which is an amalgamation of many various factions came from nothing overnight. Yet clearly the speed of Islamist forces in Bosnia, developing a powerful Croatian military unit, the growth of the rebels in Libya, the rise of the KLA in Kosovo and the overnight creation of the FSA in Syria were well orchestrated – just like what happened in Kashmir when Pakistan was given the green light to create mayhem against democratic India.The Council on Foreign Relations states that "Militancy in the disputed region of Kashmir has been major fuel for discord between India and Pakistan since the 1980s. Attacks in the region began to increase in scale and intensity following the Soviet invasion of Afghanistan, when foreign insurgents flooded the region to join the Afghan Mujahadeen. The majority Muslim region has its own local militant groups, but experts believe most of the recent Kashmir and Kashmir-based terrorism has been the work of foreign Islamists who seek to claim the region for Pakistan. A spate of Islamist cross-border attacks into Indian-held territory, the December 2001 storming of the Indian parliament in New Delhi, and the 2008 Mumbai attacks have all reinforced Kashmir's standing as the significant bone of contention between India and Pakistan. Both states have nuclear weapons, making Kashmir one of the world's most dangerous flashpoints."Prem Shankar Jha in another article about the crisis in Syria in the early period of April 2011, states that "the U.S. has been fully aware of the presence of al-Qaeda in the so-called Free Syrian Army since April 20, 2011 when Jihadis captured a truck (or Armoured Personnel Carrier) near Dera'a, and killed all the 18 or 20 soldiers it was carrying not by shooting them but by cutting their throats in the approved Islamic manner. A few days later, the U.S. ambassador in Syria, Robert Ford, called some of his colleagues in Damascus, including the Indian ambassador, and told them that al-Qaeda had arrived in Syria.""April 20, however, was only the beginning. All through the summer and autumn of 2011, and throughout 2012, videos posted by the rebels themselves showed that the armed opposition in Syria has been sliding inexorably into the hands of radical Islamists. Thousands of foreign fighters have poured into Syria from Libya, Tunisia, Egypt, and places as far apart as Pakistan and Chechnya. Syrian television broadcast interviews with numerous young men captured in Homs and elsewhere, who gave graphic descriptions of how they had been recruited by al-Qaeda to fight for Islam against a heretical regime in Syria. The rebels themselves have posted YouTube videos showing them executing captured Syrian soldiers and civilians in the approved manner.""But the Obama administration has steadfastly chosen to believe that the jihadis make up only 'a tiny fraction' of the Free Syrian Army, and has continued to provide FSA with logistical support, that is, satellite-based information about Syrian troop and VIP movements, and look the other way while Qatar and Saudi Arabia have provided it with guns and mounted pick-up trucks, mortars and RPGs."Ironically, the main stumbling block for America is not supporting the Islamist sectarian side which includes Al-Qaeda, but it is history and the need to manipulate the media. After all, Al-Qaeda and the Saudi Arabia angle involving September 11 is clearly obvious and also in Libya this year several American personnel were killed by similar Islamist forces. Therefore, it is very difficult for the Obama administration to be seen to be working hand in hand with the same forces which killed thousands of American troops in Iraq, did September 11 and killed Americans in Libya. Likewise, American troops are being killed in Afghanistan by Islamist factions including the Taliban. This means that media manipulation and covert operations by America, France and the United Kingdom must be very delicate in order to achieve their collective goal of overthrowing the government of Bashar al-Assad.In modern day Syria it is clear that the FSA and various Islamist factions working within the FSA or individually – have been, and continue to be, involved in horrendous massacres. Indeed, some Islamists are even teaching children to behead captured Syrian soldiers and then they circulate their evil crimes against humanity. The silence of the international community when terrorist attacks are killing civilians is shaming all the nations and media agencies which are siding with the objectives of Ankara, Doha, London, Paris, Riyadh and Washington.The Syrian armed forces continue to remain loyal to the Syrian government and people of this nation. Therefore, despite all the barbaric realities being installed against this nation the military have somehow managed to preserve all major cities from being taken over by the FSA and various Islamist factions. However, outside nations which are hostile to Syria are still supporting sectarian, international jihadists and sedition against this nation. Indeed, it is clear that outside nations are intent on upping the ante despite the daily terrorist attacks, beheading individuals and hanging people openly in order to install terror in the hearts of Syrians.Turning back to an earlier Modern Tokyo Times article about Bosnia it was stated that "The Bill Clinton administration gave the "green light" for international Islamists to enter Bosnia and Kosovo. In time this would manifest itself with the brutal September 11 attacks against America and other international terrorist attacks like Madrid. Bill Clinton isn't the only American leader to "support international terrorism from a distance" but clearly it is no coincidence that conflict in Libya, and now in Syria, bare all the same hallmarks of "a marriage of convenience." This certainly leads to the suspicion that the Clinton family – this time Hillary Clinton along with the "dark shadows" of people like Zbigniew Brzezinski – are following the same ratlines in Syria which have been used in Afghanistan, Bosnia, Kosovo and Libya."Further down in the same article it was stated that "The bottom line is simple. September 11, and the ratlines that did this, were the same individuals who were fighting on the same side of America in Afghanistan, Bosnia, and Kosovo – Simply put, no Bosnian Orthodox Christians and communists in Afghanistan did September 11. On the contrary, individuals involved in September 11 were on the same side in Afghanistan, Bosnia and Kosovo – yet this question remains unanswered. Likewise, no accountability! Put frankly, without past American administrations supporting Islamic terrorist ratlines either covertly or by doing nothing to stem the flow of Islamists, then September 11 would never have materialized.""It is dangerous therefore to see America once more moving in the same direction related to Syria. The Clinton family connection and the shadows of people like Zbigniew Brzezinski are very troubling because the same modus operandi is happening once more against the people of Syria. Therefore, the lessons learnt from September 11 have been lost and individuals within the chain that enabled this tragic event to happen have escaped their past deeds."Overall, Syria needs real support from friendly nations in order to stop the usual collusion between Islamists, Western powers and nations like Turkey, Saudi Arabia and several Gulf nations, from destroying an independent nation state. After all, look at modern day Afghanistan, Iraq and Libya because various factions exist and terrorism is a daily reality in Afghanistan and Iraq. Similarly, look at the reality for Hindu minorities in Kashmir and Orthodox Christian minorities in Kosovo because both can't freely move around these entities. This means that it is imperative to stop the usual "failed domino system" from destroying secular Syria.
The above story was written by Jibril Khoury and Lee Jay Walker.
leejay@moderntokyotimes.com
The above article is from Modern Tokyo Times.
thttp://moderntokyotimes.com