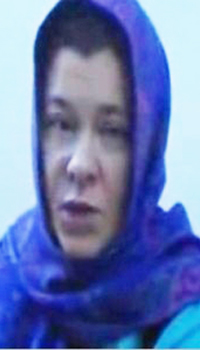 Anhar Kochneva,
Ukrainian journalist
Anhar Kochneva is a Ukrainian journalist who bravely reported about the current situation in Syria, while working in collaboration with various Russian media outlets. She was reported missing several months ago and it soon transpired that the Free Syrian Army (FSA) had kidnapped her because several released videos give testimony to this. Also, the fact that Anhar Kochneva gave testimony to the reality of FSA and al-Qaeda brutality meant that she made many enemies.It is (http://syria-updates.blogspot.jp – full link below the article) now reported on the website above that she may be executed within the next 24 hours. This is dependent on a very high ransom being paid by the governments of the Russian Federation and Ukraine according to Real Syria Updates. The fact that this journalist is being held by the FSA also highlights the duplicity of nations which are known to have links with the FSA and various Islamist terrorist organizations. Therefore, the forced kidnap of Anhar Kochneva shames all the nations which are involved in the destabilization of Syria and this notably applies to Turkey, France, Saudi Arabia, Qatar, and the murky role of the United Kingdom and United States.On Real Syria Updates they have uploaded a letter by the FSA which states that "Allah his mighty says: (Permission [to fight] has been given to those who are being fought, because they were wronged. And indeed, Allah is competent to give them victory.)""We The Syrian Free Army Brigades declare that the deadline given to the Ukrainian and Russian governments will end by Thursday 13/12/2012.""Afterwards God's judgement would be executed in (against) the Ukrainian agent Anhar Kochneva – And those who have wronged are going to know to what [kind of] return they will be returned…"It is known that Anhar Kochneva was kidnapped several months ago while travelling on her way to Homs after giving a speech with a fellow journalist in Tartus. After her time in Tartus, whereby she was accompanied by Elena Gromova, it is stated that Anhar Kochneva was meant to return to Damascus. However, with events changing on the ground then she decided on visiting Homs and it appears that she went missing near Al-Qusayr. This area is also not so far from the border of Syria and Lebanon and this adds further complexity because it is clear that the FSA works within parts of Lebanon.RT news agency stated in the early period of the kidnap of Anhar Kochneva that "Since the ongoing conflict in Syria began in 2011, she has collaborated with several Russian news outlets, including RT. She was an outspoken supporter of Bashar al-Assad's government, and frequently criticized opposition forces, which may have been the reason for her possible kidnapping, Kochneva's employer, the Utro news outlet claimed."Real Syria Updates comments that "Al Qaeda FSA terrorists, found, supported, financed, equipped and supervised by the Obama administration along with other NATO member states, especially Turkey where Al Qaeda FSA has training camps and military command & control bases, have issued an ultimatum that their deadline given to the Ukrainian and Russian governments to pay a ransom of $50 million dollars will end by this Thursday or else they'll execute the kidnapped journalist Anhar Kochneva."In recent days other reports from Syria show children being indoctrinated by Islamist terrorist organizations including al-Qaeda. It is also reported that a child was encouraged to behead an unarmed individual. Once this barbaric act was done by the allies of Turkey, France, Saudi Arabia, Qatar, other Gulf states and the murky reality of the United Kingdom and America; then Islamists held his head up while shouting "Allahu akbar." Despite this reality, outside nations appear to care little because countless barbaric crimes have made little impact. Indeed, on the contrary, it appears that countless car bombings by FSA terrorists and other Islamist organizations only encourages more funding and pressure on the government of Syria.The brutal reality of the above, and the fact that many journalists and people connected with the media have been murdered by the FSA, means that Anhar Kochneva is in grave danger. If the ransom isn't paid and the FSA do like they claim, then yet another barbaric act by the FSA and a host of Islamist terrorist organizations will have been done. Outside nations should be ashamed of their support of sectarianism, terrorism, sedition and employing covert operatives to cause mayhem in Syria. Alongside this is the economic blockade which is meant to create more poverty and pressure on the secular government of Syria. Yet nothing appears to penetrate the policies of outside nations which are causing so much bloodshed against the people of Syria and whereby Turkey is the main conduit of international terrorism against this independent nation.One can only imagine the suffering and indoctrination which is ongoing against Anhar Kochneva. Every day she doesn't know if she will be released – or if she will be killed brutally by the FSA. Therefore, with the current statement of the FSA being given it is essential that great pressure is put on the brutal forces of terrorism, sectarianism and sedition in order to free Anhar Kochneva before it is too late.
The above story was written by Murad Makhmudov and Lee Jay Walker.
leejay@moderntokyotimes.comhttp://syria-updates.blogspot.jp/2012/12/syria-al-qaeda-fsa-threatens-to-execute.htmlhttp://rt.com/news/journalist-missing-syria-kidnapped-352/
The above article is provided from Modern Tokyo Times
http://moderntokyotimes.com