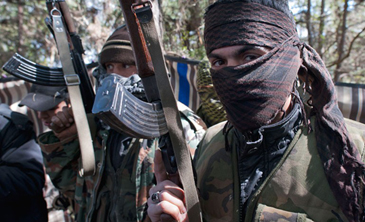 Syrian rebel forces
The unity of Syria is facing a very dark period because several outside nations keep on supporting international terrorism, sectarianism and sedition against this country. In recent months it is abundantly clear that more international terrorists, mercenaries and covert operatives are entering Syria. At the same time greater military hardware is being supplied by many international parties and Turkey's "terrorist open border policy" is causing mayhem for the government of Bashar al-Assad.Islamists are spreading sectarianism on the ground and various terrorist groups are planning for a future Islamist state based on the Saudi model of sectarian hatred. In the last few days over twenty Sunni Lebanese Islamists have been killed by the armed forces of Syria and clearly Chechens, Libyans, Saudis and a host of other nationalities are moving to this nation in greater numbers. This can be seen by policies on the ground whereby greater restrictions on women, religious minorities and daily freedom are most noticeable in areas under their control. The "Year Zero Islamists" of Saudi Arabia and followers of Salafi Islam are intent on destroying Syrian architecture, culture, religious pluralism, female emancipation and other vital areas.It is abundantly clear that thousands of Syrian soldiers have been killed while defending the independence of Syria. These brave Syrian soldiers are trying to protect all Syrians irrespective of religion or no religion. At the same time, the armed forces of Syria can't allow a single major city to fully fall to terrorists, mercenaries and covert operatives. After all, if a major city like Aleppo fell, then the enemies of Syria would flood the city with greater military hardware and eventually prepare for the tipping point just like what happened in Krajina and Libya. Of course, the armed forces of Syria are much more powerful than the forces which were based in Krajina and Libya. Despite this, it is clear that the enemies of Syria desire to control a major city in order to use this against the central government.Kurds are increasingly becoming embroiled in the conflict because it appears that the Free Syrian Army (FSA) and various Islamist terrorist groups are doing the bidding of Turkey, Qatar and Saudi Arabia. The role of France in supporting international terrorism is equally disturbing and the same can be stated about the role of the United Kingdom and the mixed policies of America, which appear to ebb and flow. If the current crisis keeps on then "the failed state scenario" is a real possibility based on the complex nature of Syrian society. Also, one only needs to look at the ongoing chaos in Afghanistan, Libya and Iraq to understand that outside meddling leads to greater terrorism, instability and the "failed state scenario" because of the decline of central forces.Many powerful nations like the Russian Federation, China, Iran and many others have spoken on behalf of a political solution to the crisis in Syria. However, this isn't enough because Turkey is an open military base in parts of this country for the FSA, mercenaries, international terrorists and covert operatives which have a free reign. Likewise, Qatar, Saudi Arabia and other Gulf states are supporting the FSA and international terrorists by funding their barbarity and providing more money in order to obtain powerful military hardware. Similarly, many international jihadists from many nations are entering Syria in order to kill pro-government Syrians and thousands of soldiers in the armed forces of this nation have been killed.Therefore, while the enemies of Syria are funding the FSA and International terrorist groups, it is clear that the friends of this nation are doing little in the other direction. Yet Syria needs "real friends" which support the independence of this nation and this applies to economic, military and political support. It is abundantly clear that countless terrorist attacks, barbaric murders by the FSA Islamists and the destruction of many parts of Syria are all ongoing. Given this reality, talking about international law and rhetoric by some players isn't helping the people of Syria.At all times the government of Syria made it clear that it was open to genuine political dialogue. More importantly, the government of Bashar al-Assad introduced political reforms and every major political figure understands the need to do more in order to heal the wounds – which are ripping this nation apart – because of outside meddling and the incitement of hatred based on sectarianism. The main culprits in the destabilization of Syria applies to Turkey, Saudi Arabia, Qatar, France and several other powerful players including the United Kingdom. America remains a major enigma because this nation appeared to be heavily in support of military engagement and the destabilization of Syria. However, in recent months the leadership in Washington is much more mooted.Secularism and the rich culture of Syrian society is now facing many dark forces therefore it is imperative that nations like the Russian Federation, Iran, China and many others provide major support. This applies to economic, political and equally essential is military support. After all, the enemies of Syria have no qualms in supporting international terrorism, sectarianism and sedition against the people of this nation. Equally alarming is Salafi indoctrination which is altering the way of life in areas under Islamist control. If friendly nations don't increase their support to Syria, then it is imperative that the government of Syria introduces a "war economy" during this increasingly dangerous period.
The above article was co-written by Boutros Hussein and Lee Jay Walker.
leejay@moderntokyotimes.com
The above story was provided from Modern Tokyo Times.
http://moderntokyotimes.com