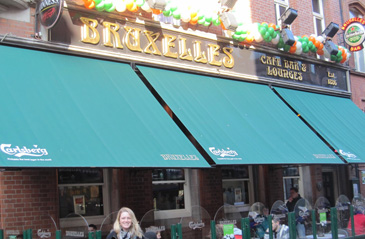 Bruxelles Irish pub in Dublin
John Hagan visits Dublin to discover that Ireland's capital offers a unique mixture of history, culture, sophistication, and fine food.9 a.m.
Pub start
Greet the day at Bruxelles [7-8 Harry Street] with a hearty Irish breakfast. Wooden floored and barley smelling, this pub is normally hiving in the evening but affords more elbow room before noon. Gird your loins with a fry of bacon, sausage, eggs and black pudding, accompanied by freshly toasted soda bread, traditional preserves and a mug of tea. 10 a.m.
Brew tour
The Guinness Storehouse [St James's Gate] presents a sleek peek into how the Irish 'national drink' has been made since 1759. Labyrinthal catwalks meander past yawning, pungent, roasting ovens, while the history, and secrets (well some secrets) of the famous tipple are revealed. Eventually, perambulations lead to the seventh floor Gravity Bar, which affords a spectacular 360 degree view of the cityscape, and where each visitor can sample a complimentary glass of the dark stout. 12 noon
Walk in the park
Laid out in 1663, and flanked by some of Ireland's grandest Georgian mansions, Stephen's Green [Stephen's Green] is Dublin's most illustrious park. Its effusive array of fountains, mosaic of duck ponds, lawns and colourful flower beds provide a restful environment from the city bustle. Just the place to catch your breath, relax and commune with nature, or perhaps even with a talkative Dubliner.1 p.m.
Lunch break
Although the crockery is a tad twee, the Pepper Pot [59 South William Street] dispenses filling and tasty snacks. Guinness and pumpkin seed bread topped with smoked salmon is delicious, as is the panfried goat's cheese with Gubbeen chorizo and vine tomatoes. Complete the repast with a pecan and Irish whiskey tart accompanied by a refreshing elderflower cordial.2: 30 p.m.
Window shopping
Grafton Street is the city's premier shopping thoroughfare. Traditional Irish fashion shops, craft boutiques, and buskers, line the mall where the elegant Brown Thomas store showcases top international fashion brands. Take a well earned break to sample the fare in Bewley's, one of Europe's premier coffee emporia. Choose freshly baked scones and jam to accompany your aromatic java.5:30 p.m.
Aperitif in the library
Soft lights, sophisticated atmosphere, opulent couches, sumptuous armchairs, and great first storey views of the ado on the busy South George's Street are on offer at the Central Hotel Library Bar [1-5 Exchequer Street]. As the name suggests, there are books to browse while you recline and chill out with an aperitif to the sounds of a soothing piano. 7 p.m.
Dinner in style
Despite being located in two former Georgian coach houses L'Ecrivan [109A Lower Baggot Street] is a small eatery. Watch, and talk to, Michelin Star chef, Derry Clark as he cooks. Sample his Lissara Farm free range duck. If you can't secure a table here, try the artsy, Solas [31 Wexford Street] where antipasto salad and Serrano ham are house specialities, and over 40 of the world's best beers are on offer.9:30 p.m.
Musical vespers
Seemingly built without any architectural guidance, O'Donoghue's [15 Merrion Row] is the best known traditional Irish music pub in Dublin. The walls are adorned with images of famous musicians who have performed there. Live music and plenty of craic with the locals available every night. Enjoy the fiddlers, pipers, singers, harpers and tin whistlers. Crank up the vocal chords or just sit and listen.