An undated file photo shows India's most wanted man, Koose Muniswamy Veerappan. India's most wanted criminal, Veerappan, who was accused of more than 100 murders, has been shot dead after decades on the run, police said 19 October 2004. The bandit, said to be around 60 years old now, was killed in a forest in southeastern Tamil Nadu state, said Special Task Force chief K. Vijay Kumar.
Courtesy AFP
It is an old adage. You rob Peter to pay Paul. Paul was usually poor. The robber was Robin Hood, or well something to that effect. But Indian Robin Hoods were not exactly an epitome of noble-hood. They were plain simple crooks, who were often greedy themselves or worked for greedier people.India's latest Robinhood, Koose Muniswamy Veerappan, who was shot dead a few days ago in the jungles of southern India, began walking the path of murder and mayhem more than two decades ago. He began as petty thief and then graduated to elephant poaching and sandle-wood smuggling. Banned by the Indian law, the trade in elephant tusks and sandle-wood made him not just rich but powerful enough to play Robinhood. However, Veerappan's so-called benevolence was limited to guarding his own life, security and interests. When the police hunt for him began in the three southern Indian States of Tamil Nadu, Karnataka and Kerala, he placated local villagers with liberal sums of money in return for food and other necessities.More important, he bought their loyalty and pledge to guard him and the members of his gang. The villagers did this happily: impoverished as they were, the locals were quite elated at the prospect of keeping their home fires not just burning, but burning brightly.Emboldened by this false sense of security which the villagers offered him, albeit for a price, Veerappan began to challenge the rule of law and constitutional authority by kidnapping political bigwigs and celebrities. He captured a very popular though aging South Indian star, Raj Kumar, and held him prisoner for 108 days in hostile terrain.No amount of appeal by the star's family and a massive search by the police could yield any clue to where Raj Kumar was. Finally, his family, desperate for the man's well being — he was under medication for a host of ailments — paid a huge ransom for his freedom. Of course, neither the family nor the authorities admit to having paid the money.Veerappan could not always succeed. A little after the Raj Kumar drama, Veerappan struck again by kidnapping a popular South Indian political leader and former Minister in the State of Karnataka. When Veerappan could not get the ransom he sought, he killed the leader.Murder was nothing new to Veerappan: he killed many, often honest police or forest officials trying to guard property and life. And an award of $ 150,000 on his head could do little to corner the forest brigand.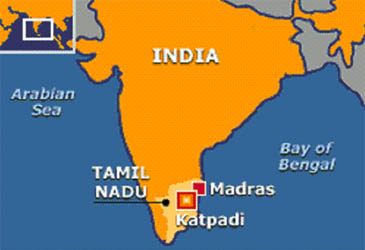 Courtesy Greatestcities
What has been more notorious about Veerappan is his link with political extremists and parties. Two rebel groups — Tamil National Retrieval Troops and Tamil Nadu Liberation Army — actively supported Veerappan.Interestingly, the first organization was a front for Sri Lanka's Liberation Tigers of Tamil Eelam, now engaged in securing independence/greater autonomy for the island nation's ethnic, minority Tamils.The second outfit was actually a Naxalite movement believing in the annihilation of class enemies. Both these organizations are banned in India.For Veerappen, his association with such revolutionary bodies gave an inflated sense of pride and importance. He often fancied himself as Che Guevara wanting to change the world order, a notion that was in contrast to his early career demands aimed at self-aggrandisement.Yet, what worried a rational Indian to a great extent was Veerappan's suspected connections with respected political parties, which used him as a conduit for money laundering and damaging each other's reputation and electoral chances.It is well known, though not admitted, that it was his political contacts which helped him to survive and thrive for such a long time in the jungles. At one point of time, when there was a government pretence of negotiating with Veerappan, a well known Tamil journalist literally walked in and out of the bandit's hideout while a huge police party whiled away its time close by!It was precisely this infamous link that finally saw Veerappan being shot dead at very close quarters. He had a gaping hole, caused by a bullet, on his forehead. One never doubts the reason why Veerappan and a few of his associates travelling in an ambulance — into which they had been lured by the police in the first place — were not taken alive.Obviously, getting him alive involved a definitive risk of seeing many skeletons tumble out of the cupboard. Veerappan could have revealed the names of all those who sustained him and his games for such a long time, and all of them for their very own interests.Veerappan was certainly a pawn in the hands of players who indulged in sheer dirt. The outlaw was never a Robinhood, but without political patronage, he would perhaps never have risen to the bloody heights he eventually did.