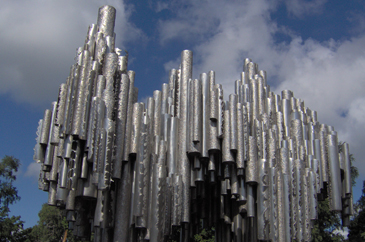 Sibelius' Monument
8:30 a.m.
Waterside
Breakfast on the dockside at Market Square where the food stalls feature local produce. Baltic herring on fresh rye bread, kulibiak pies filled with salmon and rice, and bowls of Arctic cloudberries all beckon. Beware of itinerant, rapacious, seagulls. After breakfast peruse the rest of the market where Lappish handcrafts, including hand-knitted sweaters, caps and mittens, antler jewellery, and reindeer skins are on offer. Kauppatori10 a.m.
Get your bearings
Catch either the 3T or 3B tram from Market Square to enjoy the city's premier locations - the Sibelius Monument, Opera House Olympic Staduim, museums and shopping centres. Hop on and off as many times as you like. A 'non-stop' round trip takes about an hour. English language brochure included in the fare. Trams leave at 10-20 minute intervals. Kauppatori12 noon
Chill out
Literally! At a constant temperature of -5C the Arctic Icebar lives up to its name. The walls, furniture and decorations are constructed entirely from ice! Try a Finlandia vodka to keep out the cold. The furry cape, gloves and boots provided may also assist. Yliopistonkatu 51 p.m.
Square meal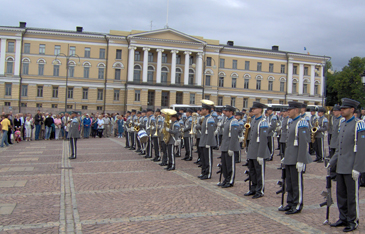 Senate Square
Perfectly located on Senate Square opposite the majestic Helsinki Cathedral (Finland's most photographed building), artsy Café Engel offers traditional fare. Choose a window seat, order the sauté reindeer with juniper sauce, settle back and contemplate the throbbing life outside. Afterwards, take a walk around the Square to admire Carl Engel's unique architecture. Aleksanterinkatu 263 p.m.
Shopping break
Fashionistas flock to tree lined Esplandi, a pair of city centre parallel streets replete with high couture and assessory shops. These include Marimekko, Jackie Onassis' favourite clothing brand, Aarikka, famous for its wooden jewellery, and funky Designor with its exquisite glassware. Nearby is Scandinavia's largest department store, Stockmann, where an extensive souvenir selection is located on 5th floor. Stop for a coffee and Danish pastry in the stylish Café Strindberg on the ground floor. Aleksanterinkatu 526:30 p.m.
Revive
Soothe the sightseeing muscles in a traditional Finnish sauna. Most hotels have their own, but for a more authentic experience visit the elegantly housed Yrjonkatu Swimming Hall. Don't worry about Speedos – they are not required, even in the swimming pool. For those of a more reserved disposition, private saunas are available as are male and female only sessions. 21b Yrjonkatu.8:30 p.m.
Tractor tucker
Dine at Zetor's for pure retro-Finnish-Soviet kich. The décor is based around farm tractors and agricultural implements. Eat at long communal tables with extra seating on milk cans. Try the elk stew with mash and ligonberries, or sorkka sausages and mustard followed by a wild berry sorbet dessert. Order a Koff Special beer or chance a nip of Jaloviina liquor. Music and dancing from 11pm. Mannerheimintie 3-5.Thanks to City of Helsinki Tourist & Convention Bureau
Visit www.hel.fi/tourism