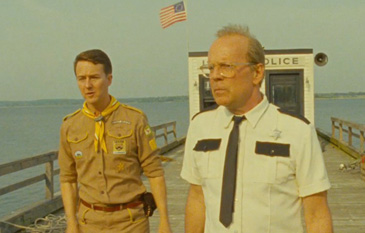 Bruce Willis as Captain Sharp in Moonrise Kingdom
The 65th edition of Cannes Film Festival opened last evening with Wes Anderson's Hollywood work, Moonrise Kingdom, a delightful start to the 12-day cinematic event on the French Riviera. Set in 1965 (for no apparent reason as Anderson told a Press conference soon after the screening), Moonrise Kingdom is about two unhappy children, Suzy Bishop and Sam Shakusky – barely 12 – who meet, fall in love, elope and even get married. Suzy is misunderstood at a home, where the father has problems and the mother is having an affair with the local sheriff, Bruce Willis' Captain Sharp. Sam is an orphan, mistreated by boy scouts at a camp, and when the two kids meet at a local church, they are drawn to each other. Partly fantasy, the movie talks about awakening sexuality, wonderfully contrasted with the turmoil in the adult world that is picturised against an approaching hurricane. Unfolding on an island off the New England coast, Moonrise Kingdom graphically presents the tumult the elopement causes to the little village, with the girl's parents, incredibly played by Bill Murray and Francis McDormand, the local authorities and a child welfare official (Tilda Swinton) all getting on the trail of the two young runaways, essayed with natural ease by Jared Gilman and Kara Hayward in their first-ever screen appearance. Stating that the romance between two 12-year olds was the greatest thing that could have happened in the 1960s, Anderson said that after meeting many children for the roles, he saw Jared and knew immediately that this was his little boy. "When he read, he was wearing Kareem Abdul-Jabbar-style plastic glasses with a strap around the back of his head. His hair was very long. He couldn't look like that in the film, but he was immediately funny, and it was more his interview with the casting director that first grabbed me — his voice and his spirit. The same thing for Kara, the girl. In her audition, she just read so authentically, she really seemed as if she was making up the dialogue herself, and that didn't happen with any of the other kids I auditioned".
Gautaman Bhaskaran is covering the Cannes Film Festival for the 22nd year.