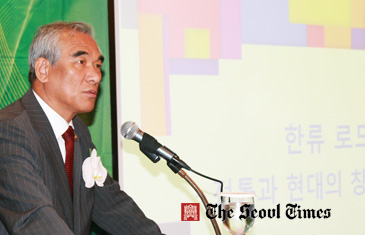 South Korea's Culture Minister Choe Kwang-Shik
"South Korea's cultural influence is now spreading across Asia and to the rest of the world," said South Korea's Culture Minister Choe Kwang-Shik at a recent forum in Seoul.The breakfast forum was held on May 3 (Thursday), 2012 by Chairman Chang Man-Key of Korea Human Resources Development Institute (KHDI) at Lotte Hotel in downtown Seoul.Minister Choe said that the Korean Wave had been limited to mostly Asian countries including Japan and China until last year."The Korean Wave was limited to Asia and its contents were mostly dramas up until last year," he argued."But now it is virtually spreading throughout the world as the K-pop was highly successful in its European invasion in the year 2011"He said that the word Korean Wave (韓流) was first coined in 1999 by a Chinese journalist after he was surprised by the growing influence and popularity of Korean entertainment and culture in China.The Korean Wave then hit the Japanese market. The rest of Asia was infatuated by the Korean Wave.In 2003 Winter Sonata (or Winter Love Story), a TV drama series broadcast by KBS a year earlier, was broadcast by Japanese NKH, ringing the hearts and minds of middle-aged Japanese women.Following Winter Sonata is another TV series Daejanggeum (大長今), a story of female royal physician of Korea's Joseon Dynasty."Daejanggeum hit the entire Asia," Choe said. "It went to Southeast Asia, Central Asia , and Middle East, and all the way to Turkey""In Iran viewership for Daejanggeum reached 85 percent," he said. "This means that 85 percent of Iranian people watched this Korean drama at the same time"Minister Choe pointed out that the influence of Korean Wave is affecting exports and tourism a lot.He quoted a statistics as saying that 83.6 percent of respondents believe that the Korean Wave is influencing South Korea's exports market positively.Statistics show that the Korean wave is accountable for the $4.2 billion dollars of revenue South Korea earned in 2011 through cultural exports."Food and fashion industries will further be influenced by the Korean Wave," Choe argued. "Once foreigners get accustomed to the taste of such Korean dishes as Kimchi and bulgogi (marinated beef), the taste is not going to go away," he said.South Korea is now one of the world's top 10 advanced countries which export its culture, according to the minister."For the first time in the nation's 5,000-year-old history Korea is exporting its culture and history to foreign countries," Choe argued."The image of Korea and its brand are being boosted by the current Korean Wave, Choe added."I would like to call its way 'Road of Korean Wave'"
Who Is Choe Kwang-Shik?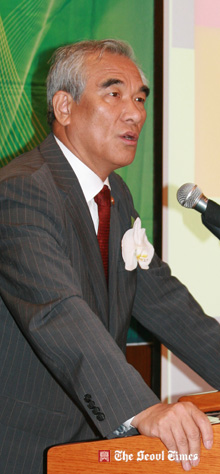 South Korea's Culture Minister
Choe Kwang-Shik
Mr. Choe Kwang-Sik has been serving as the minister of culture, sports, and tourism since he was inaugurated as its minister on Sept. 17, 2011 Minister Choe was born in Seoul on May, 5, 1953. After graduating from the ChoongAng High School in Seoul, he proceeded to Korea University in 1976, where he obtained his BA, MA, and Ph.D. in history, respectively.His career began in 1981, when he was instructor at both Korea University and Hyosung Women's University. Between 1993 and 2001 he became assistant professor and associate professor in Hyosung and Korea University, respectively.Minister Choe was appointed president of the Korea Historical Folklore Institute in the year 2000, and that same year he became the director of Korea University Museum and served in that post until 2008.Mr. Choe has some overseas experience. He was a visiting professor of the University of California at Los Angeles from 2001 to 2002. From 2004 to 2006 he held the position of standing director of the Northeast Asian History Foundation.He rose to the prominence as an administrator in 2008. He was appointed director of the National Museum of Korea in 2008. In 2011 he became the head of the Cultural Heritage Administration.He was highly accredited for a series of successful events he organized as the head of the National Museum of Korea. The most prominent event was the organization of a dinner reception at the museum in honour of global leaders of the Group of 20 Nations, when Seoul hosted G20 Summit in the fall of 2010.Choe's appointment as the culture minister in 2011 marked the peak of his achievements as a high-profile personality in South Korea.Minister Choe has recieved several awards. In 2007 he was awarded Presidential Commendation on the occasion of the Day of Museum Professionals.In 2008 he was crowned with Person of the Year who helped enhance the prestige of ChoongAng High School, his alma mater.In 2011, he recieved Presidential Commendation for the Contribution to the G20 Seoul Summit.As a prolific author Choe has been publishing a series of books since 1995. They are widely read in South Korea and even beyond.