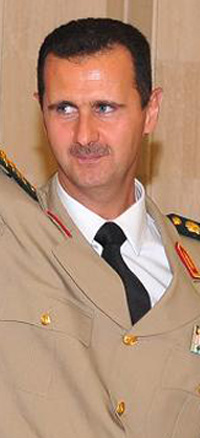 Bashar Hafez al-Assad is the current President of Syria. His father Hafez al-Assad ruled Syria for 29 years until his death in 2000. Al-Assad was elected in 2000 and 2007, unopposed each time. During the Syrian uprising, demonstrators have called for President al-Assad's resignation.
The leader of Syria, Bashar al-Assad, is open to finding a solution which will end the terrorist and foreign intervention against the people of Syria. This means that the government of Syria is open to the "Annan Plan" just like the Russian Federation and other responsible governments which seek an end to the bloodshed. Therefore, unlike the "military shenanigans" of nations like America, the United Kingdom, Saudi Arabia, Turkey, Qatar, and others, which desire to support the terrorist networks in Syria; other more responsible nations desire to end the bloodshed in Syria by agreeing to conditions which were made in the "Annan Plan."Yet, it is clear that the government of Syria must protect the people of this nation from sectarianism, radical Sunni Islamic terrorism, outside meddling which desires to rule and weaken Syria, and other dark forces which are supporting widespread terrorism. It is no coincidence that the terrorist network of Al Qaeda and other terrorist organizations, are moving from places like Iraq and Libya in order to spread their hatred against secular Syria. This means that the government of Syria can't have "its hands tied" while nations like Saudi Arabia are openly hostile and funding terrorists and mercenaries.The so-called opposition is also massively divided because many understand the chaos that engulfed Afghanistan, Iraq, and Libya, after foreign meddling. Also, many also know that Islamic terrorism, the support of mercenaries, propping up nations which seek a weak Syria, is not welcomed by the vast majority of Syrians. After all, when did nations like Saudi Arabia care about the rights of freedom, female equality, and religious diversity?On the contrary, Saudi Arabia is despotic and Turkey is responsible for the deaths of over 30,000 individuals because of the ongoing Kurdish issue in this nation. Turkey also refuses to leave northern Cyprus after the cleansing of the Orthodox Christian community and wanton destruction of many churches and monasteries. Not surprisingly, the Christian community in Syria looks at the American led invasion in Iraq which led to 60% of Christians fleeing with alarm.In Libya today armed militias control various areas and fighting breaks out frequently. The rights of women are also on a backburner and even non-Muslim graves have been destroyed by Islamists and criminals who have no time for freedom and pluralism. In contrast the people of Syria, irrespective if Muslim, Christian, Druze, or secular; have a million times more freedom than people in Afghanistan, Libya, Saudi Arabia, Turkey, and other nations which the West supports.Therefore, what is the role model that Hillary Clinton and President Obama want? Do they want a nation like Turkey which persecutes the Kurds, denies the Armenian/Assyrian/Greek Orthodox genocide of millions of Christians in 1915 and the following years, and which invades sovereign nations like Cyprus and then destroys the indigenous Orthodox Christian faith? Do America and the United Kingdom want a nation like Saudi Arabia which supports killing apostates, enslaving women and whipping them if they don't fully cover-up, and a nation where September 11 came from? Or maybe America and the United Kingdom want a nation like Afghanistan which is draconian, against religious freedom, and where like Iraq, terrorism flourishes and continues to cause mayhem after the West supported Islamic terrorism in the 1980s?Bashar al-Assad implemented reforms this year and he stated openly that the political process will continue. Syria needs to avoid disintegration like Iraq, Libya, and Afghanistan, which are no longer single nation states because of sectarian, ethnic, and other divisions which have weakened all central forces. Only short-sighted individuals would claim that past interventions have benefitted these societies after the deaths of hundreds of thousands of people. Therefore, Syria needs "national unity" and not "international terrorism," outside meddling, and supporting mercenaries who will kill fellow Syrians for money.The "Annan Plan" can't work on the basis that the Syrian army pulls out while outside nations will expand the military operations of terrorists and mercenaries against the Syrian people. Therefore, Mikhail Bogdanov, the Russian deputy Foreign Minister, lambasted nations which support the military option and made it clear that this was unacceptable and inappropriate.
The above article was written by Boutros Hussein and Lee Jay Walker and from Modern Tokyo Times.
leejay@moderntokyotimes.com
http://moderntokyotimes.com