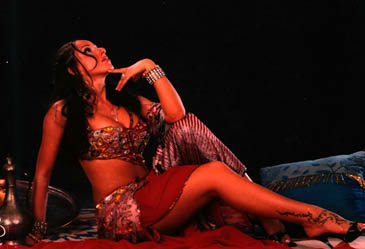 Olga Roussina (stage name Oya Man)
Started early October, The 7th Seoul International Dance Festival offers rare chances for Seoul audience to taste all different types of both domestic and foreign dances in Seoul area: 17 dance troupes from 12 countries, and 22 domestic troupes are showing a variety of dances at major places until Oct. 24, 2004.Among many dances hotly watched by local audience is "Turkish Belly Dance" staged at Hoam Art Hall near Seoul City Hall Oct. 17, 2004. "Belly Dance repertoires" by both Turkish and Korean dancers enraptured some 400 audience in the hall with their elegant and exotic movement.Excited audience gave the dancers big accolades as the scantily clad dancers never ceased to touch the minds of local spectators to the tune of Turkish music during its 80 minutes performance.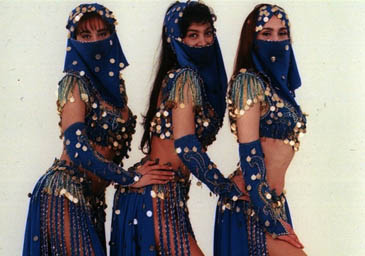 Mezudeke Turkish belly dancers
Olga Roussina (stage name Oya Man) and Karmel Avadya (stage name Firuze Ory) presented a gothic Turkish solo belly dance respectively, while Mezudeke Turkish dancers brought a variation of group belly dance on stage.As a top-notch dancer both Olga Roussina and Karmel Avadya have been dancing in a number of countries for over 10 years.The three-member Turkish belly dance troupe is made up of Nadya Seker, Dilek Maltepe, and Aynur Kabur, all top-quality dancers with years of professional experience. Mezdeke has released nine music CDs since 1993 along with producer Sony, and the group's name is even registered with the Patent Office. It has performed over 160 shows in the world's major cities. They were even invited by Libyan leader Mohammar Qaddafi to perform in his palace.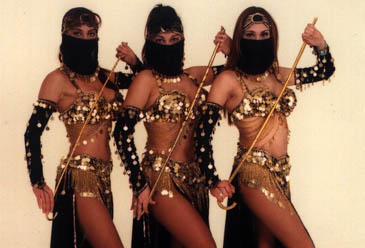 Mezudeke Turkish belly dancers
The other three local belly dancers of "Belly Dance Korea" led by Xena Ahn blended Turkish style with American cabaret style on the stage. They were Sohn Seo-Hee, Park Ji-Young, and Lee Ji-Hyun. Ahn became the first professional Korean belly dancer and won the certificate of chief dance teacher from Turkey.Other dance performances will run until Oct. 24, 2004. The Seoul International Dance festival or SIDance has been held since 1998. The 12 participating countries in this year's festival included France, Australia, Singapore, Cuba, and Turkey. For further details for the remaining performances visit its official website at
www.sidance.org