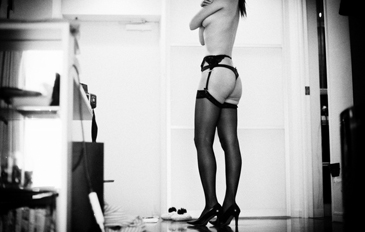 Ontoshiki Is a Stunning Photographer in Tokyo: Spiritual, Panache & Individualism

Ontoshiki (http://ontoshiki.com/) is an amazing Australian photographer who is based in Tokyo and clearly Eastern and Western ways run throughout his veins. His ethnic and cultural background fused with the many philosophies which flow between East and West enables Ontoshiki to see beyond mere creativity, instead he fuses creativity with the richness of culture. Therefore, Ontoshiki is a photographer who can freshen up new images by searching for new angles and treating each assignment with complete professionalism and care.The name Ontoshiki is a pseudonym for Justin Vun who was born in Malaysia but with roots from China alongside the influence of the cultures that he witnessed in other nations. The impact of Eastern and Western culture within his psyche can be felt within his unique vision. Ontoshiki also understands the need to express the "true spirit" of each assignment based on the individual, company, events that he is covering, and so forth.Ontoshiki specializes in many areas and the diversity of his skills is a rich blessing for his client base. His specialism applies to customized portrait, events, bands, street photography, documentary, erotica, urban elements, current affairs, and other important areas. Therefore, Ontoshiki is in demand based on the richness of his photography which can be viewed at his elegant and stylish website.Tokyo is clearly a natural match for Ontoshiki because this mega-city is ultra-modern, extremely fashionable, blessed with amazing architecture and the old world still survives. This applies especially to the richness of Buddhist temples and Shinto shrines which can be found throughout Tokyo. Also, the lore of East and West alongside the uniqueness of Tokyo culture means that you have so many fusions and new ways of thinking.This environment for a talented photographer like Ontoshiki provides many opportunities, irrespective of the angle he needs to cover and highlight. After all, the vibes of kawaii culture in Harajuku; poverty areas of Minami-Senju; business world and high fashion of Ginza; the Meiji Shinto shrine; the hidden world of erotica; stunning gardens throughout Tokyo; the fast pace of daily life; deep meditation and tranquility; and a host of other areas means that Ontoshiki can utilize all this diversity and creativity.On his (http://ontoshiki.photoshelter.com/about/index) website he states that "His main themes for his personal work focus on life, death, alienation, lust and love and the exploration of the urban environment, elements and the human psyche and body."Ontoshiki further comments that "He admires the Japanese aesthetics of Yūgen (a profound, mysterious sense of the beauty of the universe. and the sad beauty of human suffering) and Wabi-sabi(transience i.e. imperfect, incomplete, impermanent) such as fading autumn leaves, falling sakura petals and flawed beauty."Individuals who have influenced Ontoshiki include Nobuyoshi Araki, Kishin Shinoyama, Christopher Doyle, Wong Kar Wai, Akira Kurosawa, Daido Moriyama, Goyo Hashiguchi, Wing Shya, D.Arbus, Seamus Murphy, H.Cartier Bresson, R.Doisneau,R.Cappa, Irving Penn, E.Munch, Van Gogh, L.Davinci, Vilhelm Hammershoi, J.Nachtwey, Kaoru Izima, Ridley Scott, Shoji Ueda, Tim Burton, Miike Takashi, Helmut Newton, and Miyamoto Musashi.It is clear that the diverse influences on this unique photographer are indeed rich and varied. When this fact is fused with the aesthetics of Yugen and Wabi-sabi then clearly you have an individual who is rich in culture.Ontoshiki quotes that "The mysterious allure of a person in urban architecture and landscape is a metaphor for social environment and sense of community. It may conjure thoughts and feelings of relationships manifesting in the form of intimacy, alienation, decay, deterioration or rejection""Sensualism in photography is tantamount to having an intimate dance with a woman; timing, technique, intricate body movements and forming a connection between you and your partner."If you check (http://ontoshiki.photoshelter.com/) the website of Ontoshiki then immediately you can view many amazing images. It is clear that his diversity shines through and if individuals and companies want to hire a sublime photographer who can cover a complete array of areas — then Ontoshiki is the individual to contact.Please visit the following websites:
http://ontoshiki.photoshelter.com/
The above story was written by Michel Lebon and Lee Jay Walker.The above story is from Modern Tokyo Times.