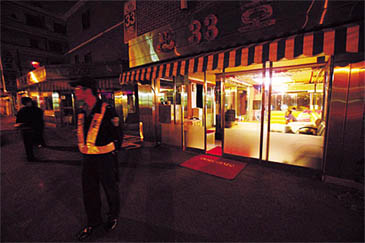 A brothel in a Seoul red light district is nearly empty as police crackdown goes on.
On Oct. 8, 2004, a 35-year-old woman cut her wrist with a sharp razor in her rented room in the red light district of the remote eastern coastal city of Donghae in Gangwon Province. The sex worker was lucky when she was found groaning by one of her fellow workers and taken to the hospital.Barely conscious, she called for the withdrawal of the enforcement of the special law banning the sex trade, which put her out of a job that she has had for nearly 10 years. "Who the hell has the guts to lock up the hookers and enslave them these days?" she shouted.Because of these new enforcements she feels a victim of the new law. On the same day but earlier in the morning, a 29-year-old girl fell into a coma after she swallowed scores of sleeping pills in a suicide attempt. She was found groaning in her bed in a red light district called "Yellow House" in Sungui-dong, Jung-gu in Incheon. She left a letter complaining about the police crackdown on her profession.Hard pressed financially by the enforcement of the new sex trade law, hundreds of thousands of sex workers around the nation are driven out of their job, while some others are opting for a drastic way out as seen in the above cases.Thousands of prostitutes and pimps have poured onto the street to protest the law that came into force on Sept. 23, 2003.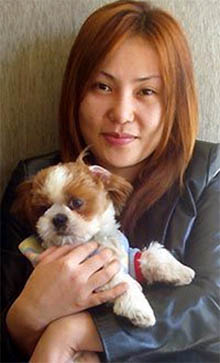 Ms. Kim Mun-Hee
While government, particularly the Ministry of Gender Equality (or Women's Ministry), argue that the strong enforcement of the anti-sex trade law can save sex workers from slavery, sex workers say that they are more victims of the law than recipients. One of the sex workers recently told The Seoul Times what she and her fellow workers want in regard to the police crackdown on their work places and the newly introduced anti-sex trade law. She met one of The Seoul Times reporters in a coffee shop in Suwon, Gyeonggi Province Oct. 13, 2003.Wearing a black leather jacket and blue jeans with light makeup on her face and red hair while holding a puppy close to her chest, Ms. Kim Mun-Hee said, "I had to take her with me, cause she has nobody to take care of her." She represents sex workers in the Suwon area that are protesting the police crackdown.She expressed her strong displeasure with the news media by saying that one of their representatives failed to appear on a TV program to voice their concerns due to an objection from one of the feminist groups. She argued that mass media is siding with government and do not give them the right to express themselves. For the first time in her life on Oct. 7, 2003 she joined a protest rally. She moderated a protest rally held in Yeouido, which drew some 3,000 sex workers from around the country. She volunteered to lead sex workers of the Suwon area after her shop was closed by the new anti-sex trade law enforced on Sept. 23, 2003.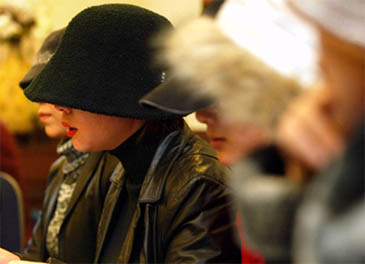 Sex workers are in a press conference in Seocho-dong in Seoul.
Courtesy YNA
"I was angry because government did not ask us for our opinion and did this crackdown based on a survey of a few women who fell victim to sex slavery," she said. "Now we have no job and no place to go."Born in a small town in Gangwon Province, she started the "oldest profession" at age 20. She was working at a "room salon," where customers are entertained with drinks and food and are assisted by "working girls" in a private room. She dropped out of high school after her father died of pneumonia.Unable to pay for her tuition even with the help of her relatives she was forced into low paid employment. "I tried everything to get a job — clothing shop clerk, bakery assistant, Japanese restaurant waitress, bowling house clerk, you name it." Yet, she was not able to get a stable job as a high school dropout.At 20, she was urged to moved to Seoul by a friend. She always dreamed about living in a big city like Seoul. But getting a job in the big city is even more difficult for a high school dropout from the country side.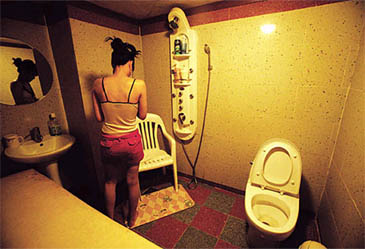 A working girl's room in a red light district
Her friend was working as a barmaid and sometimes had to sell her body to make ends meet."She lied to me that she was a company worker when she urged me to come to Seoul," she fumed. "At first I was not able to forgive my friend." It was a shock for her to find out that a close friend was a "working girl" in a room saloon."But, I changed my mind after I went to visit the room salon she was working," Kim said. "It was not as bad as I imagined."Because of hunger and money, Kim followed suit. "Back then I was penniless. I had to starve for the whole week because I could not afford to buy even a cup of ramyon (instant noodle)." Things went from bad to worse. Her friend betrayed her. Kim was stranded on the streets because her friend took off with the security money for the apartment they rented. From then on and for nearly 10 years Kim went from one room salon to another across the country.
A group of sex workers with yellow cap and mask attending a protest rally against new sex trade law in Pyongtaek in Gyeonggi Province Oct. 11, 2003. They claimed that their livelihoods were threatened by the new law.
Courtesy Reuter/Newsis
"There were several chances I could have quit this profession," Kim said. "I tried my best to get a "white collar" job to no avail. But all the other jobs available to me were low-paying part-time jobs like restaurant server or sales clerk.""I could not live on that money with those jobs. I could not even pay for my rent," Kim continued. "It was back then that I realized society is harsh for the uneducated like me,"Two and a half years ago, Kim quit working at room salons for a full-time job as sex worker in a red light district in Seoul. There was a hiatus of about three months in between. "I had no income for the winter. I had to sell all of my personal belongings including valuables," Kim said "I had to make a big decision."With all that in her life, Kim voluntarily walked into a red light district in Paju, Gyeonggi Province, a satellite city northwest of Seoul."At first I was worried" Kim thought it would be totally different from the ones she used to work at.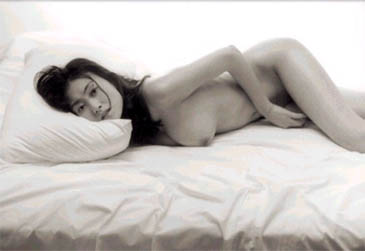 Even TV actresses are involved in sex trade in South Korea.
"When I was working at the room salons I did have to have sex with my customers except for the customer wanting a first round," She said. In room salons, "Second round" means to go with customers for sex and "first round" means customers only want to drink. "On TV I watched so many terrifying scenes of prostitutes being locked up as sex slavers," Kim said. Contrary to her expectations, the owner of the brothel where Kim worked treated her as a family member."Above all she trusted me. She gave me 30-million won as an advance. When I wanted to move from there to Suwon she allowed me to do so." Kim paid back her advance (actually debt). "I felt really thankful to her."In her place in Suwon, Kim was treated humanely. "When I was physically ill, she massaged me; often crying with me for our sorry situation."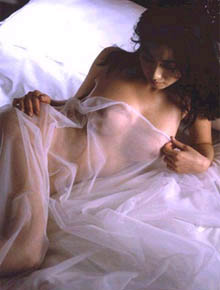 Some actresses in South Korea become sex workers.
"She knew that I was taking care of my old mother all by myself. She kept saying you gotta be healthy and let's make a lot of money."
Kim said that working at brothels is much easier than room salons. While in room salons she had to struggle with drunkards all the time; at brothels all she had to do is have sex with her customers. "When I am feeling under the weather I don't have to work," Kim said "My owner (pimp) does not force me to do either, because she knew that they would have more to lose than gain."The owner even allowed her to refuse her customers. "If I meet with a ill-mannered man on an unlucky day I just spring my body from him and leave him," Kim said. Since she closed her shop on Sept. 22, 2003, both her pimp and her have made no money at all. Kim is worried about making a living and paying for her rent.Asked about her savings Kim said, "Well, not much. But I do have some savings. I cannot use the money. It is for my dream." Her dream is to open a small clothing store so she can sell her own designed clothes and accessories. "But now it seems like there is no way of achieving my dream."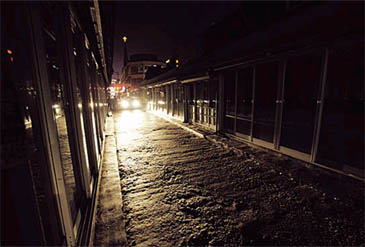 A red light district called "Cheongyangni 588" is in darkness as all the lights off on Oct. 8, 2003 during a police crackdown.
Courtesy Hani
Kim said the Women's Ministry would support some women in protection facilities with a meager 100,000 won per month. It also promised to lend some funds for ex-sex trade workers who want to start a new business. "But only a small number of candidates can apply for this and several strict strings are attached," Kim pitched her tone "Government is totally irresponsible. What are we going to do? "Kim started to sob and even cry. While wiping her tears, Kim continued. "Let's say I receive some funds for starting my own business, the sum is too small for even renting a place. Plus, we have to pay back the loan within three years.""It is obvious that we will become a debtor again," Kim said "Government estimates the number of sex workers at 330,000 but the actual number is much higher. How the hell government can afford the money?"
| | |
| --- | --- |
| | |
| Fully dressed Gisang (geisha) in Pyeongyang in 1910 | A Gisang (geisha) during Joseon Dynasty (1392-1910) |
Kim criticized that government has no right to mention "protection of sex workers" while it really cannot shoulder the responsibility."On average, workers here send millions of won to home to support sick parents and needy brothers and sisters." Kim explained.Kim herself send between 2 to 3 million to support her mother suffering from hypertension and arthritis back home. Her mother still does not know exactly what Kim does to make money, though she is aware that Kim works in a room salon.Years ago, when Kim told her mother that she worked in a room salon, she fell to the ground. Firstly, she threatened to evict Kim from her family registration record but after several days on hospital bed she only said "Take care of yourself."Like so many fellow "working girls" Kim wants government to allow and recognize "public brothels" and manage them in transparent ways.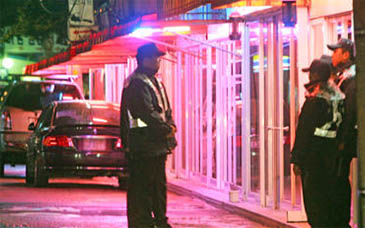 A red light district in Seoul is nearly empty with customers Oct. 13, 2003. Only policemen are seen on patrol. Courtesy YNA
Kim said many of her customers are mentally or physically handicapped people or ones with other problems, who are unable to have sex with girls in normal ways. These days many foreign migrants workers visit her as well."If government closes all the brothels where the hell do these people release their pent-up desire?" Kim argues that prostitution go underground if government keeps its crackdown, and it will infect the whole society with a variety of social diseases including AIDS.Asked about her plan for marriage she said she is enjoying her life as a single. When she was 26 she got a proposal from her boyfriend who she knew for four years. She thought about it for several days. "But my answer was a flat no," Kim thought that her marriage would have ended as a divorce in the end. "I do not want to see my family broken.""I still think it was the right decision," Kim said "If I had married back then there would have been nobody to take care of my mother."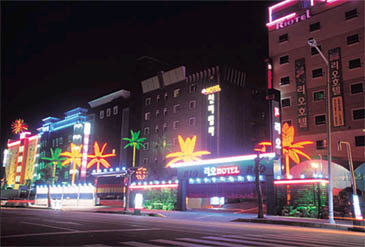 "Love hotels (motels)" are lined in a Seoul area. Courtesy Hani
"I really enjoying working here," Kim said "I become proud of myself when my customers thank me." She said that many of her customers say they thank her because no other girls are willing to have sex with them."At times Kim turns into a counselor as some customers visit her only because they need dialogue partner. The only thing she hates is "staring" from people. "We are humans as well," Kim added.