Arts & Living
Hot Performances for a Cold Day
A Crowd-Pleasing First Night at the Itaewon Festival
By Yoav Cerralbo
Editor / Staff Writer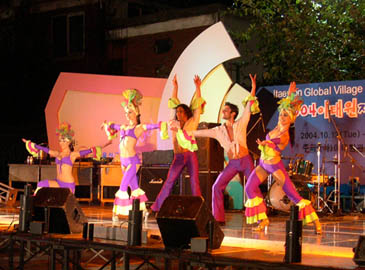 Chica Chicos helped warm up the crowd on a chilly evening with a hot Latin dance performance.
The day was a bit chilly but the sun was out and so were the performers and spectators for the 2004 Itaewon Global Village Festival. Hosted primarily on the main stage at the Arirang Public Parking Lot just outside of Itaewon's main street, the festival's opening night was filled with music and performances from around the world. The first performance turned up the heat on a chilly Oct. 13 evening with a dazzling song and dance show by Latin dance troupe Chica Chicos. The troupe brought South America closer to Korea with Latin music and traditional dress in front of about 100 spectators. Korea's own performing chefs, NANTA, helped the evening get hotter with a 30-minute number that cooked up an interesting blend of song and dance. Event organizers were very excited to get a definite crowd-pleaser for all to see at no cost. On the outskirts of the parking lot there are tents set up with people handing out information about some of the countries partaking in the festival. Countries like Peru, Egypt and Sri Lanka offer information about their country by warm and friendly attendants that help the curious answer questions about future vacations or information about the countries.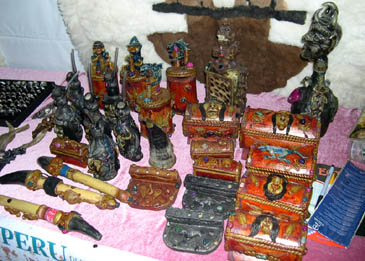 Handmade Peruvian artifacts sold at the venue.
The Peruvian tent not only offers information for possible future vacations to the land of the Incas, it is also selling artifacts from that country. Juan De Dios Villegas Orellanos — who has been in South Korea for over a year — sells beautiful hand made knick-knacks such as Inca style pipes made from bull horns and drinking cups made from eucalyptus trees. There are also clothing such as hats and sweaters made out of llama fur. From popping balloons with a dart to throwing baseballs at bottles, Itaewon Festival's main stage area has various games to keep the kids and adults busy. Like any carnival from around the world, visitors can win prizes at the different tents. There is also a small flea market set up like a dollar/won store and a bingo tent for those who want to try their luck. Even though it started to rain towards the end of the evening the show went on with performances by African band, Banaya and Lee Sang-Eun helped close off the evening by putting a good taste in everyone's mouth. The festival will be running until Sunday Oct. 17 and all performances are free. For schedule information please visit
Program of Itaewon Global Village Festival 2004
.
Related Photos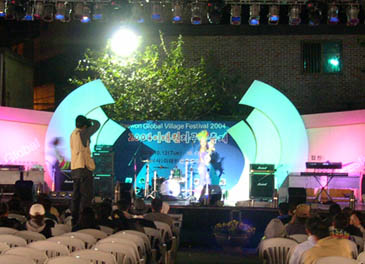 Columbia's Chica Chicos at the main stage at Arirang Public Parking Lot.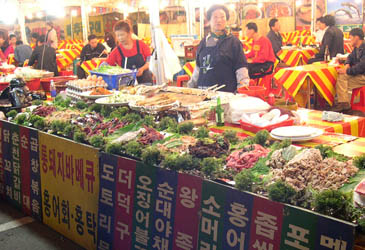 An endless supply of Korean seafood surrounds the main stage.

Related Articles
The Good, the Bad, and the Talented
Itaewon's "Global" Festival Kicks Off
"Government Should Deregulate Itaewon"
Itaewon Turns into Cultural Melting Pot


Other Articles by Yoav Cerralbo
Perfect Honeymoon Found in the Philippines
A Night of Romantic Rock with Air Supply
Kangwon Land Is Much More Than a Casino
The President vs. The Dailies
South Koreans Worried about the Third Threat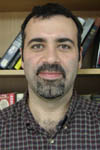 Yoav Cerralbo, who studied journalism at Concordia Univ. in Montreal, Quebec, serves as staff writer/editor of The Seoul Times. The 35-year-old Quebecer also writes for the Canadian Broadcasting Corp. about S. Korea. Previously, he worked on a syndicated radio travel show as a correspondent, co-host, and online editor. As a Concordia student he was the host of a comedy radio show which poked fun of everything and anything.