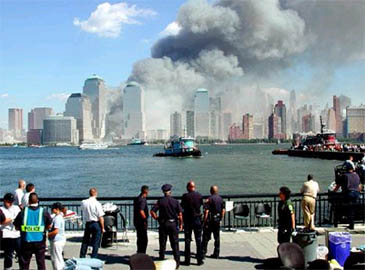 The collapsed WTC (Wrold Trade Center) buildings
This is a sad fact. Islam is now closely identified with terrorism. After September 11 2001, the world, more specifically, the U.S., has begun equating the Muslim religion with violence and death.Can there be a more ridiculous example of this: In August, a Swiss theologian was stopped from entering America. A Muslim in his early forties, he was invited to be a visiting professor at the Notre Dame University. It mattered little to the uniformed men that the theologian was an extremely wellknown moderate Islamic figure in Europe.In 2002, this writer was crossing the Canadian-U.S. border on road with a group of friends. The lone Muslim member, a Canadian citizen and highly qualified economist, was unduly harassed by a barrage of totally unnecessary questions that considerably delayed the group's entry into American territory.U.S. officials have increasingly come to look at Islam with not just deep suspicion, but malice and hatred. A bearded man has become a fanatic in the American eyes. The Association of American Universities reported that lengthy security checks kept at least 60 Muslim scholars from reaching the country in time to begin their university sessions. Some of them were inordinately delayed.
Ground Zero, New York City, N.Y. (Sept. 17, 2001) — An aerial view shows only a small portion of the scene where the World Trade Center collapsed following the Sept. 11 terrorist attack.
Courtesy U.S. Navy
The ordinary Muslim faces even greater humiliation. Egyptians are questioned for hours, Algerians are shamelessly frisked, and Pakistanis are turned back. Many countries have had to agree to the new U.S. visa rule that makes it mandatory for the fingerprinting of anybody wishing to visit America. Though this includes non-Muslims, it is said that officials keep a special eye on those who practice Islam.We all agree that the U.S. suffered when the Twin Towers were demolished and when the nation's life and property were targeted elsewhere. We also agree that a small degree of overzealousness cannot be avoided, and is only to be expected.But what Washington has now embarked on, and is pushing without care or concern for the physical wellbeing and the spiritual dignity of Muslims are no mere aberrations. These are acts which border on vendetta and revenge that strangely appear personal at times.American President George Bush has "exported" his own view of terrorism: Islam. He has succeeded in convincing many, many people across the globe that every Muslim is a potential trouble-maker, and his actions must be monitored closely.This view gains sanctity in the face of the argument which some experts put forth. They ask, why did America not met out the same treatment to, for instance, Irish students when the Irish Republican Army was making the British police paranoid with fear?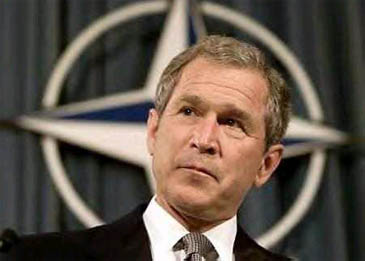 US President George W. Bush
Similarly, I do not think the Sri Lankans had any problem getting access to the U.S. when Washington and the rest of the world knew that the Liberation Tigers of Tamil Eelam (still fighting for the independence of the island's Tamil-speaking, largely Christian minority population) is one of the most ruthless terrorist organizations. Besides, the LTTE's links with other equally notorious rebel outfits are well known.Finally, were Japanese businessmen identified with the viciousness of Aum Shinrikyo soon after this cult gassed a Tokyo subway?As one scholar puts it, "That this did not happen was just as well, for putting a religious or an ethnic face on terror spawns profiling. It begets or reinforces stereotypes and creates a single prism through which terrorism is viewed as in the case of Islam now."Worse, even in India — which has the second largest Muslim population after Indonesia, and where despite a long simmering animosity between Islam and Hinduism (the dominant faith) the communities had lived in reasonable harmony — there is now a frightening tendency to blame Muslims for just about every ill and call into question their loyalty for their country.A recent revivalism of Hinduism under the garb of patriotism — actively promoted by Hindu nationalist political parties — now appears to gain colour and strength with its propagators echoing what seems suspiciously similar to the common American sentiment. Reviling all that is Islam is a sickening attitude that is gripping India, usually known for its tolerance and compassion. Even at the height of the India-Pakistan (a Muslim State) conflagration, Indian Muslims were seldom targeted.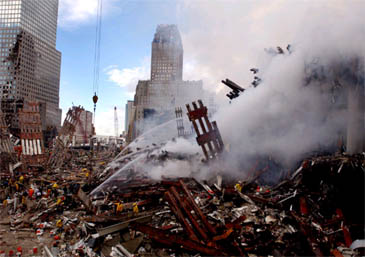 New York, N.Y. (Sept. 14, 2001) — Days after the Sept. 11 terrorist attack, fires still burn amidst the rubble of the World Trade Center. Courtesy U.S. Navy
But, all this is now changing, and one suspects that America has somehow drawn Indians and others into this hate campaign.Terrorism can merely be an aberration. It cannot be the normal act of a normal human being. Often, a radical is a desperate man or woman, but he or she can be white or black or brown, far removed from the compulsions of territorial or religious allegiance. Have we not seen Communist fundamentalists? Are we not seeing them now in Nepal? Have we not seen Christian extremists? Is not history replete with Christian cruelty in the Middle Ages, when those who did not fall in line with the Church were termed heretics and burned alive on the stake? Hindus butchered 2000 Muslims in the Western Indian State of Gujarat two years ago.Television channels did not go to town with the message of red, when Baruch Goldstien, a Brooklyn-born doctor and supporter of the Jewish Kach group, massacred 29 Islamic worshippers in Hebron.In the ultimate analysis, Washington is playing a dangerous game by trying to establish synonymity between Islam and terrorism. This is, at best, a case of imagination running riot. And, the consequences can be disastrous.