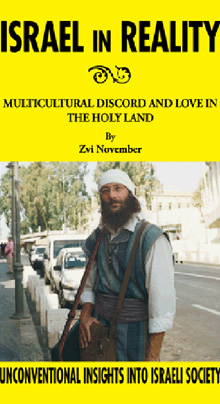 Israel in Reality: Multicultural Discord and Love in The Holy Land
By Zvi November
Israel is probably the most confusing country in the world. Just about every aspect of life here is paradoxical. Israel is supposedly a Jewish country the way Thailand is Buddhist and Pakistan is Islamic. However, secularism prevails and most Israelis identify as Westerners in every way.Despite an ongoing Intifada (war) and the 2006 mini-war with the Lebanon-based Hizbullah guerilla army, the economy, led by the high tech sector, keeps growing by about 5% a year.On the other hand: corrupt politicians, pockets of poverty, plenty of crime, a deep rich-poor divide, strikes, scandals and governmental waste contribute to the impression that Israel is actually a Third World country in disguise. Israel is a nation under constant attack but everyday life is quite peaceful despite the tension.This is a land that is literally in the East but belongs to the Western world. Life here may be stressful, but the talent to overcome obstacles and the drive to succeed is great. Isreal in Reality is an attempt to explain the inherent contradictions of a complex nation-state whose five or more component populations disagree on almost every issue. Based on my thirty-eight years inside the Israeli melting pot, this book offers unconventional insights into the existential problems Israelis wrestle with every day.
About the author
Born in 1940, Zvi November was raised in Brooklyn, New York. After graduating from Long Island University in 1961 he joined the Peace Corps as a volunteer teacher in the rural Philippines.During the 1960s Zvi worked as an elementary school teacher in the US Virgin Islands and at the Hong Kong International School.After receiving the Diploma in Social Anthropology from the niversity of Edinburgh he earned an MA in anthropology from Syracuse University.Then, in 1969, he settled in Israel where he worked as a teacher, youth counselor and probation officer. From 1979 until his retirement in 2004 he served as an employment advisor in the Jerusalem Labor Exchange developing expertise in vocational training and career development.Zvi is especially interested in intercultural differences and problems. He considers living in Israel as the ultimate cross-cultural experience despite all the vicissitudes of life in the Holy Land. Zvi is currently active in Israel's Media Watch and other civic organizations.