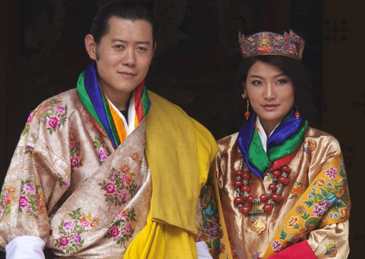 Butan's King Jigme Khesar Namgyel Wangchuck poses with his commoner bride Jetsun Pema.
Bhutan's popular and young King Jigme Khesar Namgyel Wangchuck, 31, tied knot with his beloved 'commoner' Jetsun Pema, 21, on Thursday in a traditional colourful Buddhist ceremony at a stunning fortress in this historical city, 71 km from capital city of Thimphu.
After a brief purification ceremony according to the Buddhist ceremony, the to-be-wed couple walked to the inner chamber of the 17th century old monastery where both were offered special religious ritual and blessings with Buddhist tradition for an hour. Amid chanting of hymns by red-robe Buddhist monks and clanging of drums by Bhutanese, the 31-year-old dashing Wangchuck placed the crown on the head of 21-year-old Pema, whom he met when he was 17, as the Chief Abot (head of the monks) of Bhutan Je Khenpo led the proceedings. The royal ceremony was broadcasted live by the government controlled Bhutanese state tv. "I am happy. I have been waiting quite some time," the King told the correspondents after the ceremony. Pema, who wore a yellow jacket and a skirt according to the traditions, was proclaimed the 'Queen of the Kingdom of Bhutan' as the King bestowed the crown on her after a series of ceremonies that was attended by hundreds of 300 guests witnessing the ceremony. Outside the stunning 17th century fortress, located between two rivers Fochu (Father River) and Mochu (Mother River), thousands of Bhutanese, including children and women, thronged the ground near the monastic fortress to catch a glimpse of their King and the Queen.He was appointed as king of Bhutan in 2006 after his father Jigme Sigmge Wangchunk voluntarily abdicated the throne announcing a new era of democracy to the 7,00,000 population.