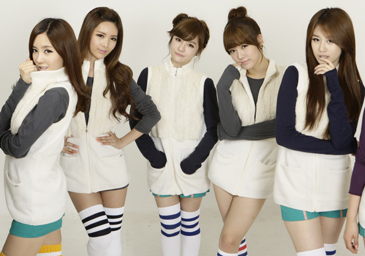 South Korean girl group "T-ara"
T-ara is a stunning 7 girl group from South Korea who recently began to reach out to their fan base in Japan. In Tokyo and throughout Japan this group was talked about because K-pop continues to grow in many nations because of so many fantastic groups and soloists like Kan Mi Youn who simply melts the heart.The Japanese music market is huge and K-pop artists understand the need to venture into a new market which will enhance their career and increase their stardom. Moving between South Korea and Japan, and other nations, is part and parcel of the highly spoken artists coming from South Korea."Roly Poly" and "Bo Peep Bo Peep" are very gentle and the Japanese version of "Bo Peep Bo Peep" went nicely with kawaii culture in Tokyo and the streets of Harajuku and Shibuya. It is clear that T-ara understand the market of Japan and all individuals looked cute and full of energy in the video "Bo Peep Bo Peep."However, it could be argued that this track was playing it nice and smoothly but in time more vigor and buzz is needed to inject a more diverse T-ara. Therefore, powerful tracks like "I Go Crazy Because Of You" and "Like The Beginning" would be welcomed because J-pop artists need to wake-up from their slumber. This applies to taking note of the buzzing energy of "Korean cool" and "adorable Korean babes" who are entering the Japanese market to a much higher degree than in the past.T-ara will release a new EP on October 27 called "Black Eyes" and they clearly have a style which is appealing and full of promise for the future. Indeed, tracks like "I Go Crazy Because Of You" have a vibrant international feel unlike "Bo Peep Bo Peep" which seems ideal for the K-pop and J-pop market.In time T-ara will reach out to new fans in Japan and in other nations because they have the talent to cater for kawaii culture, pouting babes with sex appeal in abundance, electronic and more of a rebel image. In fact, it is clear that they have many options open to them because their vibe is certainly catchy and full of energy.Therefore, their fans in South Korea, Japan and in other nations, are eagerly awaiting new material from T-ara. They certainly have what it takes and T-ara is another group which is enhancing the growing reputation of K-pop.Kan Mi Youn is the soloist lady who melts the heart because of her individual style. Similarly, T-ara is one of the best K-pop groups on the scene and they have so much more to offer their fans in the future because past tracks show their talent and mass appeal. Tokyoites and fans of T-ara throughout Japan are lucky because K-pop is making a huge splash and coverage is growing all the time. T-ara and their past classics include "Like The First Time" and "I Go Crazy Because Of You." Therefore, just like their evolution from five members to seven members these ravishing ladies will continue to grow and flourish.http://www.youtube.com/watch?v=1KcQWl3Zw34 T-ara (Bo Peep Bo Peep Japanese Version)http://www.youtube.com/watch?v=jBMzk0qFO6U&feature=fvsr T-ara (I Go Crazy Because Of You) http://www.youtube.com/watch?v=2bPhbYl7rV0 T-ara (Like The First Time)http://www.youtube.com/watch?v=EyDf7opyDN8 T-ara (Roly Poly)http://www.youtube.com/watch?v=2qJah8x94Ck&feature=related T-ara (Like The Beginning) http://www.t-ara-official.com/ T-ara official website in Japan
The above story is from The Modern Tokyo Times.
http://moderntokyotimes.com