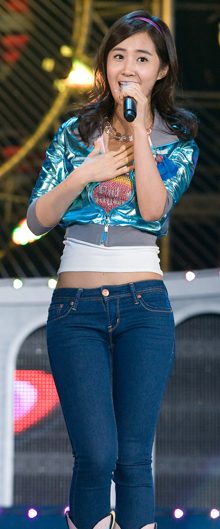 Kwon Yuri (born Dec. 5, 1989) also known by her given name Yuri, is a South Korean idol singer, dancer, actress and promotional model. She is one of the main dancers of Shoujo Jidai (SNSD – Shojo Jidai) or Girls' Generation, South Korean girl group.
Kanstyle magazine is now on the shelves in Japan because of the growing popularity of South Korean culture in the land of the rising sun. The Seoul based magazine is clearly hoping to make the "hanryu" (Korean wave) even bigger and being based in Seoul it is a major scoop.
The Japanese language magazine which is produced in Seoul will clearly have an edge over rivals who highlight South Korean culture. This applies to being on the ground and while focusing on established names the new Kanstyle magazine promises to unearth hidden gems. Therefore, if you are fascinated about South Korean culture and want to know the latest vibes, talents, and cultural tips to look out for, then Kanstyle will be the right magazine to buy.
The magazine will be bi-monthly and with South Korean dramas being in such high demand and k-pop being so raunchy and stylish, then many avid fans will be waiting avidly for latest tips and to connect with this vibrant culture.
Modern Tokyo Times highlighted K-pop and commented that "South Korean sexuality is being fused within K-pop (Korean pop music) in order to make further inroads into the Japanese market. This is a sure-fire winner in Japan and a very obvious market ploy. Alongside this traditional route you have catchy tunes and a more mature outlook with pouting looks and sexy outfits to appeal to many fashion conscious youngsters of both sexes in Japan."
"The South Korean girl group Shoujo Jidai (SNSD – Shojo Jidai) or Girls' Generation, continue to prosper and grow in Japan because of catchy tunes, easy on the eye dancing, sexy and fashionable clothing and extremely good marketing. Therefore, Girl's Generation is showing the pulling power of K-pop. The same applies to Kara and the male group Toho Shinki who were the forerunners of making K-pop so popular despite not being the first K-pop group to hit Japan."
Of course you have so many other fabulous K-pop groups with raw energy, style, movement, sexuality, and a real buzz about their future direction. This applies to groups like Sistar, Chocolat, G.NA, Girl's Day, 2ne1, F (X), T-Ara, Secret, After School, and many more. Also, you have great rap tunes from Bang Yong Guk and underground groups just waiting to be discovered. Therefore, it is hoped that Kanstyle will enlighten the general public in Japan who are avid listeners of Korean music.
Recent sounds like Syndrome by Chocolat, So Cool by Sistar, and I Remember by Bang Yong Guk, show the vibrancy of music in South Korea. The track by Bang Yong Guk is powerful rap and the video of I Remember reaches the inner soul.
Kanstyle is about fashion, culture, food and so much more and the cover of the latest issue featured Yoon Sang-hyeon who made a major impact in the hit TV show called "Secret Garden."
What promises to be a big winner is that Kanstyle will highlight young and up and coming actors and singers. This will be eagerly awaited alongside mainstream news about the latest vibes coming out of South Korea.
Therefore, if Kanstyle management can get it right this magazine should really make an impact in Japan and help the Korean wave blossom even more. After all, being published in Seoul gives Kanstyle a major edge.
South Korean dramas are widely acclaimed in Japan and K-pop is thriving alongside Korean cuisine. With all the other perfect pieces in the jigsaw then Kanstyle is a welcome magazine because the diversity of South Korean culture is extremely rich.
http://www.thecnstar.com/ Magazine
http://www.youtube.com/watch?v=1ucP3UhrhF8 Chocolat – Syndrome
http://www.youtube.com/watch?v=nHrx5dWxcJ4 Bang Yong Guk – I Remember
http://www.youtube.com/watch?v=Pj3q0ZChgFE Sistar – So Cool
http://www.youtube.com/watch?v=fhseD2tRLUY Girls' Generation – Mr. Taxi
http://www.youtube.com/watch?v=2AwFX_59Ryo KARA – Honey
http://www.youtube.com/watch?v=LfUrnMCLXAc Girls' Generation
http://www.youtube.com/watch?v=na83qZNWX3w&feature=fvwrel KARA
http://girlsday5.com/ Girl's Day website
http://www.kanzume.jp/
http://moderntokyotimes.com/2011/09/04/korean-pop-music-continues-to-hit-the-heights-in-japan/ – Article highlighting K-pop by Modern Tokyo Times
The above article is from the Modern Tokyo Times.
http://moderntokyotimes.com