Asia-Pacific
Himalaya Quake Kills 65 in Nepal, India, China
By Anil Giri
Kathmandu Correspondent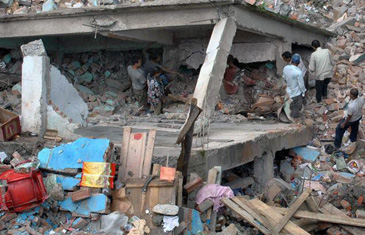 Effects of the earthquake at Mangan, a town in North Sikkim in the Indian state of Sikkim

At least 65 people have been killed and over hundreds injured in a devastated earthquake triggered across the Himalaya region that affected Nepal, some part of India and Tibet, China.According to the Times of India, a reputed English Indian daily, at least 50 people, including 23 in Sikkim of north eastern state of India, have been killed in a powerful earthquake on Sunday that triggered widespread landslides and road blockages making rescue work on Monday more difficult in the worst-hit Himalayan state. Chinese state-run news agency Xinhua reported that at least seven persons have been killed and 22 others injured in Tibet in the quake which has caused landslides and has disrupted traffic, power and water supplies as well as telecommunication in Yadong County, an area 40 km away from Sikkim.Many buildings in and around Gangtok have collapsed and around 85 percent of structures and houses have developed cracks due to the quake that hit Sikkim and other areas last evening, reports Times of India. In Kathmandu, reports suggested that at least five people confirmed dead injuring scores across the country. This was the strongest quake to hit the country in 78 years. The epicentre was between Taplejung, eastern Nepal, and the Indian state of Sikkim, where 14 aftershocks of varying magnitudes were recorded in the wake, Chief of National Seismological Centre Som Nath Sapkota said. Nepal's Home Ministry said on Monday that 101 people were reportedly injured in the quake while out of the numbers 24 are in critical condition and have been treating at various hospitals. Likewise, 170 houses were completely destroyed and 143 houses were damaged. The tremor lasted nearly a minute and it was felt in most parts of the country. Five deaths were reported in Kathmandu and Sunsari districts yesterday, while the figure on the casualty list and physical damage across the country was not immediately ascertained. The Home Ministry stated that at least 60 people in the Capital were injured in stampedes while jumping off buildings. Three people died in the Capital after the compound wall of the British Embassy at Lainhchaur collapsed in the aftermath of the quake.Kathmandu-based British Embassy on Monday said it "deeply regrets" the deaths of three Nepali citizens and injuries to others after the compound perimeter wall of the embassy at Lainchaur collapsed in the aftermath of the 6.8 Richter earthquakes.

Related Articles
S. Korea Give US$5 Mil. for Improving Maternal ...
S. Korean Women Cricket Team in Nepal for ...
5 Climbers including 2 S. Koreans Feared Dead ...
S. Korean Doctor Urges Nepali to Differentiate ...
Political Parties, Police Most Corrupt ...
S. Korean Film Festival Begins in Kathmandu
Bhutan King Ties Knot with Commoner
19 Persons Died in Nepal Plane Crash
Maoists Leader Bhattarai Elected as Nepal PM
15,298 Nepalis Pass Korean Language Exam
Nepal's Prime Minister Steps Down
Prestigious Manhae Awards Goes to Anuradha
S. Korea to Provide 5 Million US$ for Customs ...
Nepal Denies Passport to Third Gender
57,457 Vying for Korean Language Test in Nepal
Nepal Makes Significant Progress on Women's ...
Clinton Honors Nepali Anti-Trafficking Survivor
Nepal Endorses Key UN Accords on Terrorism
Nepal Declares Landmine-Free Country
8-Ton Waste Brought Down from Mt. Everest
WHO Report: Cell Phone Could Cause Cancer
Frequent Strikes Cripples Life across Nepal
"Super Sherpa" Breaks World Record, Climbs Mt. ...
Over 50,000 Korea Job Aspirants Apply for KLT
Minister Stabbed in Nepal, Scores Detained
7 KOICA Volunteers Arrive in Kathmandu
More Jobs for Nepali in S. Korea
Nepali Brothers Set Longest Continuous ...
US Alerts to Travel Nepal
Survey Begins at Birth Place of Buddha in ...
4 South Koreans Successfully Climb Mt. Ama ...
Nepal's Peace Process Largely Deadlock
N. Korean Spy Granted Asylum in S. Korea
2 S. Korans to Be Ousted from Katmandu for ...
Korean Alphinists to Set Up Health Care Center ...
HIV Hit Can Have a Job in Korea
Nepal Launched Calling Card in S. Korea
36,000 Nepali Attended for Korean language Test
Plane Crashes in Nepal, 14 Aboard Killed
Nepal Seeks More Job Seats with S. Korea
S. Korean Firm in Algeria Offers Job to Nepalis
Korean Rotary Helps Cancer Hospital in Nepal
Nepal to Host Gay Parade on Aug. 25
KOICA to Donate Food Aid to Nepal
S. Korea Interested in Hydro Project in Nepal
Korean Company Likey to Bag Multi Million ...
Nepali-Korea Education Cooperations on Rise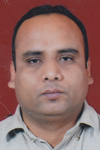 Anil Giri serves as Kathmandu Correspondent for The Seoul Times.As a journalist he has worked for such news media as Annapurna Post, BBC, and Himalayan Times for years. He finished his both undergrad Economics degree and his MA degree in English Literature at Tribhuvan Univ., Kathmandu. He also holds a diploma in Development Journalism from prestigious Indian Institute of Mass Communication-IIMC, New Delhi, India.