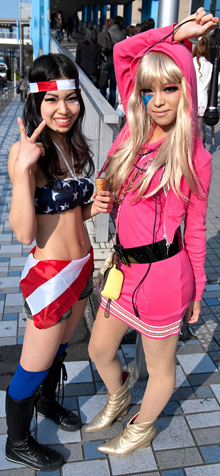 Two stylish Japanese ladies on streets
in Tokyo, Japan
Tokyo is a state of the art mega-city and for fashion lovers you are spoilt for choice and outside the main names like Aoyama, Ginza, Harajuku, Omotesando and Shibuya, you have several quaint and stylish neighborhoods. This certainly applies to Jiyugoaka therefore in Tokyo this suburb is highly desirable for living or visiting for refined shopping and finding hidden gems.
The atmosphere of Jiyugoaka is exquisite and it appeals to people of all ages because despite being busy, it is still much smaller than the well-known areas of Tokyo. Also, the buzz for people who adore fashion is that you can find gems while leisurely walking around.In recent surveys for the best place to reside in Tokyo it is more than apparent that Jiyugoaka is high on the list and is either placed in top spot or in the top three depending on respective surveys. Therefore, the reputation is very high and it is well deserved.
Fashion and shopping for other products is a joy in Jiyugoaka and you have roughly 1,000 shops in this leafy suburb. Students and the younger generation are attracted because of this factor and the serene nature is where youth can forget about all the mundane problems of life. Also, this part of Tokyo is well-known for sweets and you have a plethora of places to eat and enjoy delicious cakes. The Jiyugaoka Roll Ya cake shop and Dalloyau are just two names that spring to mind and the Gataeu Opera at the latter named shop is scrumptious.
Another famous place is Sweets Forest and in this store you have so many dessert shops to pick from that you are simply spoilt for choice. Indeed, it is the variety and choice which makes this place so popular.Or if you prefer a more Japanese theme then Kosoan is a place to visit and enjoy afternoon tea. The lovely Japanese garden at Kosoan makes your stay a joy and it is a lovely place to drink delicious tea and enjoy a nice afternoon lunch. The Japanese garden is the icing on the cake and this is what is so nice about Jiyugaoka.
Alongside the stylish fashion boutiques you are spoilt for choice if beauty and care is an important priority. This applies to Jiyugaoka providing many outlets which cater for beauty and you have a plethora of top notch hair salons, massage places, nail salons, esthetic salons and other shops related to beauty and health.
The boutiques are plentiful and the nature of the layout means that often you will find a new place that you missed the time before. Also, the independent nature of the shops is a pleasure and while browsing around you can soak up the atmosphere.
Jumpin' Kiki and Beach Walk shops also remind you that this part of Tokyo is a family based area and these and other shops cater for children. Therefore, all generations can enjoy the atmosphere, the nature of the shopping, independent boutiques, exquisite cake shops and the natural buzz of this sophisticated part of Tokyo.
Another major plus is that you have many nice bars and cafes whereby you can sit out in the fresh air and watch the world go by. In Tokyo this is a huge plus and adds to the ambience of Jiyugaoka.
Therefore, irrespective if you are a Tokyoite or you are visiting Japan on holiday or staying for a short break. Jiyugoaka is well-worth a visit because of the elegant fashion, cake shops, café bars, beauticians, restaurants and quaint shops in this lovely suburb.
In Jiyugaoka you see the best of Tokyo and you have a suburb which appeals to different generations. Also, for people who adore fashion then you can enjoy browsing around and visiting independent stores which cater for many different tastes.
The above story is from The Modern Tokyo Times.
http://moderntokyotimes.com