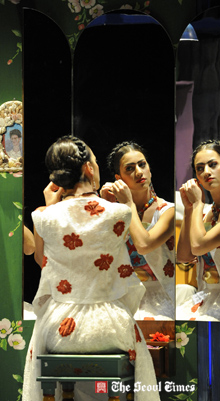 SIDance 2011: Donlon Dance Company's CasaAzul
Photo by Bettina Stöß
Mr. Lee Jong-Ho, the artistic director of Seoul International Dance Festival (SIDance), will host "The 14th Seoul International Dance Festival (SIDance 2011) at such performing places as Seoul Arts Center and Hoam Art Hall in Seoul from Sept. 29 through Oct. 16, 2011.A total of 52 dance companies from 17 countries will participate in this year's SIDance festival, announced Mr. Lee at press conference held at Korea Press Center in downtown Seoul on Sept. 7, 2011.Mr. Lee said that a total of 18 international, 30 domestic and three collaborative works will be presented during the 18 days of festival period.The internationally acclaimed dancers and dance troupes will come from such countries as Germany, Italy, France, Japan, Lebanon, the United States, Poland, Czech Republic, Romania, Turkey, Finland, Ghana, Sri Lanka, China as well as South Korea.They will turn the whole Seoul area into a place of dance performance as they will perform in such other places as universities, cafes, parks, and squares in the Seoul area as well as the performing places aforementioned.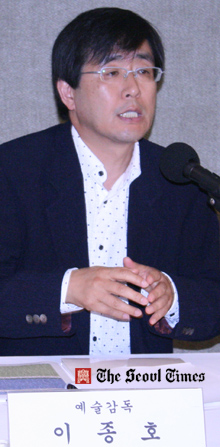 Mr. Lee Jong-Ho, the artistic director of Seoul International Dance Festival (SIDance. He is also president of Korean chapter of International Dance Council (CID)-UNESCO.
"SIDance 2011" will kick off with the opening piece from the Germany's Donlon Dance Company (Ballett des Saarländischen Staatstheaters) at Sogang University's Mary Hall in Seoul at 8 p.m. on Sept. 29 and Sept. 30, 2011.The German dance troupe will perform "Casa Azul — Inspired by Frida Kahlo" in which the legendary female artist from Mexico Frida Kahlo will be portrayed.The other international dance troupes includeIndia-Korea: Attakalari Centre for Movement Arts & Dance Theatre CcadoOFrance-USA: Centre Choregraphique National de Caen/Basse-Normandie & - Cie Fattoumi/LamoureuxRomania: Serial Paradise Company & SuperGabrielaChina-Ghana-Korea-Sri Lanka: Asia-Africa Dance Exchange 2011, Post Ego Dance Company, Maureen Law, Malith Upendra, & Felix Ofosu DomprehItaly-Japan-Korea-Lebanon-Spain: Japan Mikiko Kawamura Muku, Italy Fabrizio Favale, Spain Elisa Ferńandez, & Korea JUNG Bo-Kyung.Japan-Korea: Masayuki Sumi Dance Camp Project & SHIN Eun-JuFinland- Turkey-Korea-USA: Simo Heiskanen, Taldans, & Lee Eun-HeeFinland: Glims & Gloms Dance CompanyOn the side of the dance festival a forum will be held at House of Artists on College Road or Daehangro street in Seoul on Oct. 4-5, 2011.Journalists, critics, and other experts on performing arts will general issues in international dance and performing arts scene in "The 4th Seoul Performing Arts Critics Forum."Among the participants will be journalist Donald Hutera from The Times, UK, Merav Yudilovich from YNET, Israel, Norikazu SATO from Japan, Nicole Strecker from Germany, Roberto Fratini Serafide from Spain, other dance experts in Korea.They will also exchanges views and insights with each other on the international trend of dance and the diversity of its globalization.In particular a special approach to the concept of "community dance" will be explored by the discussants."Unlike other dance festival we aim to bring the concept of 'community dance' to the Korean audiences through this dance festival," said Mr. Lee during the press conference."We want to define community dance as a dance of family, friends, colleagues, a village community, or whatever," he said. "SIDance is the first to bring this concept to the nation in actuality"Mr. Lee also serves as president of Korean chapter of International Dance Council (CID)-UNESCO.
Seoul Chapter of the International Dance Council (CID)-UNESCO has been a leading force in developing Korean dance scene and in promoting the Korean culture's international status since the first SIDance in 1998.For details or inquiries of the dance festivalContact:
Tel: 3216-1185
Or leave Email at
ahram.gwak@sidance.org
or
Visit the website of the festival
www.sidance.org