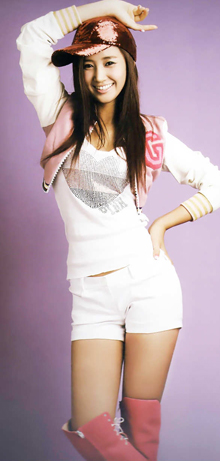 Yuri of Girls' Generation
South Korean sexuality is being fused within K-pop (Korean pop music) in order to make further inroads into the Japanese market. This is a sure-fire winner in Japan and a very obvious market ploy. Alongside this traditional route you have catchy tunes and a more mature outlook with pouting looks and sexy outfits to appeal to many fashion conscious youngsters of both sexes in Japan.
The South Korean girl group Shoujo Jidai (SNSD – Shojo Jidai) or Girls' Generation, continue to prosper and grow in Japan because of catchy tunes, easy on the eye dancing, sexy and fashionable clothing and extremely good marketing. Therefore, Girl's Generation is showing the pulling power of K-pop. The same applies to Kara and the male group Toho Shinki who were the forerunners of making K-pop so popular despite not being the first K-pop group to hit Japan.
Girls' Generation is a group which is easy on the ear and eye because of sweet voices, sultry looks, nice movement, look petite, and dress stunningly. Even if pop music is not your flavor you can still appreciate and understand why this group is making inroads in Japan and other nations outside of South Korea.
Also, given the size of the music market in Japan then it makes good business sense for J-pop groups to target Japan because the South Korean music market is much smaller. Not only this, the size of the Japanese music market internationally is one of the biggest in the world and fashion is very potent in Japan.
Girls' Generation consist of nine exquisite and beautiful members and Taeyeon, Tiffany, Yuri, Jessica, Hyoyeon, Sunny, Sooyoung, Seohyun and Yoona, all appear to be not only in love with their trade but more important, it appears that they are genuinely close and this adds to the energy of their performances and videos.
K-pop will continue to develop and J-pop groups will notice the more mature outlook and this may alter aspects of the J-pop music scene. Also, it is great to see South Korean culture growing in influence in Japan and the same applies to Japanese culture influencing the younger generation in South Korea.
Therefore, South Korean dramas, Harajuku fashion in Tokyo, modern technology, social networking, K-pop, J-pop, growing cultural ties, and other major aspects of cultural and business exchanges, are all helping to change the image of both nations in each society respectively.
Turning back to the music of Girls' Generation, then "Mr. Taxi" sums up the catchy and sultry nature of this K-pop group because this record track is full of energy. The record "Mr. Taxi" shows a group which is energetic, vibrant, blessed with lovely rhythm, and a tune which enables their collective dancing skills to show their stunning features and beckoning call to buy the end product.
Kara is another South Korean group which is hitting the headlines and the album Girl's Talk was a great success. The music tracks called "Sweet Days," "Love is" and "Binks" gave the album Girl's Talk a firm foundation and other tunes caught the imagination.
"Jet Coaster Love" by Kara was a huge success this year and because of the earthquake and tsunami which hit Japan badly and killed so many. Kara donated all their profits from "Jet Coaster Love" and Gu Ha Ra stated "It breaks my heart to think about the pain of the Japanese people, who showed us so much love."
Girls' Generation also donated heavily from their hit single and just like Kara these elegant ladies show that they have deep hearts. Musically, Girls' Generation, Kara, and other K-pop groups, have so much to offer and they are blessing Japan with their talent and other new bands will follow in their footsteps in the future.
The above article was written by Michel Le Bon and Lee Jay Walker.
The above story is from The Modern Tokyo Times.
http://moderntokyotimes.com