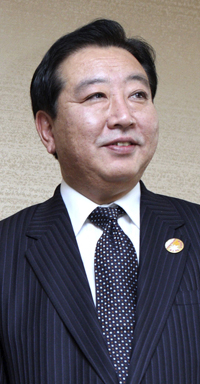 Yoshihiko Noda
The new leader of the Democratic Party of Japan (DPJ) was announced and it emerged that Yoshihiko Noda had won the run off in the second round. This paves the way for Yoshihiko Noda to become the next leader of Japan and this will take place tomorrow. Yoshihiko Noda is a fiscal conservative and it will be interesting to see if he increases consumption tax or if he will be constrained by multiple factors.
In the first round of voting it was clear that Banri Kaieda was the most popular but he could not obtain a clear majority and once the vote went to the second round then the Seiji Maehara block and others went over to Yoshihiko Noda. However, the vote between Yoshihiko Noda and Banri Kaieda was close (215-177) and this in itself shows you the uncertainty which exists within the DPJ.
Seiji Maehara should never have put his hat in the ring because the donation scandal was only six months ago and clearly the Liberal Democratic Party (LDP) would have made the most of this. Therefore, he could not muster enough votes and he was knocked out and never reached the second round of votes. The vote should be a wake-up call to Seiji Maehara because his advisors made a poor decision.
In another article about the election by the Modern Tokyo Times it was stated that "Issues related to the pension system, low birth rate, helping families, greater de-centralization, taxation, health care system, and other areas, alongside the urgent need to help people who are suffering because of the March 11 earthquake/tsunami, is what the majority of people are concerned about."
Yoshihiko Noda does have a reputation of working well with the bureaucrats and this fiscal conservative will certainly be tried and tested because of the huge public debt and enormous restructuring of areas which were hit hard by the tsunami. Added to this is the energy problem, ongoing reality of Fukushima and the nuclear crisis, the strong yen and other serious issues.
It is essential that Yoshihiko Noda is supported fully by all members of the DPJ and the mass media and general public need to be patient because the new leader faces many difficult problems. However, given all the domestic issues that he faces and knowing the nature of past events, then time will not be on his side and the usual impatience will rear its head in the near future.
Japan needs to break free from changing political leaders and Yoshihiko Noda needs breathing space. Therefore, it is hoped that the new leader of Japan will implement major political reforms and that he will not be dragged down by political infighting, petty point scoring by the opposition, and a media circus when the going gets tough.
The above article was written by Lee Jay Walker and James Jomo of The Modern Tokyo Times.
http://moderntokyotimes.com