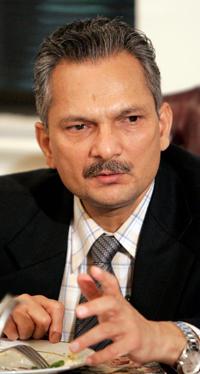 Dr. Baburam Bhattarai
Nepal's Parliament elected a senior Maoist leader Dr. Baburam Bhattarai as a new prime minister on August 28 (Sunday), 2011. Bhattarai, 57, garnered 340 votes out of 575 in the parliamentary election.His rival Nepali Congress Parliamentary Party leader Ram Chandra Poudel received 235 votes only. Bhattarai is the 35th Prime Minister of Nepal. Announcing the results, Speaker Subas Chandra Nembang said that Dr. Bhattarai bagged the majority vote in the present 594-member House to be elected as the new prime minister as per the constitutional provisions and the House regulations.He will replace CPN-UML Chairman Jhala Nath Khanal who resigned from the post of prime minister on August 14, 2011.
A senior leader of the Communist Party of Nepal (Maoist), Bhattarai is Vice Chairman of party, UCPN- Maoist and widely recognized for his political and intellectual activism. Popularly addressed as 'Dr. Bhattarai', he is also accorded as one of the successful Fiance Minister.Although widely known as the 'Always First' or the 'Never Second' man, he had a decade long experience of underground politics during the 1996- 2006 insurgency. n the first ever Constituent Assembly elections held in April 2008, he was elected from Gorkha constituency no. 2 and served as Finance Minister in the subsequently formed Maoist government led by Pushpa Kamal Dahal.An alumnus of Jawaharlal Nehru University, New Delhi, Bhattarai had obtained PhD degree in Regional Development Planning.Bhattarai writes frequently in national dailies, weeklies and journals. His writings often create a stir in the political circles of Nepal and are able to grab the attention of Nepali people and those abroad as well. He has a number of publications in Nepali to his credit. His publications in English include – Nepal: A Marxist View, Politico-Economic Rationale of People's War in Nepal, The Nature of Underdevelopment and Regional structure of Nepal: A Marxist Analysis, Monarchy vs. Democracy: The Epic Fight in Nepal among others.