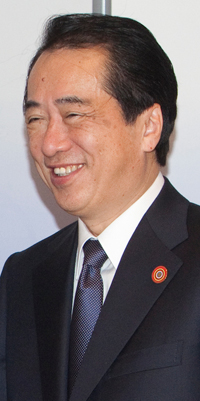 Prime Minister Naoto Kan of Japan
The land of the rising sun where prime ministers leave office so frequently that it appears pointless to hold a major international meeting. Imagine, two world leaders meet but while one will be confident of seeing out their elected term in office, the Japanese counterpart is just going through the motions.
This international embarrassment is just that but nothing seems to change apart from rebuke, petty point scoring, political shenanigans, and rash decision making. In the past it was hoped that the Democratic Party of Japan would change elements of the political landscape. Instead, they have followed the Liberal Democratic Party and elect internally and resign without any elected mandate and of course both parties can't find anyone strong enough to put either house in order.
The Communist Party in China must be laughing underneath because while China seeks to expand internationally and develop a diverse energy policy; the other major power in northeast Asia is stuck by being tied to America, the past, territorial issues and political intrigue.
Do political leaders in America look to Japan first in Asia? No, the bigger fish is China despite all the negative aspects of the one-party state and this applies to the huge economic disparity between rich and poor, terrible pollution issues, ethnic issues, religious tensions and cronyism within many areas which is leading to increasing debt at the local level.
Despite this, Japan's "quietism policy abroad" and "self-destruct at home" means that America can only see the rise of China and the continuing marginalization of Japan.
Japan does have a lot to offer and its soft-power needs to be nurtured and the political debacle needs to be resolved once and for all. Political leaders must lead for a set period of time and this must be set in stone in order to meet international standards.
At the same time Japan needs to utilize the economic reserves of this nation and to become more independent. Many companies in Japan are still leading players and the future of this nation could be bright but the orchestra is too divided and based on short term thinking.
The low unemployment rate, a low crime rate, providing huge economic assistance over the last thirty years to so many nations, a powerful manufacturing base, state of the art technology, and other factors, are to be admired but the lack of independence and the political charade is dragging this nation down.
At the moment it is unclear who will take over from Prime Minister Naoto Kan. Yet, when an individual called Seiji Maehara is deemed to be a frontrunner then this sums everything up.
After all, Seiji Maehara stepped down in March this year when he was the Foreign Minister. Therefore, how can he be a leading candidate after only six months?
This is the problem with the political resign culture of Japan because you don't have enough quality political leaders to play musical chairs. Also, nobody expects the next political leader to alter the political landscape and this is creating many negative issues. Therefore, it is one fiasco after another and it is clear that the real power in Japan is not based within the political chambers of this nation.
The above article is from the Modern Tokyo Times.
http://moderntokyotimes.com