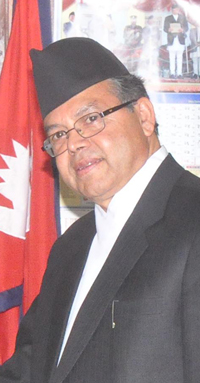 Nepal's Prime Minister Jhala Nath Khanal
Not withstanding internal and external pressure, Nepal's Prime Minister Jhala Nath Khanal announced his resignation while addressing the Legislature-Parliament on August (Monday), 2011, admitting his failure to expedite the peace and constitution writing processes.Before announcing the resignation through the parliament, PM Khanal handed over the resignation latter to the President of Nepal, Dr Ram Baran Yadav on Sunday evening.
Khanal's party CPN (UML) directed him to step down immediately to pave way for a national consensual government on Sunday.Hours after the resignation of the PM, Nepal's President has asked the Nepali political leaders to an August 21 deadline to form the next government through consensus. As per provisions of the interim constitution, Yadav asked parties to form a consensus government by that deadline failing which the next government would be formed through majority vote in parliament. Since no single party enjoys majority in parliament that scenario could get repetition of PM's elections. The prime minister said that he tendered his resignation after his government failed to obtain estimated progress in the nation. He also blamed two major political parties- Nepali Congress (NC) and UCPN (Maoist) fro not supporting his government particularly ongoing peace and constitution drafting process. He was elected the Nepal's 34st PM in Feb. The decision could jeopardize the Nepal's ongoing peace and constitution process. Khanal was supported by most of the communist parties represented in Nepal's parliament including UCPN (Maoist), a radical communist force and the largest party in Nepal's Constituent Assembly.The tiny Himalayan country, which has been facing a bumpy road in maintaining peace and writing a new constitution, may still face serious roadblocks to those goals following the resignation.