National
Women's oldest profession in danger
3,000 Sex Workers Protest Threat to Livelihood
Angry Prostitutes Plan for More Nationwide Rallies
By Yoav Cerralbo
Editor / Staff Writer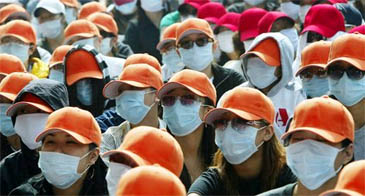 Some 3,000 women involved in sex trade business are clamouring for their "rights to making a living" in a protest held in front of National Assembly building in Seoul on Oct. 7, 2004. The rare demonstrators in sunglasses and masks covering their face are from 12 red light districts in Seouth Korea. Courtesy Chosun
For the first time in South Korean history, thousands of sex workers and brothel owners from around the country flocked to the nation's capital building demanding their "rights to make a living" on Oct. 7, 2004.Donned with sunglasses, baseball caps, and masks to cover their identity more than 3,000 prostitutes and runners of brothels staged a protest in front of the National Assembly building in Seoul's Yeouido district. The women came from 12 of the nations major cities and provinces' large-scale red-light districts.The "working girls" from Seoul's Cheongnyangni brothels or " Cheongnyangni 588" were wearing red baseball caps while some from the red-light district by Yongsan Station put on dark blue ones. Each color represented each groups of prostitutes from different districts."Is there sisters from Miari? Please rise," shouted one woman using a microphone. "How about sisters from Yeongdeungpo? Stand up, please!"Every time the "sisters" rose up, cheers and applause broke from the crowd.The protesters started shouting such slogans as "rights for our life" and "recognize our profession." The demonstrators were protesting the strict new laws resulted from a recent campaign first launched by women's groups to protect sex workers from the dangers of the industry. Instead, the women rebelled and demanded to be left alone."We don't need women's organizations helping us," one lady shouted.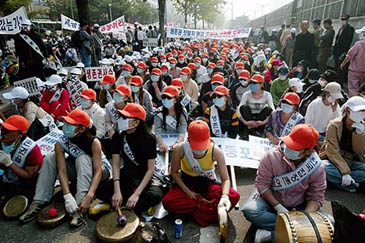 Sex trade workers are singing protest songs. Courtesy Ohmynews
Civic groups played down the crackdown arguing that the women were put in danger and controlled by brothel owners. But sex workers flatly denied that.Speaking on behalf of the protesters, the Hanteo Workers Union — an association of brothel owners — said that they are looking for separate demands for the women. They have been asking the government to allow them to prepare for the women's life outside the sex industry by putting off enforcement of laws until 2007. Surrounding the rare demonstrators were a group of detectives in plain clothes who also gathered from police stations in the country.One special police company of 100 female officers were mobilized for this demonstration. Police also prepared about 60 blankets because there was a "tip" that the demonstrators would stage a "naked" demonstration.It was the first time in South Korean history that sex workers held a protest rally on a national level.The protesters were drumming up the mood at the rally by using traditional musical instruments as gongs and drums. They sang popular protest songs such as "Morning Due" and "Firefly."The prostitutes were demanding their rights to make a living out of "the women's oldest profession." They also demanded that the lawmakers revise "the Special Sex Trade Law," which went into force on Sept. 23, 2004.Some of the demonstration signs read "Stop Trampling Our Rights for Survival and Recognize Our Profession," "Revise the Special Sex Trade Law," and "Women's Groups Stop Using Us."
| | |
| --- | --- |
| | Sex trade workers appeal to a Chuncheon City official in the city hall building in Chucheon, Gangwon Province Sept. 24, 2004 as they were driven out of their profession in a recent police nationwide crackdown on red light districts. Courtesy YNA |
Sex trade workers weren't the only ones at the rally. Some merchants who work around the red-light districts also participated in the rally. One merchant said that her business had sharply decreased since the police started cracking down in the Cheongnyangni area. The new anti-prostitution laws declared "zero-tolerance" towards the sex trade, handing out heavy punishment for sellers, buyers and brothel owners.Under the law, hundreds of sex traders and customers were rounded up and punished in all the major red-light districts around the country driving prostitutes out of brothels. Even with the police's arrests, red light districts have learnt to adapt using different tricks to avoid possible arrests. In a move that looks more like a cloak and dagger scheme of the cold war, sex traders hide in dark places waiting for buyers that don't appear to be police and offer them security and peace of mind. Sex organizations are now using people strategically placed on the streets to call in whenever the police come in for a raid. The association said that they are developing a strategy of opposition. "We have all promised to show resistance by giving ourselves up to the police together if one brothel gets caught," he said.The recent crackdown on the sex trade has brought the girls out of the streets and into other clandestine operations such as barbershops, motels, massage parlors and private house calls.Experts warn that the indiscriminate clampdowns on brothels and red light districts might turn the whole nation into a giant island of prostitution. Police fear that sex workers will soon stage more demonstrations on a national scale. Hundreds of thousands of South Korean sex trade workers expected to either lose their job or go through financial difficulty since the strict new "Special Sex Trade Law" went into effect. South Korea's booming sex trade business, currently estimated at 24 trillion won (some $2 billion US) annually, is expected to dwindle rapidly with the full enforcement of the law.Experts argue that government on its side should take some steps for establishing social safety nets for the sex trade workers.

Related Articles
Workshop on Global Human Trafficking Held
"Me Want Talk to You, 2 Minutes, Come Baby"
Scores of Sex Workers Go on Hunger Protest
"Special Sex Trade Law Should Be Repealed"
Sex Life Active, Sex Trade Thriving in Korea
We Want Government to Recognize Sex Trade


Other Articles by Yoav Cerralbo
Perfect Honeymoon Found in the Philippines
A Night of Romantic Rock with Air Supply
Kangwon Land Is Much More Than a Casino
The President vs. The Dailies
South Koreans Worried about the Third Threat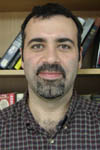 Yoav Cerralbo, who studied journalism at Concordia Univ. in Montreal, Quebec, serves as staff writer/editor of The Seoul Times. The 35-year-old Quebecer also writes for the Canadian Broadcasting Corp. about S. Korea. Previously, he worked on a syndicated radio travel show as a correspondent, co-host, and online editor. As a Concordia student he was the host of a comedy radio show which poked fun of everything and anything.