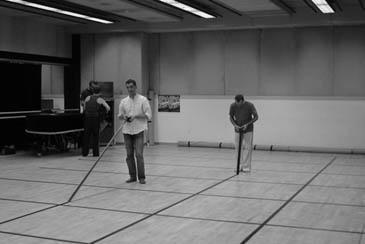 Jobin's staff laying out grid on the floor (for the workshop)
SIDance festival (Seoul International Dance Festival) kicked off with its seventh edition last Saturday, with London's most celebrated choreographer Akram Khan and his Company.The festival will run until Oct 24, 2004 in three different venues: at Ho-Am Art Hall in downtown Seoul, Seoul Arts Centre in southern Seoul and the National Theater of Korea near Shilla Hotel.This year, the organizers wish to create a forum for exchanges between local dance scene and the larger international world of dance who brought together joint international productions including: the Little Asia Dance Exchange Network, Korea and Hong Kong's Love Duet and a program created by choreographers from Singapore and Korea.The international line-up also includes prestigious companies like the Akram Khan Company from England, Centre Choregraphique from France, Switzerland's Parano Foundation, BalletLab from Australia and the Israel-based Clipa Theater, just to name a few.The Korean-Singaporean collaboration, Angela Liong's "12 SMS Across the Mountain" and Park Ho-bin's "Babylon's Air Garden," perform its premiere on Oct. 10, and has been invited to the 2005 Singapore Arts Festival. After debuting last year, the Love Duet program is back, with new works of Hong Kong and Korean artists. As the name implies, it is performed by couples (or, in one case, artistic partners) exploring love and different cultural backgrounds.
| | |
| --- | --- |
| | |
| Gilles Jobin's feet | Gilles Jobin's hands |
Another popular program is Little Asia Dance Exchange Network with this year, five choreographers from Hong Kong, Japan, Taiwan, Korea and Australia collaborating on one piece, "On the Double." After the Oct. 20 performance in Seoul, the piece will tour Singapore.SIDance also provides an international platform for rising Korean artists. Contemporary Korean Dances by Young Artists bring together eight promising Koreans under the age of 30 during the festival.The festival began in 1998, as a celebration of the International Dance Council UNESCO's 13th general assembly, hosted by Seoul that year. Since then, its organizers have annually invited choreographers, dancers and festival directors for performances, workshops and symposiums. The aim is to stimulate Korean dance and simultaneously introduce Korean choreographers and dancers to an international audience.Thanks to this exposure, Hong Sung-Yop's Dance Theater ON has been invited to "Lyon Biennale de la Dance" and Kim Young-Hee's MUTDANCE to Mexico's Cervantino Festival, and dancers Kim Hee-Jin and Jun In-Jung successfully auditioned for the French company Centre Choregraphique.For more information, visit the Web site at www.sidance.org. Ticket prices vary, from 20,000 won to 60,000 won.
Interview with Gilles Jobin
Below is the questions and answers with Gilles Jobin, choreographer of Moebius Strip. This is the first piece of a series of interviews with international choreographers performing during the SIDdance 2004 festival.
Question:
Is it your first time to visit Korea?
Answer:
Yes it is the first time to visit Asia (beside Malaysia) and I just arrived yesterday so I can't give you any "first impression"of Korea. The piece "The Moebius Strip" will be an Asian Premiere ...
Q:
Can you tell us about your past career in Europe?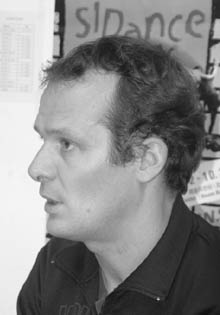 Gilles Jobin portrait
A:
Before coming back to Swiss where I live at present, I was based in London for seven years where I was first attracted by British Live Art and the vitality of the programme at the Institute of Contemporary Arts. At this period dates my one and only artistic collaboration with La Ribot (my wife from Madrid) called "Dip me in the Water (1997)."
Q:
Could you explain about the piece "The Moebius Strip" which will be performed this Saturday and Sunday at Seoul Arts Center — Jayu Theater?
A:
The Moebius Strip is a 3D shape with only one side and is a representation of LIFE. It represents infinity as it always comes back to the same point (as it has no beginning and no end) but is always different. The behind idea is a metaphor about transmission of life as knowing that one day we will die. I made this piece after the death of my father (1927-2000) who was an abstract painter.I borrowed rhythms, combinations of basic shapes (circles, squares) and a love of optical effects from my father's style of painting — the better to divide up space into a series of frames and determine the form to be imparted to the dancers movements. It was a kind of liberating piece for me.
Q:
You just had a workshop this morning with Korean dancers. What are your impressions of Korean dancers in general?
A:
I think Korean dancers have a good level in general and have a good capacity of concentration compare to European dancers. They are more "simple" with less acting and less personal concerns than European dancers where personality comes first. They focus more on movements and I can say Korean dancers are quite essential and deep.
Q:
How would you describe your style of choreography and the unusual way you rehearse/teach during your workshops?
A:
My choreographies are instinctive, more organic as no preparations are needed. Human emotions are a source of inspiration for me with existential preoccupations as a centre theme. In my workshops, I just give rules (grid on the floor) and quality of movement. After a while, the movement got organized by itself. I don't show steps that should be copied or repeated as in a linear way.
Q:
What about the Moebius Strip which depicts the movement of life, but where death is at constant presence? The five dancers in the performance crawl around stealthily on the floor, brushing against each other, forming a loop which, like a Moebius strip, has no end.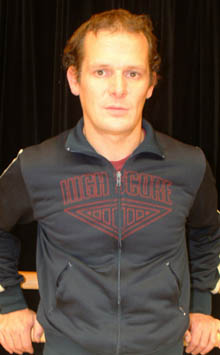 A:
My sole imperative is for the movement literally to emerge from the stage, for the stage floor to provide the dancers with directionality, allowing the choreographer and his performers to lay out a chequerboard with sheets of white A4 paper. The stage becomes an anti-mimetic, anti-narrative, geometric surface: the overall initiator of movement. Starting from this balanced, non-hierarchical space, movement organizes itself, movements I do not attempt to choreograph, in the strictest sense of the word. One type of movement takes place on the lines, another between the lines and even more inside the squares. My work can be best described through my father, Arthur Jobin words: the search for equilibrium, the organization of a surface, the purity of volume, the humanization of form, the tension between the lines, the violence of contrasts.Gilles Jobin was interviewed Oct. 6, 2004 right after his workshop in LG Arts Center in Yoksam-dong in Seoul.
Who Is Gilles Jobin?
Gilles Jobin is resident choreographer at the Theatre Arsenic in Lausanne, Switzerland, and president of the Vaud Association of Contemporary Dance.Among his works are the trilogy "Bloody Mary," "Middle Suisse" and "Only You," which he developed in 1995 and 1996 while working as co-director of the Theatre de l'Usine in Geneva with Yann Marrusich and Anne Rosset.Among other awards, Jobin in 2001 won the New Choreographic Talent prize awarded by the Society of Dramatic Authors and Composers Paris/Brussels/Montreal. He was the first Swiss choreographer to win the prize."The Moebius Strip," which features music by Franz Treichler and lighting design by Daniel Demont, is his best-known piece. It has been praised by Le Monde as an "exercise in imaginary geometry" and by Le Temps as creating an "impression that will stay engraved on our visual memories."The piece has inspire not one, but two films: a film of the piece itself, titled "The Moebius Strip," that was screened at the 2000 Locarno Film Festival, and a documentary about the making of the performance, titled "Le Voyage de Moebius," which was shown at the Prix Italia competition in Palermo in 2002.Performances are at 6 p.m. Oct. 9 and 4 p.m. Oct. 10 at Seoul Arts Center's Jayu Theater. Tickets are 20,000 won to 30,000 won.
www.sidance.org
All the photos were taken by Vincent Sung.